NASA's next mission to Mars will carry what no spacecraft has carried before: more than a thousand 17-syllable haiku poems, digitized on a decorated DVD.
The "Message to Mars" haiku contest is part of the outreach effort associated with the MAVEN orbiter, which is to be launched this fall to study the Red Planet's atmosphere.
About 12,500 valid entries were submitted by poets around the world, according to the University of Colorado's Laboratory for Atmospheric and Space Physics, which is in charge of MAVEN's science operations and organized the contest. Each haiku reflected the 5-7-5-syllable scheme associated with the traditional Japanese form of poetry.
Internet users were given the chance to vote for their favorite poem. These top five haiku received more than 1,000 votes each:
It's funny, they named
Mars after the God of War
Have a look at Earth
   — Benedict Smith, United Kingdom

Thirty-six million
miles of whispering welcome.
Mars, you called us home.
   — Vanna Bonta, USA
Stars in the blue sky
cheerfully observe the Earth
while we long for them
   — Luisa Santoro, Italy
distant red planet
the dreams of earth beings flow
we will someday roam
— Greg Pruett, Idaho, USA
Mars, your secret is
unknown for humanity
we want to know you.
— Fanni Redenczki, Hungary

"The contest has resonated with people in ways that I never imagined," Stephanie Renfrow, the leader of MAVEN's education and outreach team, said in a UC-Boulder news release. "Both new and accomplished poets wrote poetry to reflect their views of Earth and Mars, their feelings about space exploration, their loss of loved ones who have passed on, and their sense of humor."
Benedict Smith, a British poet and short-story author, thanked the more than 2,000 fans who voted for his entry. "I genuinely have the best followers," he wrote on his website.
Vanna Bonta is also well-known as an author and actress — as well as the inventor of the 2Suit, which is designed to facilitate zero-gravity sex. When Bonta was told about her haiku honor, she replied in a tweet: "I'm ineffably thrilled!"
LASP said every haiku that received more than two votes — amounting to more than 1,100 in all — would be encoded onto a DVD that will be attached to the spacecraft prior to launch in November. That means this haiku about haiku will be getting a ride ...
MAVEN's engineers
write in binary while we
count some syllables.
— Craig Houghton, Connecticut, USA

... And here's one of my personal favorites, a tribute to Marvin the Martian:
Will MAVEN find the
Q-36 explosive
space modulator?

The DVD will also contain digitized artwork from a student art contest, plus thousands of names submitted via MAVEN's "Going to Mars" webpage. Even though the haiku contest is over, you still have a month to add your name to the list on the Mars DVD.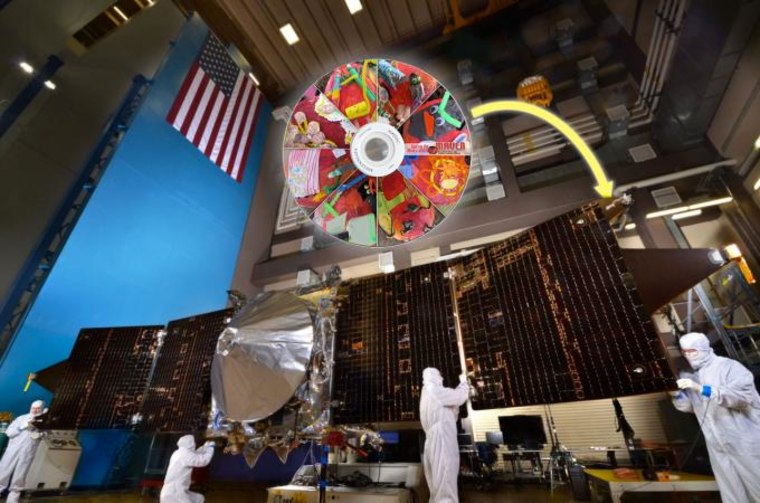 MAVEN stands for "Mars Atmosphere and Volatile EvolutioN." The spacecraft arrived at NASA's Kennedy Space Center in Florida for final pre-launch preparations last week. It's due to be launched from Cape Canaveral Air Force Station atop an Atlas 5 rocket no earlier than Nov. 18, and enter Martian orbit in September 2014. The $670 million mission is designed to delve into the mystery of Mars' disappearing atmosphere and reconstruct the planet's climate history.
More about Mars:
Alan Boyle is NBCNews.com's science editor. Connect with the Cosmic Log community by "liking" the NBC News Science Facebook page, following @b0yle on Twitter and adding +Alan Boyle to your Google+ circles. To keep up with NBCNews.com's stories about science and space, sign up for the Tech & Science newsletter, delivered to your email in-box every weekday. You can also check out "The Case for Pluto," my book about the controversial dwarf planet and the search for new worlds.