CLEVELAND, Ohio — Indiana Gov. Mike Pence introduced himself and offered the first taste of the pitch he'll make with Donald Trump in a broad convention speech that hit all the necessary marks. But as he sought to heal GOP divisions, earlier events on the convention floor served as a stark reminder of how deep those rifts remain.
"On issue by issue — he and I will take our case to the voters, pointing out the failures of the Obama-Clinton agenda and showing a better way. We will win the hearts and minds of the American people with an agenda for a stronger and more prosperous America," Pence said after accepting the party's vice presidential nomination.
The convention hall buzzed earlier with jeers when Texas Sen. Ted Cruz urged voters to "vote their conscience" and pointedly refused to offer a direct endorsement of the GOP nominee.
But Pence, who endorsed Cruz over Trump ahead of the Indiana primary in May, told the national audience that following a tough intra-party primary fight, Trump is "still standing and running stronger than ever," calling him an "independent spirit." The selection of Pence by the Trump campaign was intended to appease the more hard lined conservatives in the party, many of whom voted for Cruz in the primaries.
The spectacle was evidence of the schism that still remains within the party — one that Trump's pick of Pence was meant to heal.
Pence remains largely unknown to a majority of voters. The latest NBC|SurveyMonkey poll found 48 percent of voters don't know enough about him to have a favorable or unfavorable opinion.
The vice presidential nominee even jokingly introduced himself "to those of you who don't know me, which is most of you."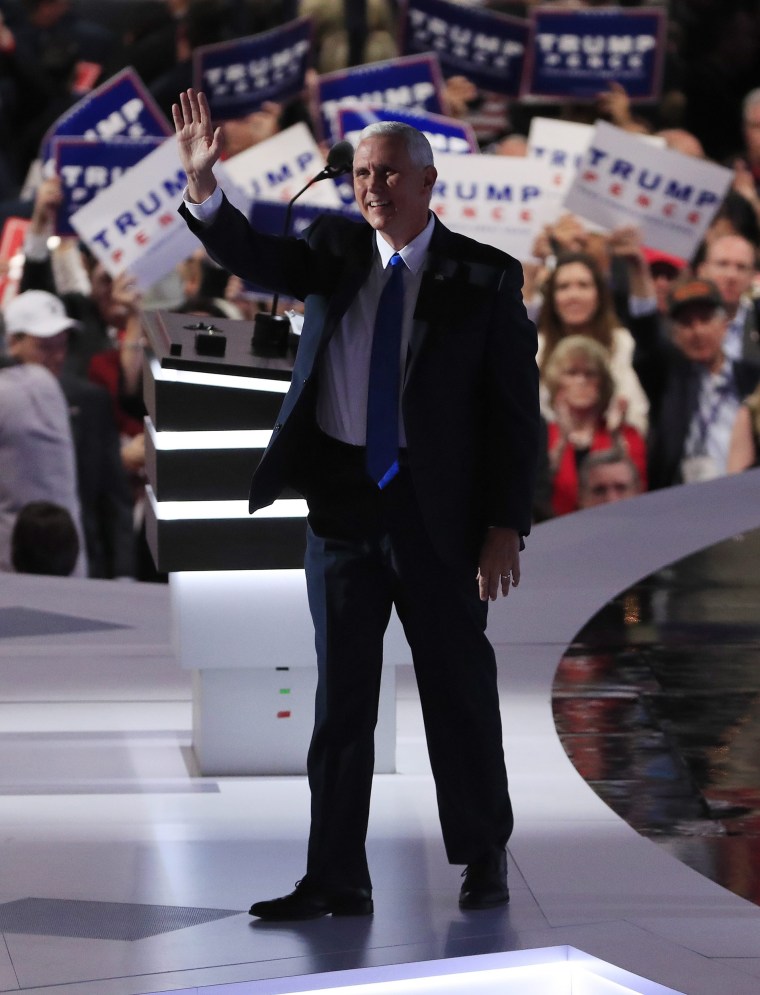 But since being announced as Trump's vice president on Saturday, the country has heard little from Pence. He was overshadowed by Trump during his rollout event in New York where he spoke just half as long as the real estate mogul.
Their first joint interview, on CBS' "60 Minutes," came off equally as awkward as Trump dominated the conversation, and was followed by reports that Trump had second thoughts even after his pick was made. And Trump said his running mate is "very establishment, in many ways," which for Pence, an early voice in the Tea Party, has never been the typical characterization assigned to him.
Indeed, Pence was also the safe pick — a politician known for his message discipline and media skills.
That message discipline was on display Wednesday night, as he rattled off a number of key conservative priorities — opposition to abortion; electing conservative justices; veterans' issues — and a number of popular Clinton attacks.
"Lock her up," rang out as Pence spoke. He paused for several seconds as the chants blared, and then suggested Hillary Clinton is "disqualified from ever serving" as the head of the U.S. Military, and attacked her on her tenure as Secretary of State.
Pence also sought to reframe some of Trump's most controversial qualities as assets for the Republican party, offering a favorable contrast to Hillary Clinton, who he dubbed the "secretary of the status quo."
"At the very moment when America is crying out for something new and different, the other party has answered with a stale agenda and the most predictable of names," he said, adding the Democratic Party had nominated "someone who represents everything this country is tired of."
And even as some conservatives still seemed reluctant to back Trump, Pence asserted that the candidate has "brought millions of new voters into the Republican Party."
At times Pence's message discipline and poise read as stiff and scripted, however, especially in contrast to the dramatic moments from the panoply of prominent Republican stars that spoke before him.
But the crowd seemed ready to accept a Trump-Pence ticket. Shouts of "We like Mike!" rang out from the crowd as he spoke, and many were on their feet cheering when Trump joined him onstage to close out the night.