The first police reports started trickling in within 10 hours of Donald Trump's victory speech.
A Muslim student at San Jose University told cops she was attacked from behind in a parking garage at San Jose State University. A man ran up and pulled at her hijab, choking her, university police said.
And also in California, at San Diego State University, another Muslim student reported being followed by two men who made comments about Trump and the Muslims before robbing her, according to the police report.
University police say the suspects confronted the woman, stole her purse and car keys before fleeing the scene. They came back for her car while she was off searching for help.
A third report turned out to be false. A Muslim student at the University of Louisiana at Lafayette claimed two men attacked her Wednesday morning, including one who wore a white "TRUMP" hat while they hit her with a metal object and shouted obscenities as she fell to the ground.
"She made the entire story up," Lafayette Police spokesman Officer Karl Ratcliff told NBC News. "More than likely she will be charged with filing a false police report."
It was the first full day of America under a President-elect Trump. And it reinforced fears that the Republican's upset victory would inspire a new wave of Islamophobia nationwide.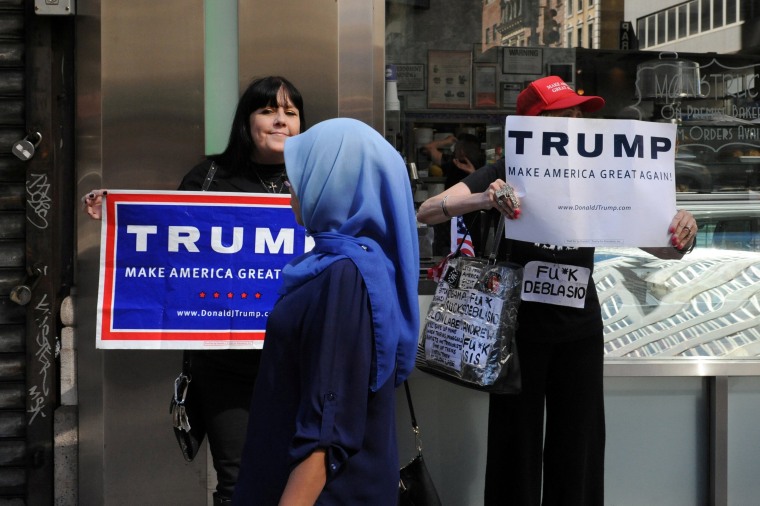 One of Trump's most popular proposals within his base has been to ban all Muslims from entering the United States. He has expressed an openness to secretly surveying mosques and Muslim leaders. He's even suggested that American Muslims are actively harboring foreign terrorists.
Trump's sweeping proposals have raised concerns of widespread discrimination that targets an entire religious group.
Related: Donald Trump's Immigration Ban Ensnares One-Third of World
Corey Saylor, who tracks instances of Islamophobia at the Council on American-Islamic Relations, said terror attacks in Paris and San Bernardino coupled with the incendiary rhetoric against Muslims playing out during the White House campaign had created a perfect storm of Islamophobia in America. He predicted attacks against Muslims will become even more frequent now that Trump will be president.
"Unfortunately the election of Trump will embolden people who don't like minorities — and not just Muslims but minorities across the board," Saylor said.
Intensifying those fears is the fact that the attacks reported on Wednesday were aimed at Muslim women specifically.
Many Muslim women chose to wear a hijab, a veil traditionally wrapped around their head. But it also clearly marks an easily identifiable symbol of Islam.
Related: Here's How Donald Trump Might Govern
Muslim women voiced their anxiety early Wednesday morning as the final election results slowly cemented Trump's victory.
Some issued warnings to women that in wearing a hijab, their faith would compromise their personal safety. Others remained defiant.
Reports of Islamophobic incidents have been on the rise. Overall hate crimes were down across the board in 2014, except for one category — crimes against Muslims, according to the FBI's annual Hate Crime Statistics report.
They recorded 154 reported anti-Muslim incidents that year — an average of almost three per week. That was a rise of 14 percent from 2013.
Related: A Full List of Trump's Rapidly Changing Policy Positions
Saylor said CAIR recorded 34 anti-Muslim incidents during November and December last year — or about one every second day.
"It was the worst period of anti-Muslim activity since 9/11," Saylor added.
A report released by Georgetown University's Center for Muslim-Christian Understanding also found an uptick in hate crimes against Muslims following terror attacks in Paris and San Bernardino in 2015.
There has also been a dramatic surge in Islamophobic attacks in the U.K., where reported hate crimes increased by 60 percent following the divisive Brexit referendum in June.
With Trump's victory comes fears that his supporters will feel emboldened to stretch his most xenophobic views to the limit.
Trump's candidacy was warmly embraced by the alt-right and Ku Klux Klan leaders. And instances of overt racism are already bubbling to the surface.
On Wednesday racist graffiti, including swastikas and Nazi slogan "sieg heil," were spotted plastered around South Philly, according to the Philadelphia Inquirer.
Also Wednesday morning, the word "Trump!" was found scrawled across the door to a prayer room for Muslim students at New York University's Tandon School of Engineering in Brooklyn, the Anti-Defamation League said in a statement.
Following an election season in which we have witnessed an unprecedented degree of bigotry and intolerance, acts like this — the defacement of a sacred prayer space — are meant to further divide and intimidate Muslims and other minorities," Evan R. Bernstein, the New York regional director for the ADL, said in a statement.
"We want the American-Muslim community to know that they are not alone in the struggle against hate," Bernstein said in the statement.
WNBC: 'Rash' of Hate Crimes Reported Day After Trump's Election
The NYU Muslim Student Association held a rally at the university Thursday evening, and a few Trump supporters showed up with a sign and words were exchanged, graduate student Saif Awadh said.
One Trump supporter, an 18-year-old who gave her name as Norria, said she arrived with the sign partly due to the demonstration but also because they had a regular Thursday Republican group meeting.
"We want to see what they have to say. Obviously this is a democratic process, we want to hear diverse view points coming from both sides," the Trump supporter said. She said if it turned out that a Trump supporter left the message on the prayer room door "I would definitely condemn that" and the offender should be disciplined.
Following Wednesday's attack at San Diego State University, President Elliot Hirshman issued a statement to help ease student groups and staff who expressed fears out of the divisive election outcome.
"Hate crimes are destructive to the spirit of our campus and we urge all members of our community to stand together in rejecting hate, " he said.
Editor's note: An original version of this story reported the University of Louisiana woman's account as if it were believed to be true, based on official information at the time.