A booming roar. Houses thrown onto a highway. A flood of mud and debris.
This was the horrifying scene in Oso, a town of less than 200 people in Snohomish County, Washington, when a devastating mudslide swept through one year ago, claiming 43 lives and dozens of homes.
The mudslide cut off a main roadway for months, displaced families and stole people's relatives, friends and neighbors.
A year later, residents of Oso and the surrounding towns of Arlington and Darrington shared with NBC News their memories of the slide, recollections of the harrowing days that followed and stories of how they pulled together to rebuild — and reshape — their lives.
A Resolute Community
R.L. Brewer was startled by the number of emergency vehicles whizzing by his home, just east of Arlington, on that Saturday afternoon but didn't know what had happened until his daughter told him there had been a mudslide near Oso, and the river was rising.
He and his wife pulled on their boots and got to the scene of the slide as quickly as they could. And he went back every morning for the next 37 days.
Brewer, 68, told NBC News that "everybody that was physically fit," in Oso and the surrounding towns was at the scene of the slide daily searching for survivors and later, bodies.
"The thing is that it was so difficult to search. We had no idea what we were searching in and for," Brewer said. But the volunteers were determined. "When it's your neighbors ... this is a community thing," he said.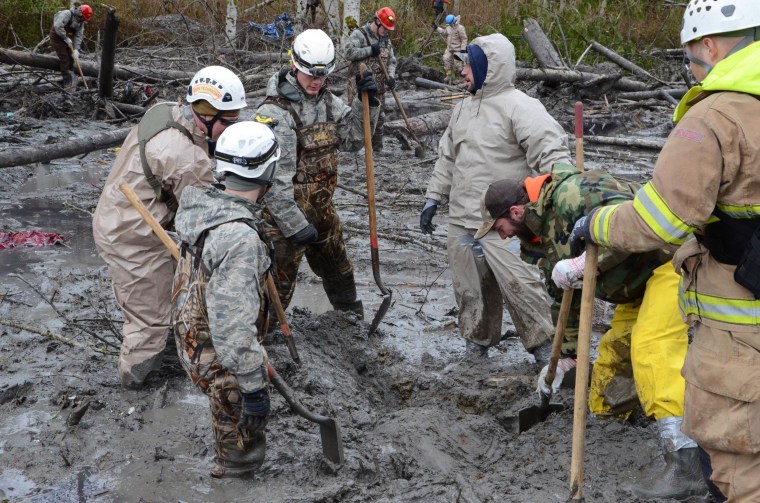 Bruce Stedman, 56, who was the Arlington fire chief at the time of the mudslide, was struck by how the people of the community rallied.
Stedman, who is originally from Los Angeles, is no stranger to disasters: He said he's responded to riots, earthquakes and brushfires. "This was by far the most complex, biggest event of my career, and I was just amazed at how well everyone came together."
"The first responders were our children and people from the community," said Gerald "Jerry" Farnes, who lived in the path of the mudslide but wasn't home when it hit. The rescue crews were aided by "my kids and other kids who were looking for their brothers and their mothers," he said.
A Love Story
Farnes lost his wife and son in the mudslide. Debbie Durnell lost her husband. Farnes said the two forged a friendship in the wake of the tragedy, which eventually blossomed into something more.
The couple plans to get married in Alaska this summer.
"We have thrown together here," Farnes said from the home he shares with Durnell in Stanwood, Washington.
Durnell was friends with Farnes' wife, and "her husband was my best friend," Farnes said. Farnes said the couple loves their new life together but on some days, "we're still struggling to be happy."
An Emotional Toll
Those who didn't lose family members are also coping with the grief that the mudslide abruptly heaped on Oso and the surrounding towns.
During the first few days that Brewer spent sifting through the rubble, he was specifically looking for his daughter's friend, Summer Raffo. Her body was found four days after the slide.
Brewer said he knew other victims, too — a local librarian, and a family who returned from a baseball game to find only wreckage where their home had stood.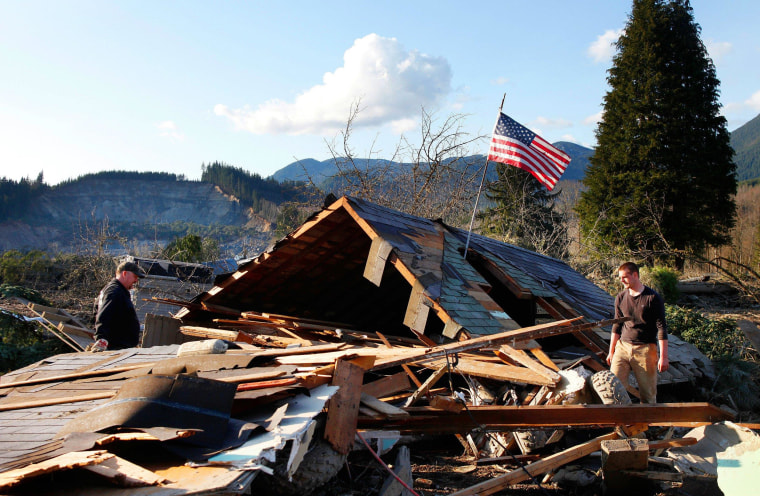 "These are people that you drive by for 30 years — that you see mowing their lawns and taking care of their flower beds. And you see them in town," Brewer said. "And when you can put a face to that, it puts a whole different realm on what you're dealing with."
Brewer's daughter, Rhonda Cook, worked side-by-side with Raffo's family in the desperate search for the 36-year-old.
"When it was over it was kind of a lost feeling, you didn't know what to do with yourself," she told NBC affiliate King 5 on Friday. "I'm still trying to find my footing," she said, adding, "my life is forever changed."
"We're still struggling to be happy."
Stedman, the former fire chief, said his life will also be permanently impacted. "There's no doubt in my mind, this will stick with each one of us that was involved in it," he said.
Stedman said he often checks in with the crew he worked with during the recovery efforts after the mudslide. "Let's just say we continually monitor their mental health," he said.
The Economic Impact
Debris from the slide did not only wash over houses, but also into the middle of State Route 530, which is the only direct passage into Darrington. The only viable way into the town of more than 1,300 people involved a two-hour long detour, and SR 530 didn't fully reopen until six months after the slide, according to the Washington State Department of Transportation.
"People just up and left, and businesses just up and left," Stedman said. "It's had a negative impact on the whole area."
Brewer, who owns a construction and logging company in Arlington, said business is picking up, but "we didn't do much last year."
He counts himself among the fortunate. "I think the greatest need is for those who lost their houses who are still alive," he said.
Of the nearly 50 structures that were destroyed, 25 were occupied full-time, according to the Snohomish County Government. Brewer said a lot of the people who lived in those homes are retirees, and they still need help financially.
'Moving Forward,' but Not Forgetting
While some of those who lost their homes are struggling to get by, the resilience and outpouring of support from those in Oso, Darrington and Arlington has helped the area recover bit by bit.
Brewer said each town is still hosting fundraisers for the victims, and that likely won't end anytime soon. "It's never going to be a 'forget-about-it,'" he said. "Never."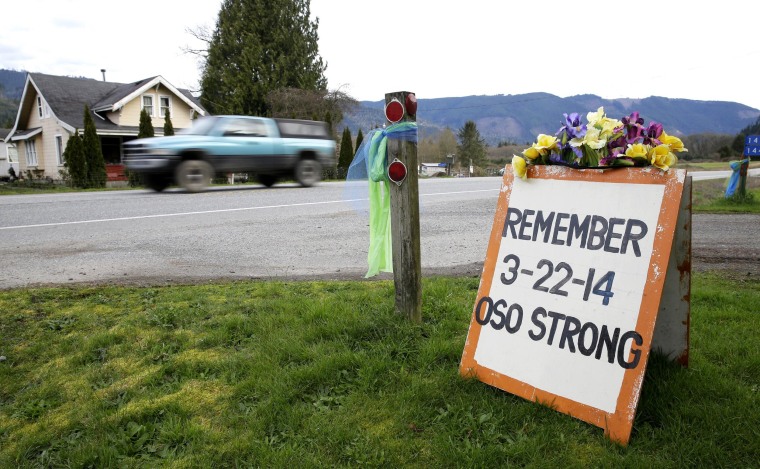 "We're moving forward," but the devastation of the mudslide that struck one year ago is "still in everyone's mind," echoed Stedman.
The one-square-mile ravaged by the mudslide still serves as a reminder of what, and who, was lost and will continue to do so for years to come.
"They're not rebuilding in that area at all," Stedman said. "It's hallowed ground now."