The fire chief in charge of the Washington mudslide rescue operation said crews are facing "unreal" challenges but have not abandoned hope of finding a miracle survivor.
"My heart is telling me I'm not giving up yet," Snohomish County Fire District 21 Chief Travis Hots told reporters as the search entered its sixth day.
"We're gonna exhaust all options to try to find somebody alive," Hots said. "If we just find one more person that is alive, it's worth it."
There are still 90 names on a list of people who may be missing, and no one has been found alive since the first hours after a 600-foot-high section of hillside collapsed onto the town of Oso.
"If we just find one more person that is alive, it's worth it."
There are 16 confirmed fatalities. Other bodies have been found, but they are not being added to the death toll until the medical examiner processes them.
Hots said he was supposed to take some time off Wednesday but instead went out to the mile-square wasteland that authorities call "the pile" for a first-hand look at the work.
"You just can't fathom what we're up against out there until you get out there and see the lay of the land," he said.
"It's unreal."
The landscape is littered with clayballs the size of ambulances that rolled off the hill and smashed everything in their path. Plywood has been put down to form makeshift paths through the muck and mud.
More than 200 rescuers are looking for buried victims, assisted by search dogs.
"The dogs continue to be very, very effective but it's not an exact science," he said.
He explained that a dog may pick up the scent of a body, but that it might have wafted to the surface from 50 feet away. So crews push probes into the ground and watch to see the dog's reaction.
When they think they have zeroed in on the correct spot, a second dog is brought in to confirm. Only at that point do they start digging with hands and shovels to try to reach the victim.
If they encounter a hard object, they may need heavy machinery to dig deeper. But sometimes that's not an option.
"It's so wet and mucky, it's like a swamp," Hots said. "If we were to try to put machinery out there, we would lose it, it would disappear in the muck."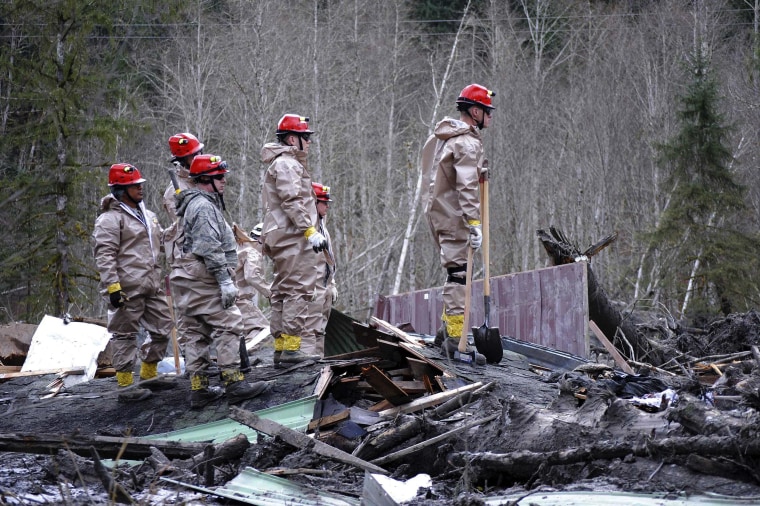 But when the crews do find a body, they keep working until they can pull it out, a process that can take hours.
Hots watched the recovery of one victim from a car that was swept 200 feet off the highway and buried under mud.
The workers removed the roof of the car with tools, the effort slowed by the mud that clogs all the equipment. Lunch hour came and went and no one took a break.
"They work and they work and they work and they don't quit," Hots said.
When a body is finally extricated, the mood turns somber.
"It gets really quiet for a few minutes," the fire chief said. "You see seasoned veterans in this industry start to tear up. Their eyes get glossy."
With so many people still missing, Hots was gearing up for another day of back-breaking, grim work. The forecast called for rain, which mean areas that what had dried out would become a soupy mess again.
"There's going to be some new challenges there," Hots said. "It's gonna be a very difficult day."