Authorities in a rural region of Washington state can't yet predict how long it will take to recover from Saturday's catastrophic landslide, but if history is any guide, it will be weeks if not months.
"It's still a search-and-rescue operation," Bart Treece, a spokesman for the Washington State Department of Transportation, told NBC News. "We're in a support role."
Officials in Snohomish County, about 50 miles north of Seattle, estimate that 15 million cubic yards of mud and debris rolled down from a rain-weakened hillside above the North Fork of the Stillaguamish River on Saturday. Homes and other structures along the river near the town of Oso were buried in a layer that may be more than 20 feet deep in some areas, spread over roughly a square mile.
The death toll is currently at 14, but there are more than 100 reports of people who have not yet been accounted for.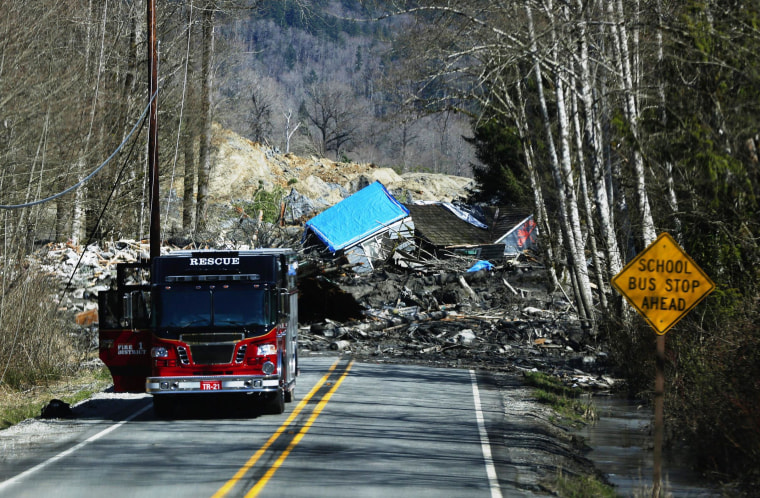 Searchers had to suspend their efforts on west side of the slide zone for several hours on Monday, "because of concern about the hillside moving" at the 600-foot level, county authorities said in a Twitter update.
The search operation is expected to continue over the days ahead, from the ground and from airplanes and helicopters flying overhead. "We've got our tactical rescue teams. ... They've got electronic equipment that they can use to probe the ground if necessary," Travis Hots, chief for Snohomish County Fire District 21, told reporters.
The Department of Transportation has brought in heavy equipment to clear out the mud as needed. But Treece said it's too early to predict how long it would take to clear State Route 530, the two-lane highway connecting Oso to the west with Darrington in the mountains to the east. In a status report, the department said "the slide area remains too dangerous" for crews to enter and evaluate road conditions.
For now, crews are working on clearing the snow from a different road, the Mountain Loop Highway, to ease Darrington's isolation. Treece said that route is usually impassable until around Memorial Day but should be clear for travel "sometime this week."
Meanwhile, authorities are monitoring the Stillaguamish River for flood threats. The mudslide blocked the Stillaguamish on Saturday, but since then the river has cut a new channel. That brought the flow back to a "semi-normal" level, said Steve Thompson, the county's public works director.