Here we go again.
Another in a seemingly endless string of brutal winter storms is gathering to unload its fury this weekend, starting as heavy snow Saturday in the Plains before moving east with the potential for treacherous ice accumulations Sunday and Monday from Ohio to Washington, D.C., and as far south as Tennessee, experts predict.
"This has been an unusual winter, with a lot of storms one right after the other," said Bob Becker, a maintenance engineer for the Missouri Transportation Department.
"All of the snowplows are on, the spreaders are in the trucks — all the equipment is ready to go for this weekend," Becker told NBC station KYTV of Springfield.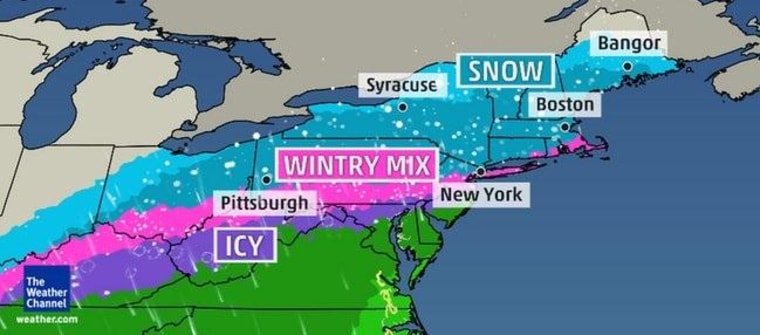 The remnants of the heavy rain system flooding parts of California were expected to drop 5 to 10 inches of snow beginning late Thursday night over an area stretching from Montana and Idaho south to Colorado and Utah, the National Weather Service said. Blizzard warnings were in effect Thursday night for parts of western Montana.
But it's a second system moving in right afterward that will cause the real havoc as it begins trekking east Saturday.
The storm will bring significant ice accumulation to much of the Ohio Valley by Sunday, The Weather Channel predicted.
Precisely where it will hit hardest depends on whether it trends north or south. If it edges north, dangerous ice will likely coat the streets, trees and power lines of major cities like Indianapolis, Cincinnati and Columbus, Ohio; if it tips south, the ice zone would be parked mainly over Tennessee and Kentucky.
Either way, the ice will then move into the Mid-Atlantic and the Northeast, threatening to snarl the Monday morning commute in Philadelphia, Baltimore and Washington, D.C., according to The Weather Channel.
Heavy snow was expected around the ice storm, with as much as half a foot in Kansas City, Mo., St. Louis and Des Moines, Iowa, over the weekend and in New York and Boston by Monday.
"This is more likely than not to be a pretty big snow storm," said Greg Postel, a severe weather specialist for The Weather Channel.