CALAIS, France — Renowned street artist Banksy is pricking the world's conscience by taking the remnants of a sell-out exhibition to a vast, squalid camp for refugees and migrants in northern France.
His Disneyland spoof dubbed "Dismaland" — and associated merchandise — are not in the hands of wealthy collectors but have instead been relocated to the so-called "Jungle" in the French port city of Calais. More than 6,000 shivering people live there in the hope of reaching Britain.
Timber and other materials from Banksy's "bemusement park" have been cut up and used to make shelters, while sweatshirts from the exhibition's gift store have been handed out to grateful — if somewhat puzzled — inhabitants.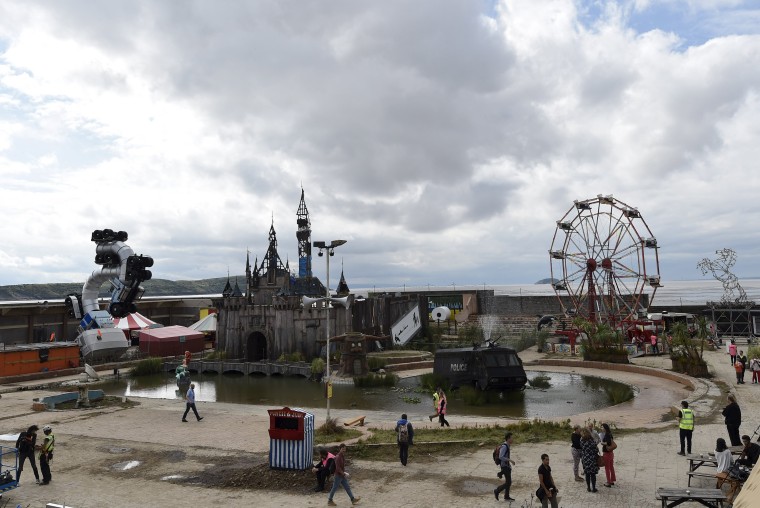 "Yes, I heard he is an artist," said Amanj Amin, a 35-year-old construction worker from Irbil, Iraq. "But I don't know about him."
Banksy's public murals are valued at hundreds of thousands of dollars, and 150,000 visitors lined up for hours in Britain last month to see Dismaland.
Amin has been in the muddy camp for two months with his wife, Shadel, their children Aroz, 5, Asama, 3, and Ada, 1, along with his sister. Like 80 percent of others at the site, they shared a tent on the rain-sodden ground.
Now they are in one of at least seven shacks made from plywood and timber taken from the secretive artist's onetime installation. Their living space is cramped, dirty and undignified but it offers better protection than canvas as colder weather turns the area into a mudbath.
"Before we were on the ground. Now the floor is dry," Amin said.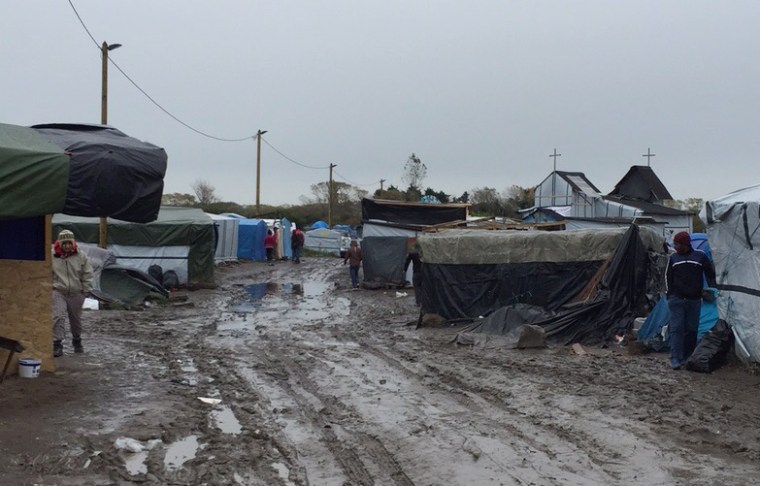 The shelters were built by volunteers who took the materials to Calais from the British coastal resort of Weston-super-Mare on Oct. 16.
Banksy has not commented on the donation and a spokeswoman refused to confirm if the reclusive artist and activist had even visited The Jungle. However, his exhibition's Dismaland sign - altered to read "Dismal aid" - was erected over the shacks.
Self-deprecation, perhaps, or a satire on Europe's much-criticized response to the record-setting immigration crisis? Either way, some volunteers who work at The Jungle welcomed the contribution.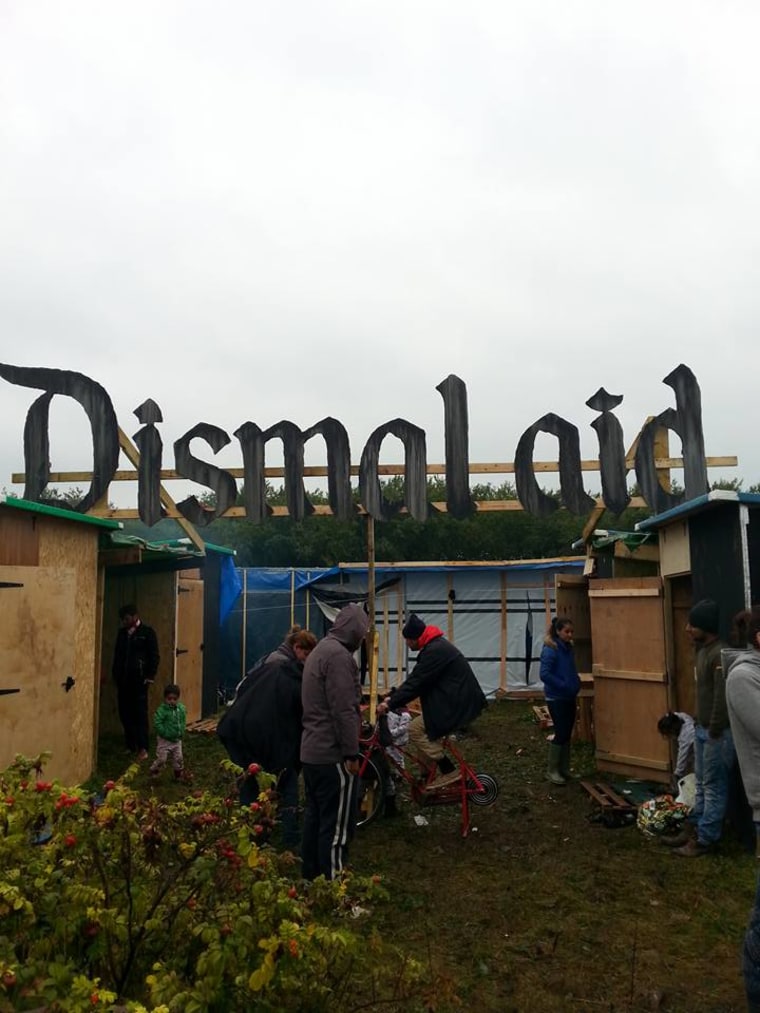 "Yes, it's helpful," said François Guennoc, from local charity L'Auberge des Migrants. "Without this investment of British volunteers it would be impossible for us to help here."
"We met not [Banksy] but the people of his team. They have built some some shelters, they are going to go on building. They have promised to help. We try to build shelters for everybody before the end of November."
Guennoc joked: "I was not lucky [enough] to meet him … maybe you did?"
Others were less convinced. The "Dismal aid" sign was torn down, reportedly by aid workers concerned that the millionaire artist was exploiting the plight of refugees.
It's a contention that was lost on those wearing bright red Dismaland sweatshirts around the campsite this week, none of whom appeared to have heard of Banksy. After fleeing war, poverty or religious persecution, they do not question the motives of those who try to help.
"An artist? Oh, really?" said an uninterested Yashid, 27, from Sudan, who was waiting in line by a water tank clutching a toothbrush.
Also wearing one of the sweatshirts was Kurdish refugee Sarhad Halany, 23, from Sulaymaniyah, Iraq. "My mother? Killed by [ISIS]," he said, making a slit-throat gesture. "My father? Killed by [ISIS]. There are many Kurdish people here. From here, I am going to England."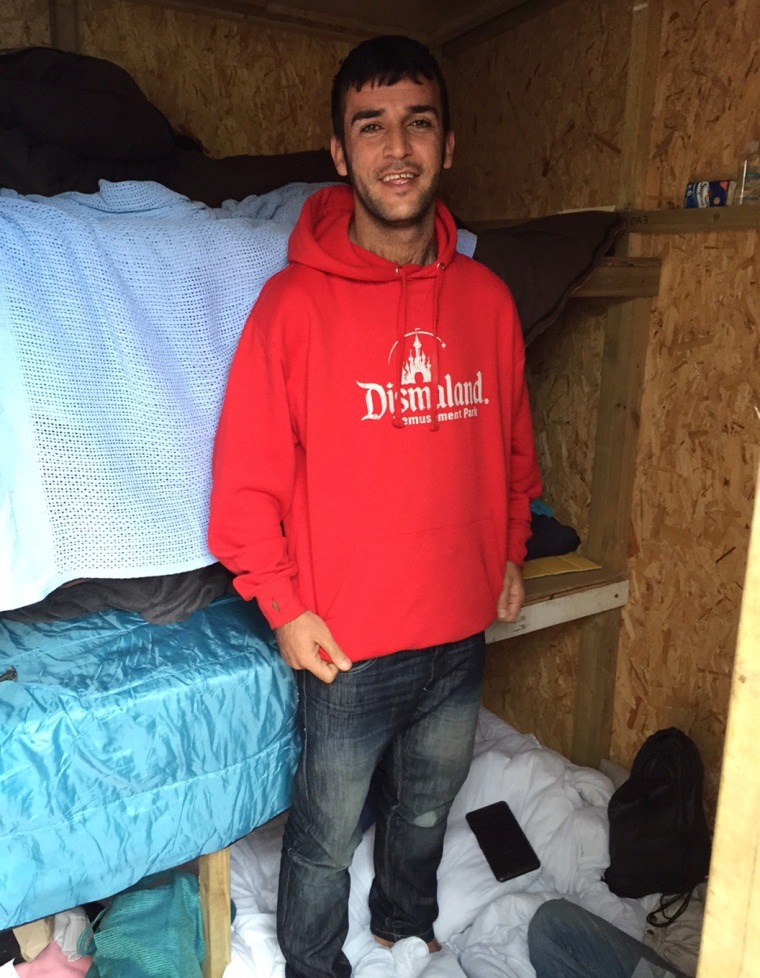 The distant view of the British coastline is the main draw for migrants at Calais, a bleak, industrial ferry port close to the entrance of the high-speed rail tunnel under the English Channel.
They are convinced that the U.K. offers better prospects for jobs and permanent asylum compared to other European Union nations. But reaching it is a dangerous, often deadly, aspiration.
Each night, migrants swarm the approaches to the ferry terminal and the tunnel, attempting to climb aboard trucks and train wagons in a game of cat and mouse with exasperated police.
Said Rezaiy, 22, a researcher from Arak in northern Iran, showed NBC News his wounded hands and clothes torn by multiple escape bids.
"We just want to cross the border," he said. "We are not criminals, we are educated people."
He has been trying to cross the English Channel for four months, and the onset of winter has added urgency to his mission. "If it starts to snow here, we will die," he said.
Among other families living in Banksy's "Dismal aid" shacks are Iranian mom Mina, 27 and her five-year-old daughter Rozhina. She said life in the camp was "very, very hard" but she was determined to reach her husband who is already in Britain. "I try," she shrugged.
French interior minister Bernard Cazeneuve visited Calais Wednesday, promising more toilets and showers and extra police to assuage concerned local residents. However, he avoided touring the muddy Jungle where hundreds more migrants arrive every week.
"Whatever he announces it will not be enough because there are more and more people here every day and the weather is quickly changing," said Jean-François Corty, French director for global medical charity, Medecins du Monde. "It's out of control."
He said dozens of refugees were being treated every by his doctors for problems including injuries, skin diseases, lung infections and psychological problems caused by violence.
Aid worker Guennoc said he feared the situation would become deadly before authorities took enough action.
"The situation here is very bad," he said. "The people are in the mud, they are cold, they are wet and many people have problems of health. "Maybe people will die here for there to be a real change in politics?"