Germany will spend around $6.6 billion to cope with some 800,000 migrants and refugees expected to have crossed into the country by the end of 2015, the government said early Monday.
The announcement by Chancellor Angela Merkel's coalition government came after Germany and neighboring Austria threw open their borders to the wave of refugees making their way north and west from the Middle East, Africa and elsewhere. Hungary has been letting the human tide move on after holding it up for days.
"We had to give a strong signal of humanity to show that Europe's values are valid also in difficult times. Hungary's handling of the crisis is unbearable," said Germany's Secretary-General Yasmin Fahimi.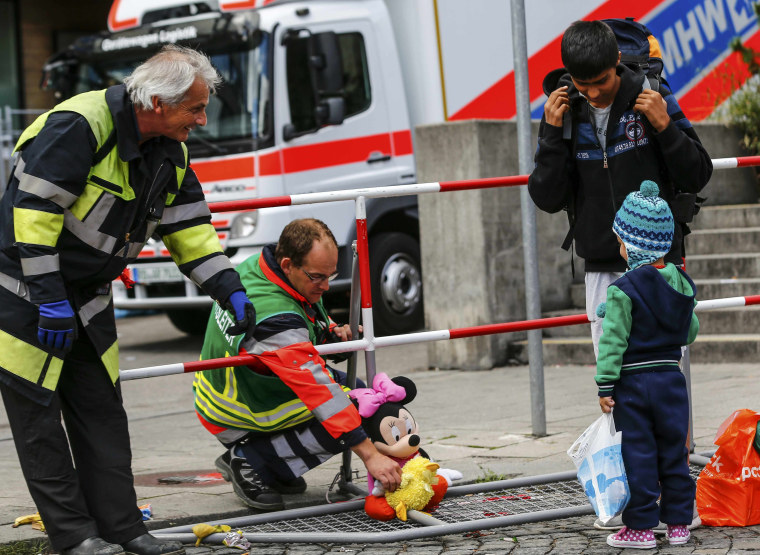 Emotional scenes of Germans and Austrians civilians welcomed exhausted migrants arriving in their countries have contrasted starkly with the treatment they had received in Hungary. Budapest sparked outrage after putting migrants in holding camps and a series of confrontations between Hungarian police and refugees were caught on film.
Related: Pope Francis Calls on Parishes to House Refugees, Says Vatican Will Do Same
Germany, Europe's wealthiest country, also said it would make it easier to deport asylum seekers from countries considered "safe," such as Montenegro, Kosovo and Albania, to cope with the huge influx from war-torn states like Syria, Iraq and Eritrea.
On Sunday, a convoy of around 140 cars and vans filled with food and water left Vienna, Austria, to collect exhausted migrants, who had set out to walk the 110-mile stretch through the rain from Hungary's capital Budapest to the Austrian border.
Related: Austria to End Measure Letting Refugees Pass Through Freely
Onlookers clapped and chanted: "Say it loud, say it clear, refugees are welcome here," as volunteers loaded their vehicles with food, water and soft toys.
Munich police told NBC News that 28,500 people had arrived in the city over the past week, with 17,800 on Saturday and Sunday alone. Authorities said the city was running out of beds, and would be sending people to other states within Germany much more quickly.
Also on Monday, British prime minister David Cameron said the U.K. will take 20,000 refugees from Syria over the next five years.
He told lawmakers that the country had a "moral responsibility" to resettle refugees living in camps bordering Syria, while doing all it could to end the conflict in the country. Vulnerable children would be prioritized, he said.
Earlier, French President Francois said his country would welcome 24,000 refugees, and that he and Merkel had agreed on a mechanism to spread the migrant load across Europe.
But Hungary's prime minister, Viktor Orban, said he wasn't prepared to pitch in and questioned how any EU quota system for migrants could work. He pledged to push on with the effort to build an impregnable 11.5-foot high barrier on its southern border to keep the migrants out.
Orban's government has shrugged off the symbolism and Cold War echoes — noted by critics in western Europe — of razor-wire barriers and watchtowers along borders in formerly Communist eastern Europe.
"We are protecting Europe according to European rules that say borders can be crossed only in certain areas in a controlled way and after registration," he said in the an interview with an Austrian broadcaster. Asked if soldiers along the frontier would get orders to shoot, he said: "It is not necessary because there will be a fence that cannot be crossed. Whoever wants nevertheless to cross the fence must be arrested and prosecuted. No use of arms will be necessary."
The raging debate — and the fence — had not stopped migrants from moving norther. Several hundred migrants woke up in a field near the border with Serbia on Monday morning after spending a night in the cold.
Some 500 people, mostly Syrians, camped in an open field at temperatures of around 46 degrees Fahrenheit because nearby transit camps were overcrowded. The police did not allow them to walk some three miles to the nearest border town of Roszke to seek shelter instead.
"The situation is very very sad," said Amer, a student from Damascus. "Everybody here feels cold and tired and nobody wants to stay here, but there's no buses ... one bus at two hours, and there's about 500 [people], maybe more. The situation is very, very bad."