CATANIA, Italy - Desperate to escape the rubble of war-ravaged Gaza, 27-year-old Khamis paid $2,000 to smugglers who promised to take him to Europe to start a new life. Just days later the Palestinian was clinging to a life-ring along with six other people 300 miles out to sea. He would be the group's sole survivor.
The sinking of Khamis' vessel last week saw some 500 people lose their lives, making it the deadliest migrant boat disaster in European history. Harrowing details of the refugees' ordeal only emerged Wednesday after the International Organization for Migration revealed the accounts of a handful of survivors.
This year is already the worst on record for refugee drownings in the Mediterranean Sea. But authorities said the "Malta Shipwreck," as it is known, was unique because survivors said their vessel sank after being rammed by their own smugglers. This has prompted Italian prosecutors to launch an investigation into whether the tragedy constituted mass murder.
"One after the other, over the next day and a half, the group began to slip beneath the waves"
The alleged ramming happened after the traffickers tried to force the migrants to transfer to a far smaller, less-seaworthy vessel, according to four survivors' interviews with the IOM. When the migrants protested, the traffickers – who had already been paid – rammed them from behind, causing the boat to quickly sink.
"After they hit our boat they waited to make sure that it had sunk completely before leaving. They were laughing," a 33-year-old survivor named Shady told the IOM.
Khamis was luckier than most. About 300 people trapped on the lower deck drowned almost immediately, and most others soon after. There were some 100 children on board, according to a headcount conducted before leaving Egypt.
Khamis was able to cling to a life-ring along with six others. "But one after the other, over the next day and a half, the group began to slip beneath the waves," according to IOM cultural mediator Ahmed Mahmoud, who conducted the interviews with survivors on Sicily.
Soon it was just Khamis and a 14-year-old boy clinging to the life-ring, and the pair told each other their life stories in a desperate bid to keep awake. The teenager was trying to get to Europe to meet his mother who suffered from a severe heart problem. But eventually he also slipped under the water. Before Khamis succumbed, he was picked up by a merchant ship, the Pegasus, which was carrying 386 migrants rescued from yet another boat.
"If survivors' reports are confirmed, this will be the worst shipwreck of migrants in years, not an accidental tragedy, but the apparent deliberate drowning of migrants by criminal gangs who extort money for their desperate journeys," IOM spokesman Leonard Doyle said in a statement after the incident. "Their actions are as callous as they are evil."
Conflicts in Iraq, Syria, Libya, Egypt and Gaza have seen a skyrocketing number of migrants trying to get to Europe to build new lives, leaving Italy in the unhappy position of being the closest port of call. The Malta Shipwreck is one of six sinkings in the past week, with another stricken vessel from Libya leaving as many as 160 people missing presumed dead.
The statistics are stark: Around 3,000 migrants have drowned in the Mediterranean Sea this year, quadruple the 700 death toll for all of 2013. More than 20,000 people have died in the past two decades, according to the U.N.
The recent slew of offshore tragedies came as Angelina Jolie, a U.N. special envoy on migration, was in Malta visiting migrant survivors and touring a navy ship involved in rescues. "We have to understand what drives people to take the fearful step of risking their children's lives on crowded, unsafe vessels," she said in a U.N. statement. "It is the overwhelming desire to find refuge."
What makes the Malta Shipwreck so shocking for authorities is that it appears to have been deliberate. Announcing what he called a "mass murder" investigation, Catania Prosecutor Giovanni Salvi said on Wednesday he was "confident" he could find those responsible.
More than 112,000 migrants – mostly from Syria, Egypt, Sudan, and Gaza – have landed in Sicily this year. More and more of these are Palestinians like Khamis, desperate to escape the aftermath of the Israel-Gaza conflict that turned much of the enclave to rubble in July and August.
"To say this is a spike assumes that the numbers will go down at some point," IOM spokesman Joel Millman told NBC News on Wednesday. "The traffickers have realized that once these people have paid their $2,000, they can put them on these dangerous boats and there's not much the world can do except express its outrage. We have gone from trafficking to a much more serious kind of criminal opportunity that will lead to more and more fatalities."
Two other Palestinian survivors said they arranged their trip at what they called a "travel office" in Gaza. They told the IOM in Crete on Tuesday that they paid $2,000 in advance, using grants from the U.N. and Hamas that were meant to rebuild their homes that were damaged during the recent conflict.
Khamis survived, but many families in Gaza are desperately awaiting news of relatives who have attempted the journey. Samir Asfour, a 57-year-old from Khan Younis, told NBC News he was "hysterical" after his severely ill son Ahmad left on a boat for Germany. During the recent Israeli offensive, the 24-year-old was unable to get the insulin he needed for an eye injury and was advised by doctors he would have a better chance of survival in Europe.
"He called me on Sunday, September 6, saying, 'Please pray for me, I'm trying to find a way to live and not to be in pain all my life. I will call you from Germany,'" the father said. "I couldn't stop him from going. All I said was, 'Who is going to help you during this trip? It's very difficult, and your health is not good.' My son said, 'Just pray for me.'"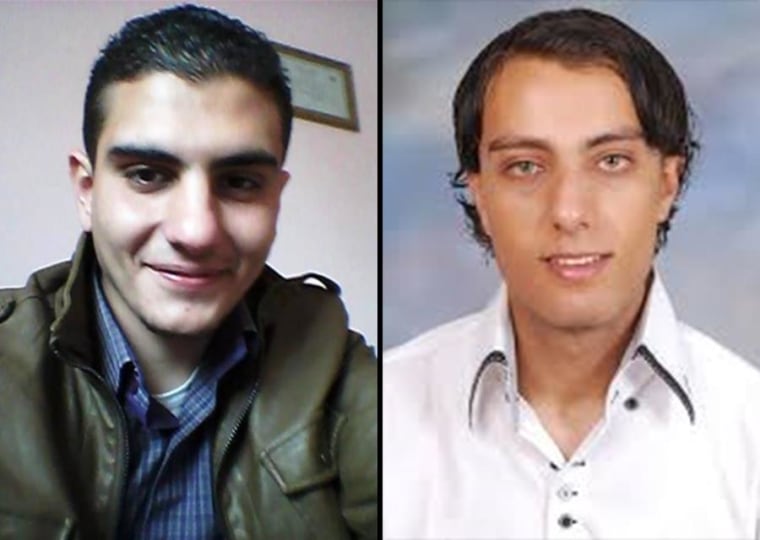 He added: "I feel sad and miserable. My son is just 24 years old, he saw nothing in his life. Ahmad survived rockets, and prison, but he was betrayed by the sea. But I am still hoping for miracle that Ahmad will come back to me."
Abed Rabu Abu Elaian, also from Khan Younis, is waiting for news about his brother, 25-year-old agricultural engineer Mohammed. He boarded a migrant boat to Europe with his 25-year-old pregnant wife Rua'a and their 20-month-old daughter Lara.
"When he left he didn't ask anyone from his family, he just said, 'Goodbye' to everyone," said Elaian, 50. "My brother heard about emigrating to a European country and he was talking about that all the time. He was thinking always to go to Norway, to change his quality of life."
Lawahez Jabari reported from Tel Aviv and Alexander Smith reported from London.