Officials in a small German community have sent a message to protest the government's open-arms refugee policy: A busload of migrants bound for Chancellor Angela Merkel's office.
Bavaria's Landshut district put more than 30 migrants on a 340-mile journey Thursday to Merkel's office in an attempt to highlight the difficulties it is facing in coping with an influx of migrants.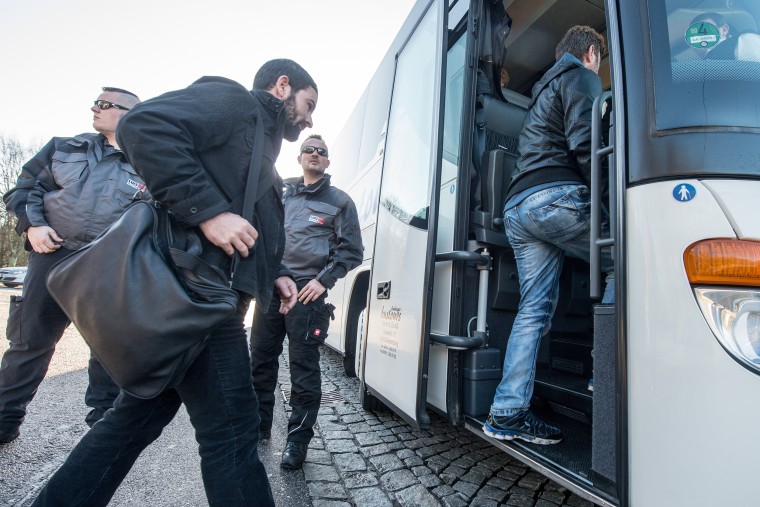 "The housing situation in our region is very difficult and there is a good chance these people will become homeless," Elmar Stoettner, a spokesman for the district, told NBC News by telephone on Thursday. All the migrants had chosen to to travel willingly, he said.
Merkel has emerged as a champion of refugees but has come under growing pressure to curtail the flow of migrants, especially after a spate of New Year's sexual assaults in Cologne.
Asylum-seekers are among the suspects blamed for 581 assaults and thefts so far alleged to have taken place in and around the city's main train station on Dec. 31.
In October, Landshut's elected district chief executive reportedly warned Merkel that his community was not equipped to deal with the large number of migrants it was expecting.
Related: Germany Struggles Under Weight of Open-Arms Refugee Policy
"We are not going to manage this," Peter Dreier told the chancellor, according to Die Welt newspaper. "If Germany takes in a million refugees that means my district will take in a share of 1,800. I'll take them. But any more I'll send by bus to your office in Berlin."
In total, 1.1 million asylum-seekers arrived in Germany in 2015.
More than 2,100 refugees have been housed in the Landshut area, Stoettner told NBC News.
He said two Syrian refugees from Aleppo on the bus heading for Berlin were planning to stay with friends in that city.
The other 29 passengers will "at least send a signal, might find shelter, or we will have take them back to Landshut tonight," Stoettner explained.
All the travelers were single men between the ages of 20 and 45, he said. The group was not expected to meet with Merkel.