The mayor of water-weary Flint, Michigan, on Tuesday pressed for the rapid removal of lead pipes blamed for first corroding the drinking tap in 2014 — saying the city must start with homes where pregnant women and young children reside.
"These lead pipes have got to go," Mayor Karen Weaver said during a news conference, adding that she is "morally obligated" to act.
Related: FBI Investigating Flint's Poisoned Water Crisis
But Weaver couldn't say where all the money to replace the aging pipelines in Flint, home to nearly 100,000 people, would come from.
She also couldn't detail when the process would begin. Still, she was adamant that the task start in homes where the lead water poses the greatest health risk.
"We are here today to take a stand to get the lead out of Flint," Weaver said. "To start, we must remove and replace lead pipes immediately and we want to start with the high risk homes of kids under 6 and pregnant women."
Weaver said she is looking at what was done in the state capital of Lansing as a model for replacing infrastructure: Lead was stripped from 13,500 pipes in the city over the past decade, costing about $42 million, officials said.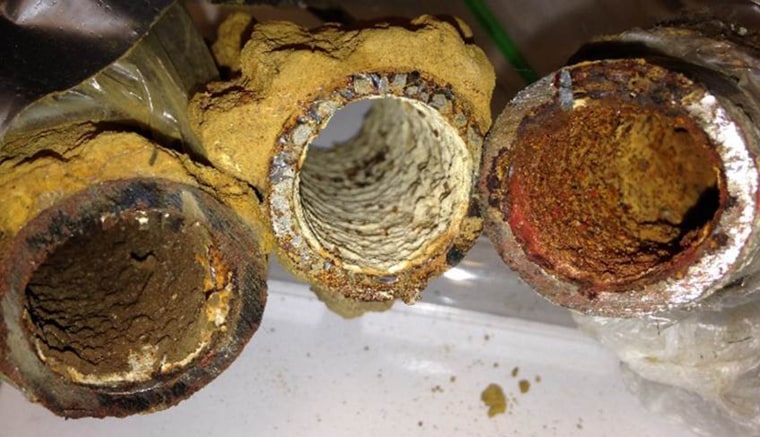 Flint has up to 25,000 service lines with lead that run between water mains and homes.
Weaver believes her city can do the same as Lansing with the help of public and private financing.
"They have perfected a method for replacing the lead service lines that's more than twice as fast and only half the cost," Weaver told reporters, adding, "The process takes four hours, instead of 10 hours at a cost of just $2,000 to $3,000 per line."
Improperly treated water leached lead from pipes into Flint's drinking water after the financially-strapped city switched from Detroit's water system to the Flint River two years ago to save money. Testing has since showed high lead levels in some children.
The city moved back to Detroit as a water source last October after community protests and complaints that residents' tap water was discolored and tasted off.
Michigan Gov. Rick Snyder, who has been criticized for his handling of the crisis, said last week that the state is focusing on using phosphates in the water to coat the corroded pipes and keep the lead from further contaminating the water.
Removing the pipes, he said, wasn't on his "short-term" agenda.
Amid the fallout, the FBI on Tuesday announced it was joining an investigation into whether any laws were broken in Flint's water crisis.
Michigan Congresswoman Candice Miller also introduced a bill asking for $1 billion in federal funding to help replace Flint's underground water line infrastructure.