Twitter is President Trump's megaphone, allowing him to share his unfiltered thoughts in real time with the entire world, but what could happen if someone hacked his account?
Experts say a hack and some unauthorized tweets could lead to all sorts of chaos, including profiteering and causing mayhem on the world stage.
"There is an opportunity now for the president's direct words to be compromised," warned Evan Blair, founder and CEO of ZeroFOX, a social media security firm. "Never has that happened before and now, we're accustomed and trained to expect anything from him."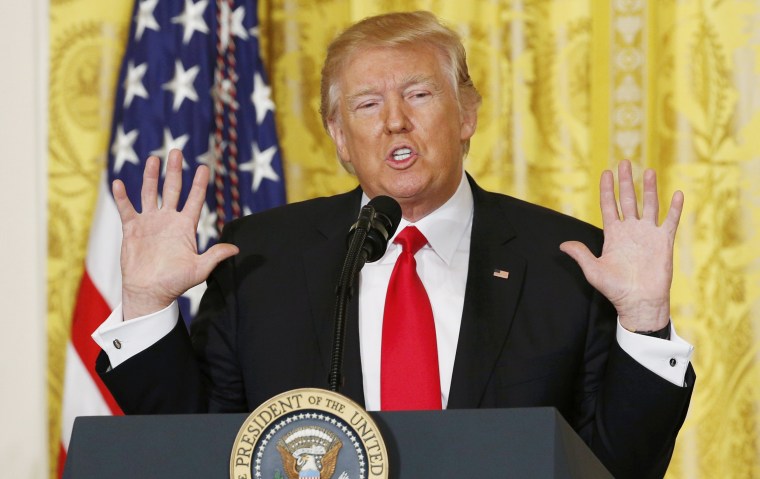 Related: How the New White House Keeps Bungling Social Media
Trump's tweets already have the ability to move stock prices. It's happened so frequently now that there's even a 'Trump and Dump' bot that shorts any stock the president mentions in a tweet.
It's feasible someone with a nefarious motive could hack Trump's account in the hope of shorting a competitor's stock or using it to make money, Jen Golbeck, a professor at the University of Maryland's College of Information Studies, told NBC News.
"The whole world is looking at his Twitter account," Golbeck said. "If someone were to get access, it could create all kinds of chaos, especially depending on how they target things. You can imagine someone doing it purely for profit."
Another unsettling possibility: Hackers could make brazen statements that could have the potential to upset foreign relations, both experts said.
"You could also imagine someone wanting to cause international chaos using Trump's Twitter account to target an unstable leader who is going to react," Golbeck said.
Trump recently reiterated support for the One China policy. Blair gave a hypothetical example of what could happen if someone falsely tweeted from Trump's account that the U.S. was now recognizing Taiwan as a sovereign country.
"That could be a major international incident," Blair said.
Trump's cybersecurity practices were also questioned on Friday by Congressman Ted Lieu (D-CA), who sent a letter co-signed by 14 other members of Congress to the House Oversight Committee. In the letter, Lieu asked for an investigation into Trump's smartphone, presumably the one he also uses to tweet.
"Cybersecurity experts universally agree that an ordinary Android smartphone, which the President is reportedly using despite repeated warnings from the Secret Service, can be easily hacked," the letter said.
Twitter does have security measures in place, including two-factor authentication, which requires a code to be sent to a second source, such as a smartphone, before logging into the site. It's unclear if Trump uses the extra layer of security.
Otherwise, he's likely just left with the option of having a strong password and hoping no one will crack it, experts said.
Last month, a hacker showed the Trump administration was reportedly using Gmail accounts as the recovery address for a number of handles, including @POTUS and @FLOTUS. That appears to have since been fixed.
Twitter declined to comment for this story; however, the company has a list of account security tips, including using a strong password and being careful to not click suspicious links.
"There is very little you can do to protect your Twitter account," Golbeck said. "This is a huge risk."