SAN JUAN, Puerto Rico — The most powerful Atlantic Ocean hurricane in recorded history slammed into the easternmost islands of the Caribbean on Wednesday, killing at least three people and churning along a path pointing to Puerto Rico, the Dominican Republic and Haiti before possibly heading for Florida this weekend.
The eye of Hurricane Irma passed directly over the island of Barbuda, the National Weather Service said, causing widespread flooding. At least one person was killed on Barbuda, the National Emergency Operations Center said, and at least two others were killed on the French islands of St. Martin and St. Barts, France's ministry for overseas affairs said.
Gaston Browne, the prime minister of Antigua and Barbuda, called the damage across Barbuda "heart-wrenching, absolutely devastating."
Browne, who visited the island and then reviewed the scene by air, estimated in an interview on national television that "95 percent of the properties would have suffered some level of damage."
Many homes on Barbuda aren't built on concrete foundations or have poorly constructed wooden roofs that are susceptible to wind damage, and "some have lost whole roofs," Browne said, adding: "Some properties have been totally demolished."
---
The Latest
Irma, a Category 5 storm, made its first landfall in the Caribbean early Wednesday, killing at least three people in the region, according to authorities.
The storm has maximum sustained winds of 185 mph, putting it near the highest on record.
President Donald Trump declared emergencies in Florida, Puerto Rico and the U.S. Virgin Islands, while authorities in the Bahamas said they would evacuate six southern islands.
Irma's path couldn't be precisely predicted, forecasters stressed. It is expected to pass near Puerto Rico sometime Wednesday, then move toward the Florida coast over the weekend. Southeast Florida could be in the eye of the storm by Sunday morning.
---
By 8 p.m. ET, the center of the storm was hovering about 50 miles north of San Juan, the National Hurricane Center said. Its sustained winds of 185 mph inched toward the highest on record: the 190-mph pummeling that Hurricane Allen gave the Caribbean, northern Mexico and southern Texas in 1980.
"It is the strongest that we have ever seen in the Atlantic Ocean," said Kait Parker, a meteorologist for The Weather Channel.
"Unfortunately, we are seeing a tremendous amount of rainfall over Puerto Rico, which means that flash flooding is one of our biggest concerns," Parker said.
Forecasters said northeastern Puerto Rico could expect a foot of rain, with as much as 20 inches falling in some parts. Officials warned people to seek protection from the "onslaught" in a statement that closed with: "May God protect us all."
President Donald Trump, who declared an emergency in Puerto Rico, spoke with Gov. Ricardo Rosselló on Wednesday "to express his support," the White House said.
The National Weather Service predicted life-threatening hazards and severe damage beginning Wednesday in the U.S. Virgin Islands before the storm passed "near or just north of Puerto Rico this afternoon or tonight."
Then would come the Dominican Republic, Haiti and, most likely, Florida, where "folks need to be preparing immediately," said Heather Tesch, a meteorologist for The Weather Channel.
Quentin Liou, a manager at car rental company Hertz on the island of St. Barts, told NBC News that he was watching walls "tremble" as Irma approached.
"The sound is terrifying," he added. "I think when the sunlight will be here we will see a disaster."
Related: The Race Is on to Predict Irma's Path
Four other storms have had winds as strong in the overall Atlantic region, but they were in the Caribbean Sea or the Gulf of Mexico, which are usually home to warmer waters that fuel cyclones. Hurricane Allen hit 190 mph in 1980, while Wilma in 2005, Gilbert in 1988 and the 1935 great Florida Keys storm all had 185-mph winds.
Irma also has impressive staying power, having stayed at Category 5 strength for 36 hours by early Wednesday night. Only six other Atlantic hurricanes have maintained top strength longer, said Jonathan Erdman, senior digital meteorologist for The Weather Channel.
States of emergency were in effect up and down the eastern Caribbean and all of Florida. The U.S. Navy evacuated all non-essential personnel and dependents from Naval Air Station Key West — more than 5,000 people.
Meanwhile, bottled water, flashlights, batteries and other staples flew off store shelves across Puerto Rico.
Long lines snaked from gas stations in Gurabo, a small city 45 minutes southeast of San Juan, the capital. Classes were canceled, and schools were stocked with supplies for refugees as Gov. Ricardo Rossello pleaded with residents to "take Hurricane Harvey as a lesson" and evacuate their homes.
People gathered at schools Wednesday to be transferred by bus to Puerto Rico's 456 available emergency shelters. High winds were already downing branches and trees, and streets were otherwise largely empty.
At Roberto Clemente Coliseum in San Juan, more than 500 people gathered on cots with their belongings, bracing for the storm to strengthen.
Veronica Diaz, 21, of San Juan, said she had never seen anything like Irma.
Diaz arrived at the shelter with came with her mother and her brother earlier Wednesday. She said she was concerned about her father, who had chosen to stay behind, and the uncertainty over what comes next.
"What's going to happen? What now? What are we going to do?" she said.
Trump has also approved an emergency order in Florida, where residents raided the stores and all tourists on the low-lying Keys were ordered to evacuate.
Forecasters stressed that Irma's path couldn't be precisely predicted, saying the average error in tropical cyclone forecasts can veer by as much as 225 miles in the space of five days. But projections on Wednesday night indicated that Irma would still be a powerful Category 4 hurricane when it hits the U.S. mainland.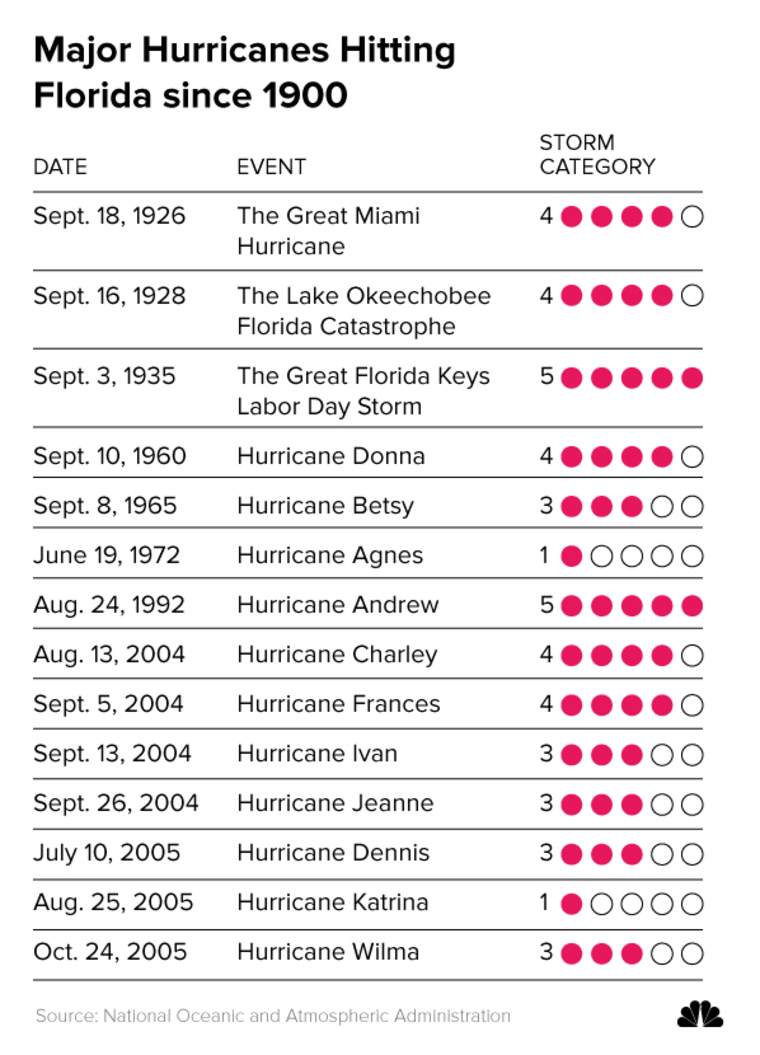 Even if Irma skirts the mainland, residents in the Southeast can still expect a rotten weekend. The system's 185-mph hurricane-force winds extended 50 miles from the center Wednesday night, and tropical storm-force winds of 75 mph and higher were being flung as far as 185 miles — a destructive footprint more than 370 miles across.
Scott activated 100 members of the Florida Air and Army national guards and said that 7,000 Guard members would be reporting for duty by Friday.
"This storm has the potential to devastate this state, and you have to take this seriously," he said.
Morgan Radford and Ezra Kaplan reported from San Juan. Alex Johnson reported from Los Angeles.