The floodwaters retreated. Homes were rebuilt. New Orleans rebounded with Mardi Gras, jazz festivals and even a Super Bowl in 2013.
In the 10 years since Hurricane Katrina smashed the shoreline of the Gulf Coast, the images of despair grew distant.
But for the people who lost everything, they never went away.
PHOTOS: One Decade Later: A Look Back at Hurricane Katrina's Wrath
In the immediate aftermath of the destruction, survivors opened up to NBC News about their loss, grief and rage.
We reconnected with those same survivors recently — and learned how the storm, even a decade later, still shapes their lives.
'It's worse now'
Robert Davis lost two homes in the floodwaters of Katrina — and just two weeks after the storm, he was videotaped being beaten by police. He was forced to leave his beloved city of New Orleans.
"We lost two homes; one was my wife's mother's house — at the time that Katrina hit we were renting it out. We lost everything," Davis, 75, told NBC News. "They were torn down. They were not rebuildable. ...We had only the clothes on our back when we came to Atlanta."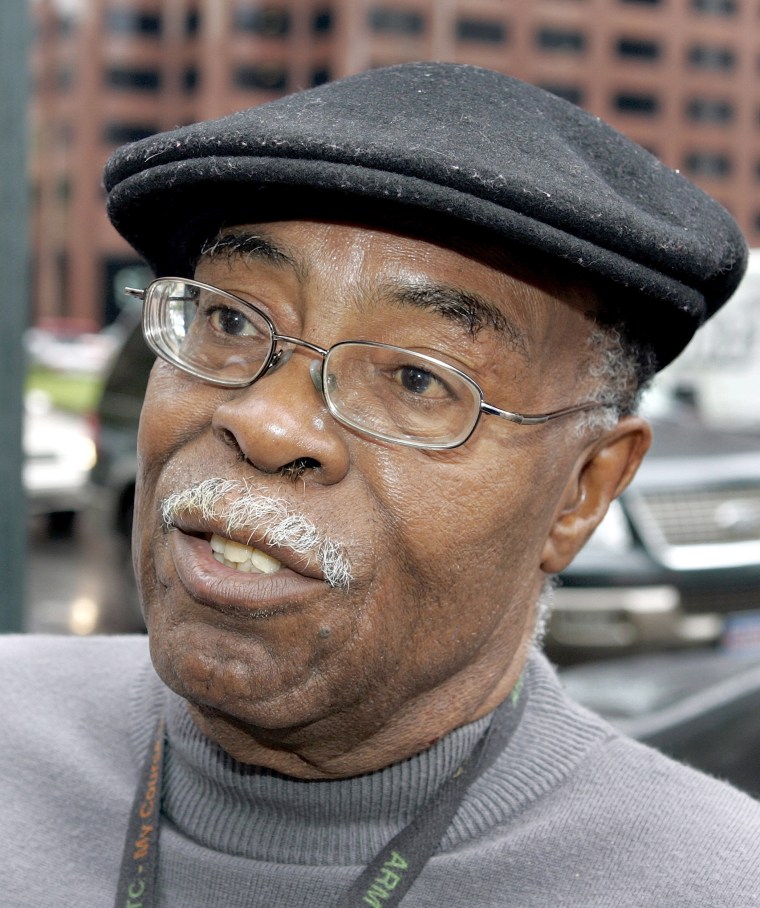 The retired teacher received national attention when images of him being beaten by New Orleans police officers made headlines in October 2005.
Davis' immediate family fled the storm before it made landfall. They stayed in Georgia with relatives and, when the extent of the damage in New Orleans was clear, decided to settle down in the Atlanta suburb of Johns Creek.
Davis returned to New Orleans that October to deal with insurance company claims for the two houses his family lost in the storm. On Oct. 8, while he was out looking for a cigarette, he was arrested for alleged public intoxication — even though, as he later told news organizations, "I haven't had a drink in 25 years."
Related: Face of Hurricane Katrina Misery Continues Her Journey
During the arrest, three white New Orleans police officers in the French Quarter repeatedly punched Davis, who is black, in the head — all while Associated Press cameramen captured it on video.
Davis sued the city and settled for an undisclosed amount of money before the trial was set to start.
He says he holds no animosity toward police officers in general, but that the dynamic between cops and the communities they serve needs to change.
"I think this thought process of police is, 'Because I have the authority to put you in jail, I'm right.' And no, you're wrong," he said.
From his adopted home in Georgia, Davis feels little fondness for the post-Katrina New Orleans.
"The city is nothing like it was when we left. It's worse now," Davis said. "The Lower Ninth Ward — there's nothing there now. They have a brand new school there, but there are no people living there."
Surrendering the dream
Like the hard-hit Lower Ninth Ward, New Orleans' Lakeview neighborhood was clobbered by Katrina when the levee along the 17th Street Canal was breached.
Darren Schmolke, his wife, Tara, and their 17-month-old son, Luke, fled to Florida, leaving behind the home they had built just three years earlier.
And then tragedy struck: Tara was killed in an accident while returning a rental car.
Schmolke knew how important Lakeview was to his wife. In her honor, he returned to the community with his son, determined to rebuild his four-bedroom home with his own two hands.
"My situation is a little tougher than everybody else's because I didn't just lose my house," Schmolke had told NBC News. "If we can pick up the pieces and keep moving on, I think everybody can do that, too."
His neighborhood of nearly 10,000 had become a veritable ghost town. But he was resilient and kept working. And by Thanksgiving of that year, the home was completed.
Related: Where Is Disgraced Former FEMA Chief Michael Brown Now?
But about five years ago, Schmolke let go of the dream of recreating his life in Lakeview. With his son, he moved north to a rural lakeside community outside of Charlotte, North Carolina. He had no connections there, but was determined to set down roots and continue his career in construction.
"I tried to stick it out for a while," Schmolke said recently about staying in New Orleans, where he had lived for more than 40 years.
"I actually tried to hold on to the dream. I went back and gave it my best effort," he added. "But I got beat down by that community and the people in that city, the politicians. They're not going to let you succeed either. You can't succeed there."
He even remembers the exact moment he knew he would leave the Big Easy — when then-Mayor Ray Nagin, heavily criticized for his response during Katrina, won re-election in 2006.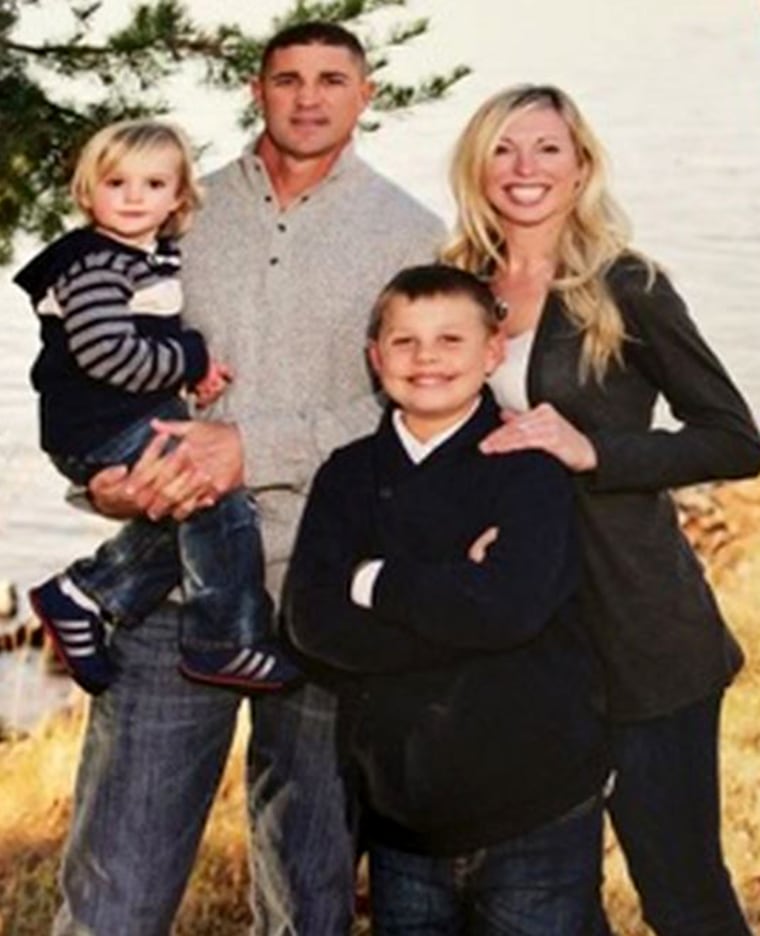 "I was in disbelief that he would get another shot at mayor," Schmolke said, "but more importantly, it let me know that the community I was protecting and rebuilding just didn't want to better itself."
In his new life in North Carolina, Schmolke has found a place in which he can take pride. He got remarried to a woman named Amber, whom he met in New Orleans, and the couple shares a 3-year-old son, Eli.
His oldest son, 11-year-old Luke, is thriving — something he's not sure he would have been able to say if the family remained in New Orleans.
Schmolke said: "It really makes you realize that there's a better life that you could have been living a long time ago."
Rebuilding a home
The small town of Waveland, Mississippi, on the Gulf Coast was considered "ground zero" when Katrina made landfall.
Louie and Jane Smolensky hunkered down in the home the family had owned since 1945 — the same one that survived Hurricane Camille in 1969.
Katrina, with its 120 mph winds, sent over 6 feet of water thrashing into the residence as Jane ushered 10 family members and friends into the house's attic, saving their lives.
"I wasn't concerned about the material things," she told NBC News in the weeks after the storm. "I was just so happy everybody was alive and OK."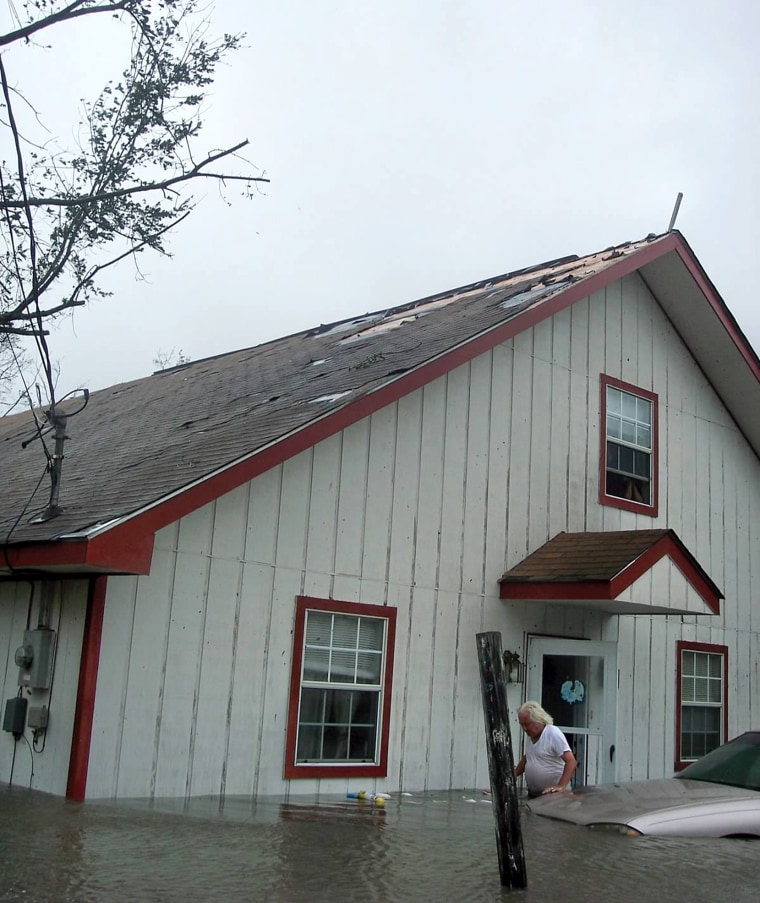 But this time, neither the home nor the majority of Waveland, population 6,600, could withstand the force of nature. The tiny downtown was leveled. The Smolenskys lost everything in the waters. But for Jane, abandoning the home wasn't an option.
"There was no sense in bringing that up," recalled Louie, 73, a former Waveland alderman. "I knew she wouldn't leave, so we stayed."
The Smolenskys got a state grant to rebuild. Jane, who had worked as a secretary for General Electric, was at the helm as family members shoveled out the residual muck, demolished walls, hung sheetrock and hammered in nails. A photo from the time shows Jane removing a door frame, her hands strong and steady.
But as the family learned to start over, they were met with another round of devastating news in January 2007: Jane was diagnosed with uterine cancer. Later, during her recovery, doctors discovered she had dementia.
Neither Katrina, nor the cancer, could take away her upbeat attitude. In other photos over the years, she opens Christmas presents with her husband, whips up meals in the showroom-sized kitchen for her family and stands proudly at her daughter's college induction.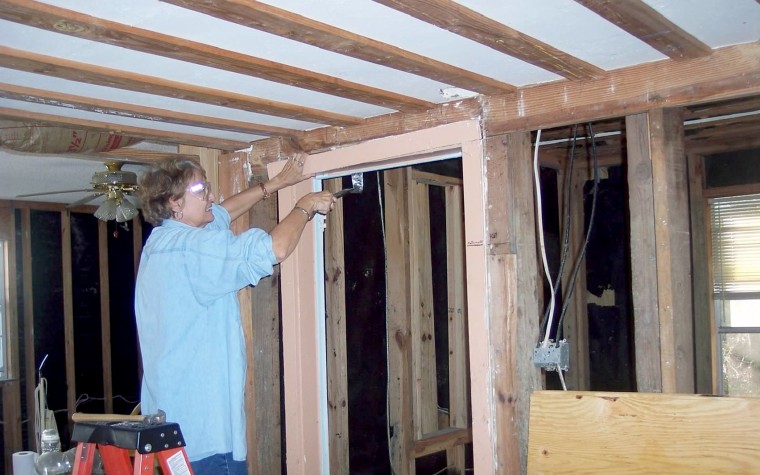 In later photos, she is frail and in a wheelchair. But her trademark smile still sparkles.
Last September, Jane died peacefully in the place that mattered most to her — her home. She was 67. It was a day after Louie's birthday. Louie says he wishes they had more time to appreciate what was rebuilt before her health declined.
"I'm glad that the city has been able to come back. The only thing I regret is that my wife's not here," he said. "This was her home. Katrina only made her fight harder for it."