U.S.-backed forces captured the strategic ISIS-held town of Sinjar on Friday after a day of battling the extremists.
"Sinjar has been liberated," the president of Iraqi Kurdish region Masoud Barzani told reporters atop Mount Sinjar, which overlooks the town. "Without doubt, any victory in any area will have a big impact on achieving victory in the remaining areas."
Sinjar is important because of Highway 47, which lies alongside the town and links ISIS' two biggest strongholds — Raqqa in Syria and Mosul in northern Iraq. The 75-mile-long highway has been one of the most active supply lines for ISIS, a major conduit for goods, weapons and fighters.
Kurdish peshmerga troops approached Sinjar "from all directions" to clear out ISIS militants, Brig. Yehya Rasool said earlier.
Since the assault was launched Thursday in conjunction with U.S.-led airstrikes, the Kurds captured more than 58 square miles of territory around Sinjar from ISIS, according to officials.
"ISIL defeated and on the run," the Kurdistan regional security council said in a tweet, using another acronym for ISIS.
Sinjar was captured by ISIS in August 2014, shortly after the extremists seized Mosul and blitzed from Syria across northern Iraq.
Once in Sinjar, ISIS inflicted a wave of terror against the minority Yazidi community, members of an ancient religion whom the militants view as heretics and accuses of worshiping the devil.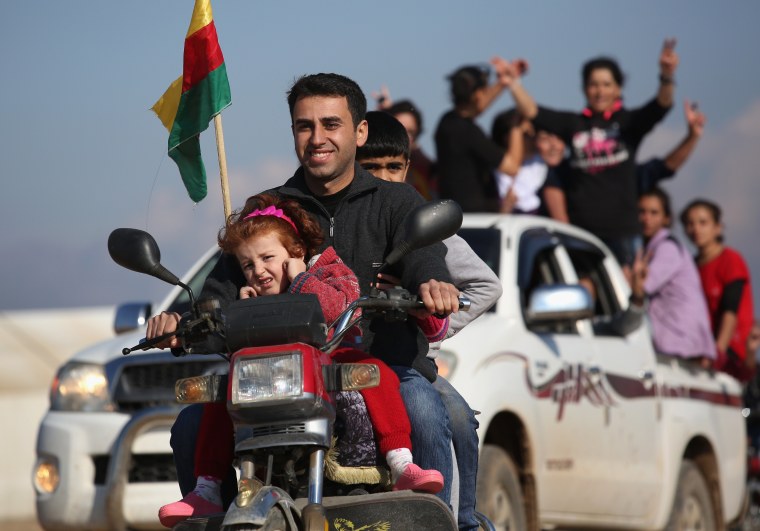 Since then, the name Sinjar has evoked images of tens of thousands of terrified Yazidis fleeing into the mountains, where the militants surrounded them, leaving them trapped and exposed to scorching summer heat.
The crisis prompted the United States to launch aid drops to the stranded. An untold number were killed in the assault, and hundreds of men and women were abducted — the women subsequently enslaved and given to ISIS militants across the group's territory in Iraq and Syria.
The massacres in Sinjar also spurred the U.S. to launch the first round of airstrikes.
An earlier attempt to wrest back control of Sinjar, which is about 30 miles from the Syrian border, stalled in December.