LONDON — British warplanes bombed an ISIS-controlled oil field in eastern Syria just minutes after lawmakers in London voted to join the U.S.-led aerial campaign against the militants, officials said.
Four Royal Air Force Tornado jets took off from Britain's Akrotiri base in Cyprus shortly after Prime Minister David Cameron's plans were approved by members of the House of Commons.
The Omar oil field, 35 miles inside Syria's border with Iraq, "is one of the largest and most important to ISIS financial operations, and represents over 10 percent of their potential income from oil," Britain's Ministry of Defence said in a statement. "Carefully selected elements of the oilfield infrastructure were targeted, ensuring the strikes will have a significant impact on [militants'] ability to extract the oil to fund their terrorism."
Two U.S. counter-terrorism officials told NBC News in July that ISIS can earn between $8 million to $10 million per month from selling and smuggling oil and gas.
Supported by a Voyager air refueling tanker and a Reaper drone, the Tornado GR4s dropped Paveway IV guided bombs onto targets in the area, the Mod said.
The first sortie took place 57 minutes after the House of Commons vote, according to Britain's ITV News.
The vote, which came shorly after 10 p.m. local time (5 p.m. ET) Wednesday, followed a testy 10-hour debate in which many lawmakers expressed fears of civilian casualties in Syria from the U.S.-led "Operation Inherent Resolve."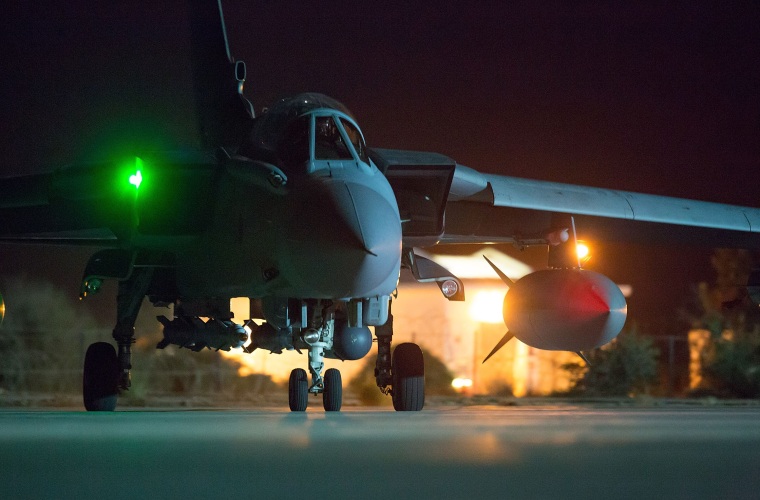 Until Thursday, British warplanes have been participating only in strikes on ISIS inside Iraq.
"Our initial analysis of the operation indicates that the strikes were successful," the MoD statement said, without mentioning casualties.
"That strikes a very real blow at the oil and the revenue on which [ISIS] terrorists depend," Defense Secretary Michael Fallon told the BBC. "There are plenty more of these targets throughout eastern, northern Syria which we hope to be striking in the next few days and weeks." He added that Britain was sending eight more warplanes to Cyprus to join the missions.
Cameron stressed the "complex and difficult" military action "is going to take time," ITV News reported.