U.S. Special Operations forces began mobilizing near the front lines in Syria this week to aid mostly Kurdish fighters in their bid to retake Raqqa.
The American military's movements were captured by a photographer with Agence France-Presse on Wednesday in a town 30 miles outside of Raqqa called Fatisah. The photographer is embedded with the military arm of the Syrian Kurds, known as the YPG.
Raqqa has served as ISIS's de facto capital since the terror network captured it in January 2014. It was the first time ISIS took control of a major city in the region, and the forces aligned with the government of Syrian President Bashar Assad launched an offensive to win it back.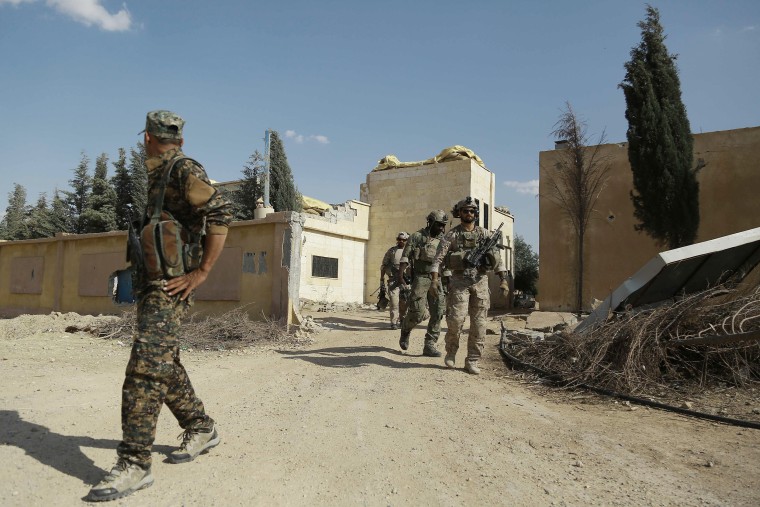 When asked about the photos on Thursday, Pentagon spokesman Peter Cook emphasized that U.S. troops are "not on the forward line."
But Fatisah had just been cleared of ISIS fighters in the previous 24 hours, so it was about as close to the front lines as the Americans could be without actually being in the thick of fighting.
The images include uniformed men — identified as U.S. forces — walking in Fatisah and riding in the back of a pickup truck.
Defense officials believe the photos are legit. "We have no reason to believe they aren't," one official told NBC News.
The officials deny this is a change in the current U.S. policy in which military personnel are not engaging in direct combat but can still be in harm's way.
The officials say they never claimed that U.S. troops in Syria wouldn't be far behind enemy lines.
But when the White House first announced the deployment of the first 50 troops, a senior defense official said they "will not be going out and doing joint operations with those forces."
The new photos also show U.S. forces wearing YPG patches. It's not uncommon for Special Operations members to wear different or unusual patches, but it is rare to wear patches from another group or nation.
Such a gesture is likely to infuriate both Turkish authorities, a U.S. ally that views the YPG as a terrorist organization, and Arab groups who aren't aligned with the Kurds.