QUETTA, Pakistan — ISIS has created a 10-man "strategic planning wing" with a master plan on how to wage war against the Pakistani military, and is trying to join forces with local militants, according to a government memo obtained by NBC News.
"They are now planning to inflict casualties to Pakistan Army outfits who are taking part in operation Zarb-e-Azb," says the alert, referring to the military offensive against the Pakistani Taliban and other militants that was launched in June in a tribal region near the Afghan border.
Labeled "secret," the memo was sent by the government of Balochistan, a southwestern province that borders Afghanistan, to authorities and intelligence officials across Pakistan last week. Akber Durrani, the province's home secretary, called it "routine" and said Sunni militant group and its sympathizers do not have a stronghold there.
But the document suggests that ISIS has Pakistan in its cross-hairs, warning that the group aims to stir up sectarian unrest by dispatching the local militant group Lashkar-e-Jhangvi on offensives against Pakistan's minority Shiite Muslim community, further destabilizing a country already battling Taliban and al Qaeda elements. Most Pakistanis are Sunni Muslims. Mistrust has existed between Shiites and Sunnis for around 1,400 years.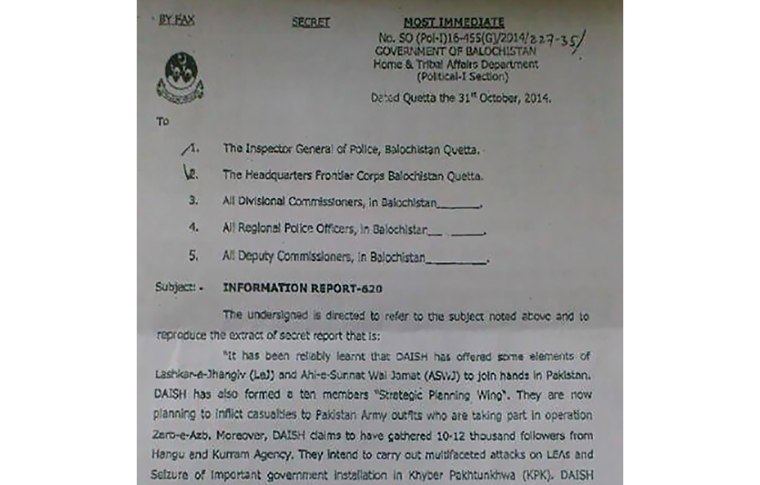 ISIS has seized large areas of Syria and Iraq. It claims to have recruited 10,000 to 12,000 followers in tribal areas on the Afghan border, including in Hangu, which is known for hostility between Shiites and Sunnis, the memo says.
Lashkar-e-Jhangvi, which has claimed responsibility for violence against Shiites, and Sipa-e Muhammed, which has struck against Sunnis, were banned after 9/11.
Just days ago, the chief minister of Balochistan, Dr. Malik Baloch, told journalists he had no information about the presence of ISIS in the province. "However, there are fundamentalists whose approach is similar to that of ISIS," he said.
The memo recommended "strict monitoring" of militants and "extreme vigilance" to ward off any attacks.
There have been other signs of ISIS flexing its muscles in the region. In late September, a pamphlet apparently made by the self-proclaimed caliphate was distributed among Afghan refugees in Pakistan exhorting them to pledge allegiance and lashing out against "America and the rest of the infidels."
In late September, ISIS-aligned militants launched a brutal offensive in Afghanistan alongside Taliban fighters that has left more than 100 people dead. Fifteen family members of local police officers were beheaded and at least 60 homes were set ablaze, officials said.