Troubling questions are swirling around the man hired to help fix the scandal-plagued Ferguson police department.
Andre Anderson — a veteran Arizona cop and the interim chief of the Ferguson Police Department — was previously suspended three times in one year, the news website Vocativ found through a Freedom of Information Act request. He also had an order of protection against him and was accused of falsifying official documents, Vocativ said.
Anderson is on a six-month break from his post as police commander in the Phoenix suburb of Glendale — using vacation and then unpaid leave for his time off.
Anderson was hired to help turn around the 45-officer department, which was rocked by several resignations in March after the release of a damning Justice Department report that found a culture of racism in the police department and municipal offices.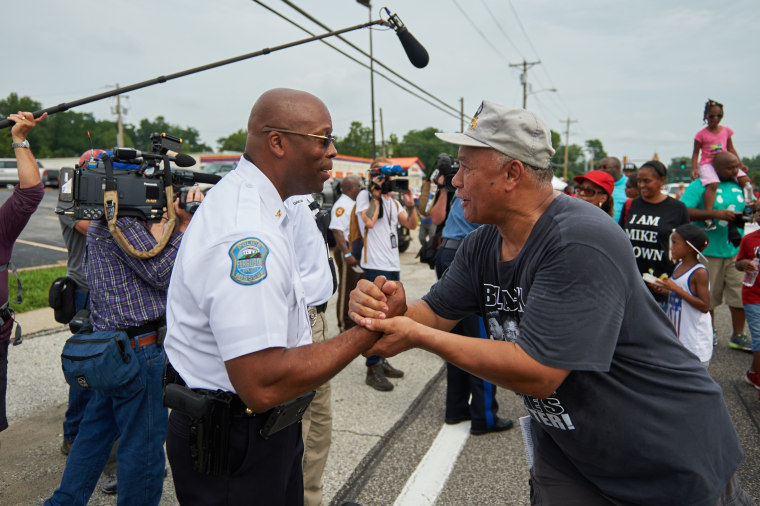 Street violence also returned to the St. Louis suburb over the weekend during the one-year anniversary of the police shooting of black teenager Michael Brown.
Anderson, a former amateur boxer, has been with the Glendale department for 24 years. He briefly worked in Phoenix and the small city of Tolleson.
While he has received glowing reviews overall, there's a glaring blemish on his record: He was suspended without pay for two days in December 1996; again suspended without pay for eight days over July and August 1997; and then suspended without pay for two days that September, according to Vocativ.
The 1996 suspension stems from "significant problems" during Anderson's time on a Drug Enforcement Administration Task Force, which later led to the discovery that he was "conducting personal business on city time and falsifying official documents," according to a review obtained by Vocativ. It was unclear what caused the suspensions in 1997.
Related: Ferguson 'Opened the Eyes of America'
In a response to NBC News on Thursday, a Ferguson spokesperson said the city does not generally comment on personnel matters, although it made an exception with the falsifying documents claim.
"In that instance, Chief Anderson provided information on a mileage report in error, not out of an intentional, malicious action," the city said in a statement.
The city also responded to an order of protection against Anderson lodged by a woman who claimed in 1996 that he "struck me in the face and it caused severe headaches, swelling, and broken blood vessels around my lower eye."
No criminal charges were ever filed, and the order of protection lapsed about six weeks later.
"The allegations regarding Chief Anderson allegedly striking a woman are more than 15 years old, were unfounded … and thus never led to criminal charges being filed," a Ferguson spokesperson responded.
Anderson was a visible presence over the weekend during the anniversary of Brown's shooting. He had told reporters last month that he is ready for the job ahead.
"There's a lot of work to be done," Anderson said. "I'm ready to roll up my sleeves and get to work."