KUALA LUMPUR, Malaysia - Relatives of Chinese passengers on missing Flight 370 unfurled banners, chanted in protest and demanded the return of loved ones during a press briefing on Sunday.
"We want evidence and we want our families back," said one banner held aloft by some 35 newly arrived family members in a hotel in Kuala Lumpur.
Another banner read: "Relatives of MH370 strongly condemn the Malaysian government's delay of rescue time. They announced that the plane crashed into the Southern Indian Ocean based on just speculation. They trampled on innocent lives. We want the truth ... Tell the truth to the world."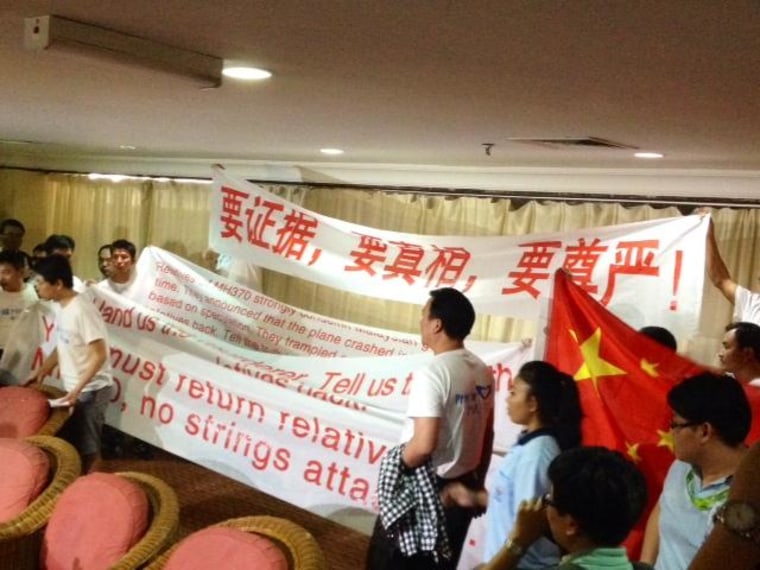 Steve Wang, a representative of some of the Chinese families, told Reuters that relatives were unhappy with responses the Malaysian government had provided in Beijing.
"We have demanded that we meet with the prime minister and the transportation minister," Reuters quoted Wang Chunjiang, whose younger brother was on Flight 370, as saying. "We have questions that we would like to ask them in person."
More than 150 of the 239 aboard when Malaysia Airlines MH370 went missing on its way from Kuala Lumpur to Beijing were Chinese, and there has been deep anger and dissatisfaction at the Malaysian response to the disaster.
- John Boxley, Christina Marker, Marc Smith and F. Brinley Bruton.