The tickets used by the fake passport carrying passengers aboard the missing Air Malaysia Flight 370 were bought through a travel agency in Pattaya, Thailand, according to a report in a British newspaper.
The tickets were booked through an Iranian middleman known as "Mr Ali," a Thai travel agent told the Financial Times newspaper (registration required).
The newspaper quoted Benjaporn Krutnait, owner of the Grand Horizon travel agency in Pattaya, as saying the Iranian had asked her to book the two men to travel to Europe on March 1, specifying only that she find them cheap tickets.
She initially booked them on two separate flights -– one on Qatar Airways and another on Etihad airline –- but the tickets expired before she heard again from the Iranian, she said.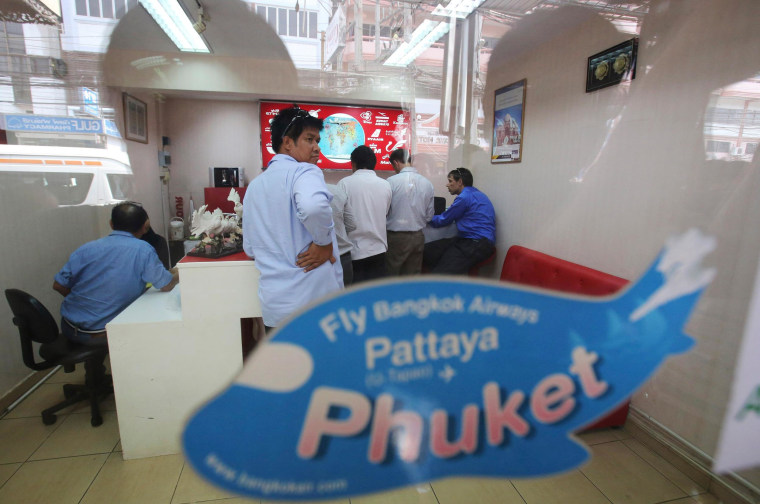 After he contacted her on Thursday, she rebooked the men on the missing Malaysia Airlines flight, though the Iranian again did not specify a flight. This time a friend of the Iranian paid in cash, she said. Benjaporn then arranged for a larger agency, Six Stars Travel, to issue the tickets, according to Thai police.
NBC News was not immediately able to contact Benjaporn to confirm the account.
The Financial Times said it was unable to reach "Mr Ali" via a cellphone number provided by Benjaporn.
Benjaporn said that she had known "Mr Ali" for about three years, when her periodically stayed in in Pattaya. The newspaper noted that there is no evidence that the Iranian knew the two men were traveling on stolen passports.
The regular traveler between Tehran and Pattaya had been using her agency for about three years, she said, although there is nothing to suggest that he knew the two men were imposters.