A key question facing investigators after a Malaysia Airlines flight went missing will be why it dropped off the radar without its pilots transmitting any last messages, an aviation expert said.
"This was a modern, latest generation airplane which has gone missing," said David Learmont, operations and safety editor at Flight International magazine, told NBC News. "These don't just fall out of the sky. Modern airplanes just don't."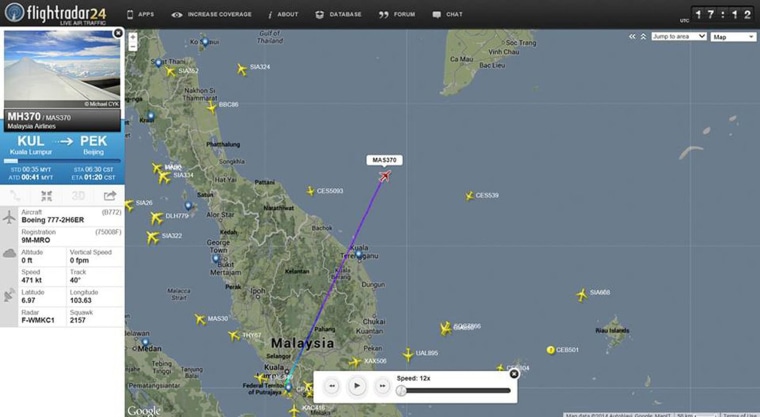 A search-and-rescue mission was under way for the Boeing 777-200, which was carrying 239 people when it lost contact with air traffic control en route to Beijing.
At that stage of the flight the jet would have been on "cruise" with the pilots not having very much to do, Learmont said.
"Why didn't [the pilots] say anything?" Learmont asked.
On the face of it, the circumstances surrounding the Malaysia Airlines flight disappearance seemed similar to the Air France 447 that crashed into the Atlantic Ocean in June 2009.
"Air France 447 went missing over the sea, at night and there was no emergency call," Learmont added.
Some wreckage and bodies from that flight were recovered over the next two weeks, but it took nearly two years for the main wreckage of the Airbus 330 and its black boxes to be located and recovered.
Investigators said that a combination of technical and human errors were to blame for the Air France crash.