As the Eastern Seaboard digs out from a weekend blizzard that dropped as much as three feet of snow and left at least 30 dead, much of the region remained paralyzed as crews work to clear roads, highways and runways.
As of 9 p.m. ET Sunday, more than 12,000 flights across the country had been canceled since Friday, according to the flight tracking service FlightAware.
In the New York City metro area — where Mayor Bill DeBlasio described the blizzard as "close to the worst storm we've ever had," NBC New York reported — Kennedy, LaGuardia and Newark Liberty airports accounted for more than 2,000 of those disruptions on Sunday.
Officials at the Port Authority of New York and New Jersey, which operates the region's airports, said Sunday morning that all three facilities were open — but that offered little relief to stranded passengers, some of whom had been camped out for days: Airlines were anticipating "limited activity" for the rest of Sunday.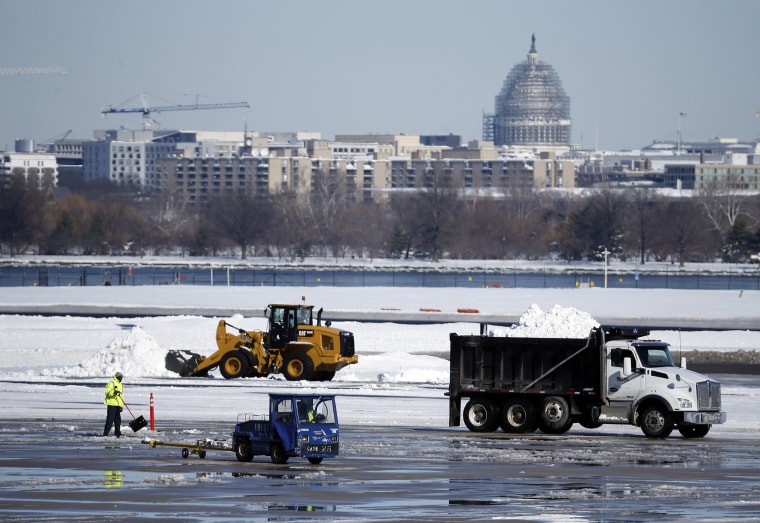 Among the stranded was Peter Carter, who was desperately trying to get from LaGuardia to South Florida, where his brother died suddenly of pneumonia last week. Carter was supposed to leave Friday on Jet Blue, he told NBC News, but his flight was among the first to be canceled. "It's been hell trying to rebook and rebook and rebook," he said.
By Sunday, he had been to all three airports in the area and was prepared to drive approximately 130 miles north to Bradley International in Windsor Locks, Connecticut—until he heard that drivers were getting stranded on the interstate. Back at LaGuardia, he just hoped to arrive in West Palm Beach before the funeral ends. "I'll be getting there for the last hour," he said.
Nearly 800 flights were already listed as canceled for Monday, according to FlightAware, with more than 230 of them out of or into Washington-Dulles International. United Airlines, which tallied most of those disruptions, announced Sunday that it wouldn't resume flights there until Monday afternoon.
Some mass transit systems were beginning to reopen on Sunday, though roads and highways across the region remained treacherous. Across five states, 17 vehicle fatalities were attributed to the storm on Friday and Saturday, the Associated Press reported, and city and state officials from New York City to Virginia pleaded with residents to use extreme caution on the roads or to just stay put and let snow plows do their job.
"I know people are starting to get cabin fever, but now is not the time to venture out onto the roads unless you absolutely have to," Baltimore Mayor Stephanie Rawlings-Blake said, according to NBC affiliate WBAL.
In Philadelphia, where nearly single-digit temperatures were forecast for Sunday night — and where a snow emergency remained in effect throughout the day—more than 150 cars had been towed from city streets, NBC Philadelphia reported.
Even the snowplows were getting stuck in Connecticut. After one became stranded on railroad tracks in Stamford on Sunday morning, it was struck by a commuter train, NBC Connecticut reported. There were no passengers on board at the time, and no one was injured.
Nearly 100 miles northeast, near the Massachusetts state line, a car that flipped over a guardrail and landed roof-first in a frozen pond was not so lucky. The driver was able to escape, though a passenger who was transported to a local hospital was unresponsive, NBC Connecticut reported.
In Virginia, where interstates were open but many secondary roads were closed—and where state offices would remain shuttered Monday—Gov. Terry McAuliffe attributed 1200 vehicle accidents to the storm, NBC Washington reported.
"Please stay off the roads," he said. Give us time to do what we need to do."