As thousands gathered in Orlando, Florida, on Saturday to mourn the death of Christopher Andrew Leinonen, who was killed last weekend during the worst mass shooting in modern history, a handful of protesters from Westboro Baptist Church were among them.
But their incendiary, anti-gay signs were met by counter-protesters who've made a tradition of blocking them out with a powerful symbol: angel wings.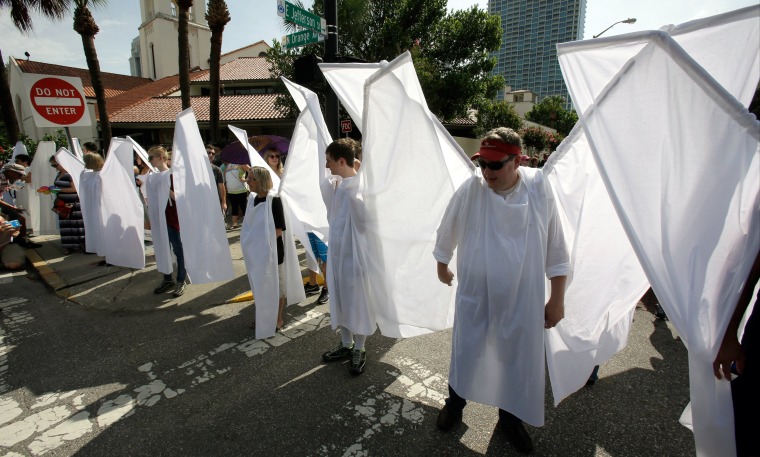 The tactic dates to 1999, when the church picketed the trials of the men charged with horrific killing of Matthew Shepard, a gay college student, in Laramie, Wyoming. In Orlando, the city's Shakespeare Theater was behind the effort.
"Angel wings are meant as a loving support to the fallen, not to create more anger or violence," Jim Helsinger, the theater's artistic director, said in a statement.
Other counter-protesters who shielded friends and family of the victim held rainbow banners and signs emblazoned with the words "OrlandoStrong" and quietly sang "Amazing Grace." When the people dressed as angels appeared, they said nothing as the crowd cheered, The Washington Post reported.
According to one account, the measures worked. "We couldn't even hear WBC," an attendee said on Facebook. "All you could hear was peace and love."