PARIS — A 24-year-old Malian immigrant who hid a group of hostages during a terror attack at a kosher supermarket was awarded French citizenship Tuesday in a ceremony that showcased his courage and selflessness.
Lassana Bathily, who has lived in France for about nine years and filed his citizenship papers last summer, was fast-tracked for citizenship, sparing him from the notoriously arduous process of becoming a naturalized Frenchman.
Bathily, dressed in a black suit and white shirt, walked into Tuesday's ceremony flanked by French Prime Minister Manuel Valls and Interior Minister Bernard Cazeneuve. He stood with his head bowed and his hands clasped as Cazeneuve praised his actions as "the highest gesture of Islam and peace" and welcomed him as "the newest citizen at the heart of this country."
Bathily was given a letter from French President François Hollande, a medal and a book on citizenship. Then he stepped slowly to the podium. "People tell me I am a hero. I am not a hero. I am trying to stay myself," he said, visibly moved. He expressed his desire to see and help his family back home. He received a standing ovation when he finished with: "I am very happy. Long live liberty! Long live friendship! Long live solidarity! Long live France!"
The story of Bathily, a Muslim who saved Jews from possible death, has provided France with a heroic figure after a horrific spasm of violence that began with the Jan. 7 attack on the satirical magazine Charlie Hebdo.
Bathily was working at a Hyper Cacher store on Jan. 9 when it was attacked by Islamist gunman Amedy Coulibaly, the radicalized son of Malian immigrants. Four hostages were killed before police shot Coulibaly dead.
According to accounts given to French media and to a friend who spoke to The Associated Press, Bathily was in the store's basement when the attacker burst in upstairs. Bathily then hid a group of frightened shoppers, including a 2-year-old-child, inside the freezer before escaping to communicate with police. Security officials initially thought he was the attacker, and he was forced to the ground and handcuffed.
Once police realized their mistake, he provided them with the key they needed to open the supermarket's metal blinds and mount their assault. Israeli Prime Minister Benjamin Netanyahu later praised Bathily and said he "helped save seven Jews."
The Jewish owner of Hyper Cacher, Michel Emsalem, attended Tuesday's ceremony, and called Bathily a hero. "He represents a big message for many people, especially for us," Emsalem said.
Pierre Henry, the president of the French government's refugee assistance agency, described Bathily as "a righteous one among the righteous' who should serve as a role model to our youth." He added: "Lassana Bathily enriches us by joining the French nation."
Soumare Dzebril, a friend of Bathily's from the African Soccer Club who attended Tuesday's ceremony said: "He is a hero to me but he is someone very humble." He added: "We are all very proud of him."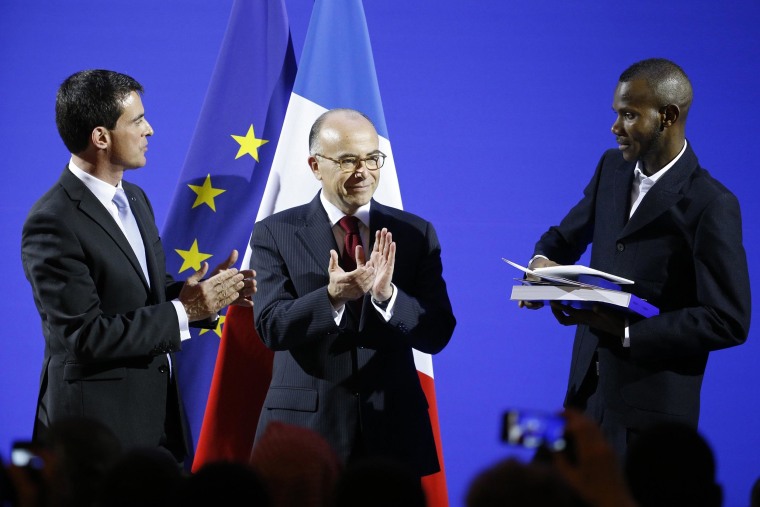 IN-DEPTH
The Associated Press contributed to this report.