President Donald Trump used the occasion of his first 100th day in office to hold a campaign-style rally in Harrisburg, Pennsylvania, touting his record and taking aim at the national media.
The president told a boisterous crowd of supporters that he was "thrilled" to be far away from Washington D.C. where members of the press were gathered for the annual White House Correspondents' Association dinner.
"As you know there's another big gathering taking place tonight in Washington D.C., did you hear about this? A large group of Hollywood actors and Washington media are consoling each other in a hotel ballroom in our nation's capital right now," Trump said. "They are gathered together for the White House Correspondents' Dinner. Without the president."
Trump spent the first few minutes of his speech criticizing his treatment by the media, using his standard refrain of "fake news."
"Media outlets like CNN and MSNBC are fake news. Fake News," Trump said. "And they're sitting and they're wishing in Washington – they're watching right now – they would love to be with us tonight. But they're trapped at the dinner, which will be very, very boring."
Before talking about own first 100 days, Trump told the crowd he first wanted to rate the media's record during his presidency.
Trump named two newspapers by name, the New York Times and the Boston Globe, in his attacks.
"Take the totally failing New York Times. Pretty soon they'll only be on the internet," Trump said. "The paper is getting smaller and smaller — it's starting to look like a comic book."
Ultimately, Trump declared the media had earned a "very, very big fat failing grade."
"The Washington media is part of the problem," Trump said. "Their priorities are not my priorities, and they're not your priorities, believe me."
Back in Washington D.C., as the dinner kicked off, Jeff Mason, president of White House Correspondents' Association, pushed back against Trump's attacks.
"It is our job to report on facts and to hold leaders accountable," Mason said. "That is who we are. We are not fake news. We are not failing news organizations. And we are not the enemy of the American people."
Journalist Bob Woodward later echoed Mason's sentiment, saying: "Mr. President, the media is not fake news."
Before the star-studded event kicked off, Hasan Minhaj — the Daily Show correspondent and the evening's host — told MSNBC that the evening would "very interesting" without the president there.
When Minhaj took the stage, he didn't hold back from both the president and the press, a tradition for entertainers at the event.
"OK, we've got to address the elephant that's not in the room," Minhaj said. "The leader of our country is not here, and that's because he lives in Moscow. It's a very long flight. It'd be hard for Vlad to make it ... As for the other guy, I think he's in Pennsylvania because he can't take a joke."
Minhaj took shots at members of Trump's administration including Kellyanne Conway, Jeff Sessions, Steve Bannon and Sean Spicer.
He also poked fun at media outlets, particularly the cable news networks, CNN, FOX News, and MSNBC. Minhaj also warned that those in the news business had to be at the top of their game because Trump views them as "public enemy No. 1."
"I don't have a solution on how to win back trust" Minhaj said. I don't, but in the age of Trump I know that you guys have to be more perfect now more than ever because you are how the president gets his news."
Hours earlier, to the cheers of the crowd, Trump turned his attention from his attacks on the media, to numerous achievements he said he has accomplished in the first 100 days since the inauguration.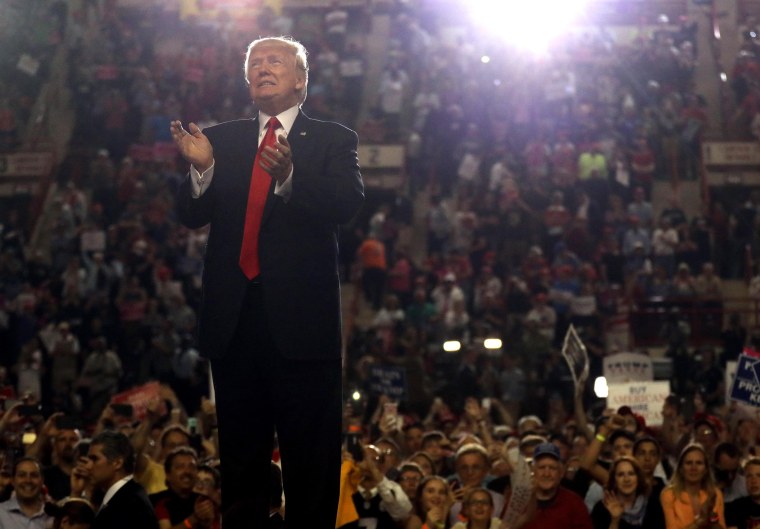 He included the administration's decision to withdraw from the Trans-Pacific Partnership, his appointment of Neil Gorsuch to the Supreme Court, job creation, a crackdown on immigration and terrorism as some of his achievements.
America's relationship with world leaders was another highlight of his first 100 days, according to Trump.
He implied that he has refrained from labeling China a "currency manipulator" — as he pledged to do so as a candidate — because Chinese President Xi Jinping is helping the United States with North Korea.
"As you know I've been a big critic of China, and I've been taking about currency manipulation for a long time," Trump said. "So we have currency manipulation by China but China is helping us possibly or probably with the North Korean situation. It's a great thing."
Trump also remarked that coal mining jobs were returning and that he was reducing federal regulations "clearing up an environment of bureaucracy." He told the crowd Obamacare was dying and would be replaced, the Second Amendment would be protected, and gangs would be removed from the country.
Before closing his remarks, Trump reminded his supporters he was cracking down on immigration and his infamous wall along the U.S.-Mexico border would be built.
Related: Special Report: Trump's First 100 Days
Trump also indicated that he would soon be making a decision about America's role in the Paris Climate Agreement.
During the rally, which ended about an hour before Minhaj would begin his bit at the Correspondents' Dinner, Trump criticized the former administration, saying he inherited a mess from President Barack Obama.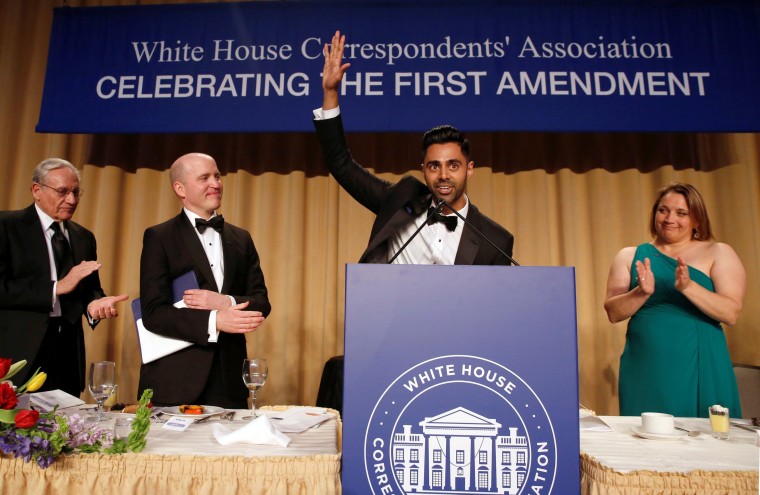 Trump is the first president to miss a White House Correspondents' Association dinner since Ronald Reagan, who was recuperating from an assassination attempt at Camp David during the dinner in 1981.
On Feb. 25, Trump announced he wouldn't be attending the dinner on Twitter, but sent his best wishes.
Trump's history with the dinner has been tense in the past. When he was a guest in 2011, Obama singled Trump out to tease him about demands to see the 44th president's birth certificate, which had been released in long form just days before the dinner.
At Saturday night's dinner, once his jokes had concluded and despite Trump's absence, Minhaj marveled at the platform he had been given.
"Only in America can a first-generation Indian-American Muslim kid get on this stage and make fun of the president," Minhaj said. "It's a sign to the rest of the world, it's this amazing tradition, that even the president is not beyond the reach of the First Amendment."