LOS ANGELES — Harvey Weinstein's movie company said Friday it would investigate allegations that the Hollywood producer sexually harassed women inside and outside the company for years. Weinstein will go on an indefinite leave of absence during the probe, the company said.
The board of the Weinstein Company met Friday and decided to hire a law firm to delve into allegations revealed in an article published in The New York Times, which quoted several women who alleged they were sexually harassed, including actress Ashley Judd. The article said several women received financial settlements over the years.
"We strongly endorse Harvey Weinstein's already-announced decision to take an indefinite leave of absence from the Company, commencing today," the board said in a statement Friday evening. "As Harvey has said, it is important for him to get professional help for the problems he has acknowledged."
A majority of the board of the privately-held company said it had hired the law firm of Debevoise & Plimpton "to learn the full truth regarding the article's very serious accusations." The firm includes partners described as experts in such personnel investigations — John Kiernan, Matthew Fishbein and Helen Cantwell, a former sex-crimes prosecutor for the New York district attorney's office.
They will report their findings to "a special committee of the board composed exclusively of independent directors," Friday's announcement said. "Next steps will depend on Harvey's therapeutic progress, the outcome of the Board's independent investigation, and Harvey's own personal decisions."
Three board members, Paul Tudor Jones, Marc Lasry and Dirk Ziff, were not mentioned in the Weinstein company announcement. According to multiple news accounts, Ziff resigned from the board prior to the approval of the leave of absence.
Weinstein is perhaps better known than the average movie studio boss. He was frequently seen on the red carpet with his fashion designer wife, Georgina Chapman.
He carved out a niche as a New York-based supporter of independent movies and is known for backing numerous Oscar winners, including "Shakespeare in Love," "The Artist," and "The King's Speech." The company also owns a TV division that is behind shows such as Lifetime''s "Project Runway" and the Netflix series "Marco Polo."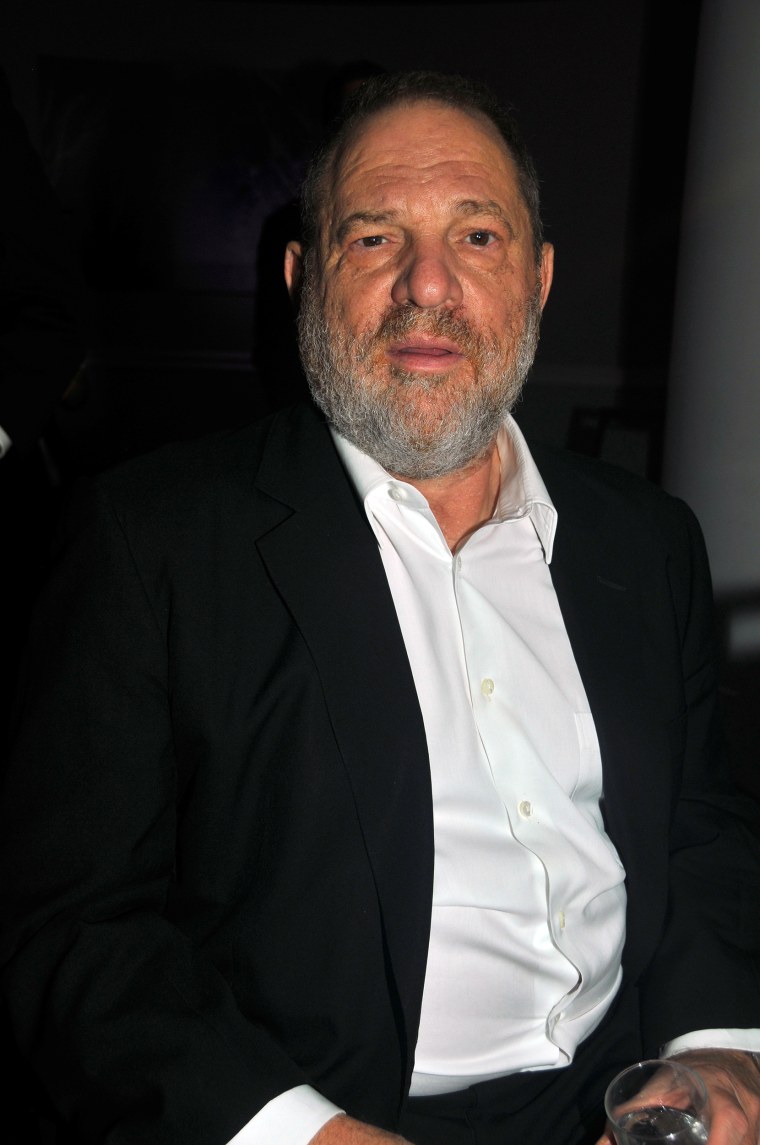 Several of Weinstein's friends and associates believe it is unlikely that Weinstein can continue his career in its present form and that the business of independent film production and distribution has morphed with the arrival of Netflix and Amazon. Weinstein was said, by a person familiar with the crisis management plan, to be in his company office on Friday making calls. The TV division has long been for sale for as high as $900 million, according to several reports.
A call to Weinstein's office was not returned. Harvey's adviser Lisa Bloom told The Times that "he denies many of the accusations as patently false."
Several politicians said they are returning donations from Weinstein in light of the claims, according to the politicians' spokespeople and several news reports. They include Democratic Senators Cory Booker, Charles Schumer, Kirsten Gillibrand, Elizabeth Warren, Richard Blumenthal, Martin Heinrich, and Patrick Leahy.
The Republican National Committee on Thursday issued a statement calling on Democrats to return Weinstein's donations. "If Democrats and the Democratic National Committee truly stand up for women like they say they do, then returning this dirty money should be a no brainer," the statement said. Weinstein has been a big financial booster of both President Bill Clinton and former presidential candidate Hillary Clinton.
The Democratic candidate for New Jersey governor, Phil Murphy, was slated to host a benefit with Weinstein this month. A person who is involved in the event said: "There will be one less co-host." Murphy's press representative declined to comment on Weinstein's presence.
The harassment allegations, which have been rumored in Hollywood, were finally put squarely in the public sphere after The New York Times published its story on Thursday.
The Weinstein case comes after a string of high-profile cases of sexual harassment allegations against prominent men, including the late Fox News CEO Roger Ailes, former Fox News host Bill O'Reilly, Epic records boss L.A. Reid, and BetterWorks CEO Kris Duggan, among others. All the men have disputed claims against them.
Weinstein appeared contrite, issuing a statement that said, in part: "I appreciate the way I've behaved with colleagues in the past has caused a lot of pain, and I sincerely apologize for it. Though I'm trying to do better, I know I have a long way to go."
Later in the evening Thursday, Weinstein threatened to sue The New York Times and issued a rambling statement. The statement quoted Jay Z lyrics and then launched into an attack on the National Rifle Association.
"I'm going to need a place to channel that anger so I've decided that I'm going to give the NRA my full attention," that statement said. "I hope Wayne LaPierre will enjoy his retirement party. I'm going to do it at the same place I had my Bar Mitzvah. I'm making a movie about our President, perhaps we can make it a joint retirement party. One year ago, I began organizing a $5 million foundation to give scholarships to women directors at USC. While this might seem coincidental, it has been in the works for a year. It will be named after my mom and I won't disappoint her."
Actress Ashley Judd told the paper that she was asked to massage Weinstein and was invited to watch him shower. The article includes details of several other alleged instances of harassment over the course of several decades.
Judd is quoted in The Times as saying: "I said no, a lot of ways, a lot of times, and he always came back at me with some new ask. It was all this bargaining."
Then Weinstein told The New York Post on Thursday evening, "This is a vendetta, and the next time I see [Times executive editor] Dean Baquet, it will be across a courtroom."
The company is set to release several movies in the next few months, including "The Current War," about Thomas Edison and George Westinghouse, starring Benedict Cumberbatch and Tom Holland.
Claire Atkinson reported from New York.