SOCHI, Russia — He turned up at the Iceberg Skating Palace, looking après-ski cozy in a red zip-up fleece and white mock turtleneck. He crashed a party at Heineken House and clinked beers with the masses. He cuddled a Dutch speedskater.
For President Vladimir Putin at the Sochi Olympics, it's no more Mr. Tough Guy.
These Winter Games are a showcase for Russia, the pinnacle of its two-decade climb from post-Soviet collapse. But the eyes of the world are as much on Putin as they are on the host country.
So gone, at least for these 17 days, is the Marlboro Man act — the Putin who shot a whale with a crossbow, brandished a rifle while trudging through the Siberian brush, tried to bend a frying pan with his bare hands and, most famously, rode shirtless on horseback.
He's not exactly breaking into "Get Lucky." But he's definitely showing a softer side.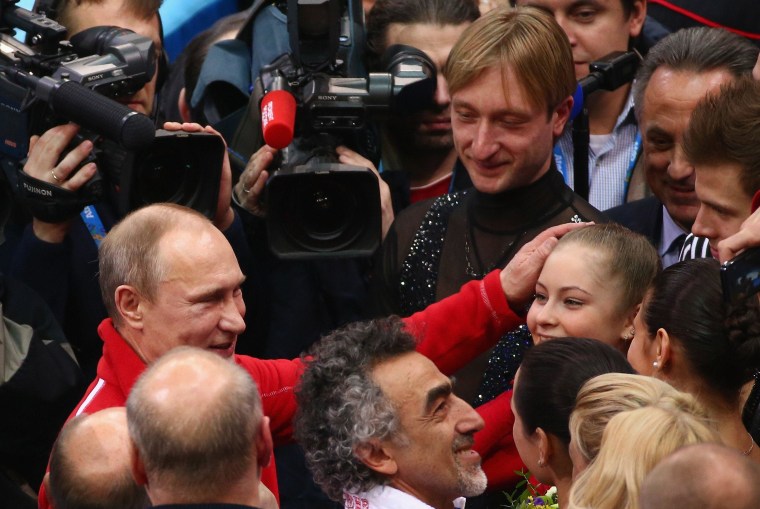 "The Putin persona in Sochi is pretty new and different than the superhero, macho, tough guy stuff he normally traffics in," said Andrew Weiss, a Russia expert at the Carnegie Endowment for International Peace and an NBC News analyst.
"Putin, or his Kremlin spin doctors, are clearly trying to establish a more casual and regular-guy image than we've seen in the recent past," he said. "I think it's a fairly clever strategy. It makes him look unbothered by all of the negative press coverage."
And there has been plenty of that. The Sochi Games, on which the Russian government has spent more than $50 billion, have been described as the greatest financial boondoggle in the history of the Olympics.
To say nothing of the stray dogs disappearing from the streets of Sochi. Or the inescapable specter of terrorist attacks launched from the next-door Caucasus. Or the infamous brown-tap-water, cheap-bathroom-door, watch-out-for-that-elevator-shaft accommodations.
Or the threat to Russian gays, which is not just atmospherics but official policy. That has continued during the Olympics: Gay rights activists in Moscow and St. Petersburg have been among dozens of people arrested for protests in Russia.
But the world is mostly focused on Sochi, and Putin has seized the moment with an almost insistent bonhomie.
So there he was at the team figure skating finals on Sunday night, watching approvingly from the stands while Yulia Lipnitskaya, the 15-year-old breakout star of these Olympics, delivered an electrifying routine and gave Russia its first gold of the Sochi Games.
Afterward he hugged Yevgeny Plushenko, elder statesman of the Russian figure skating squad. For Yulia, a pat on the head. And even a rare smile.
And then an extended nightcap: He made a surprise visit to the party at Austria House, where he met an Alpine ski legend Karl Schranz. Cameras caught Putin exiting while speakers boomed Maroon 5's "One More Night."
The president also checked out Heineken House, a late-night destination at any Olympics, where he toasted the patrons with beer and rubbed elbows with the king and queen of the Netherlands.
"I got a cuddle from him," Ireen Wust, a Dutch speedskater who had won gold earlier that day in the 3,000 meters, told the Dutch television network NOS. "He was happy to see me, but then he had to leave again. But I cuddled him."
"Good party," Putin told an Associated Press reporter on his way out.
On Monday night, China House was the destination. Looking more presidential in suit and tie, the president proclaimed, according to the Russian news agency Itar-Tass: "I am sure that Chinese athletes will reach great heights in Sochi. I hope that you all feel at home here."
For the PR-savvy Putin, who is known to study opinion polls and world rankings, the games are a golden chance to polish his public image, said Andrey Kortunov, president of the New Eurasia Foundation, an international affairs council.
"He's trying to deliver the message that he's not a dictactor, he's not a macho type of leader, he's not a person who is obsessed with this gay issue, he can be flexible, he can be soft, that he can demonstrate humility," Kortunov said by phone from Moscow.
Putin believes deeply that Russia isn't treated fairly by the rest of the world, particularly the West, and wants it to be more deeply integrated into the community of nations, international affairs analysts say.
Of course, it's also about power. Putin and President Barack Obama last year were on opposite sides of the civil war in Syria, leading to a famously awkward photo op, and the U.S. has complained about Russia's withholding of counterterrorism information.
Obama insisted, in an NBC interview as the games opened in Sochi, that his relationship with Putin was not "icy." He said Putin has "a public style where he likes to sit back and look a little bored during the course of joint interviews."
Not so in Sochi. His public persona has been Vlad the glad.
"He understands there are many people in the world who take him as an authoritarian leader," Kortunov said. "Here he's almost like your next-door neighbor."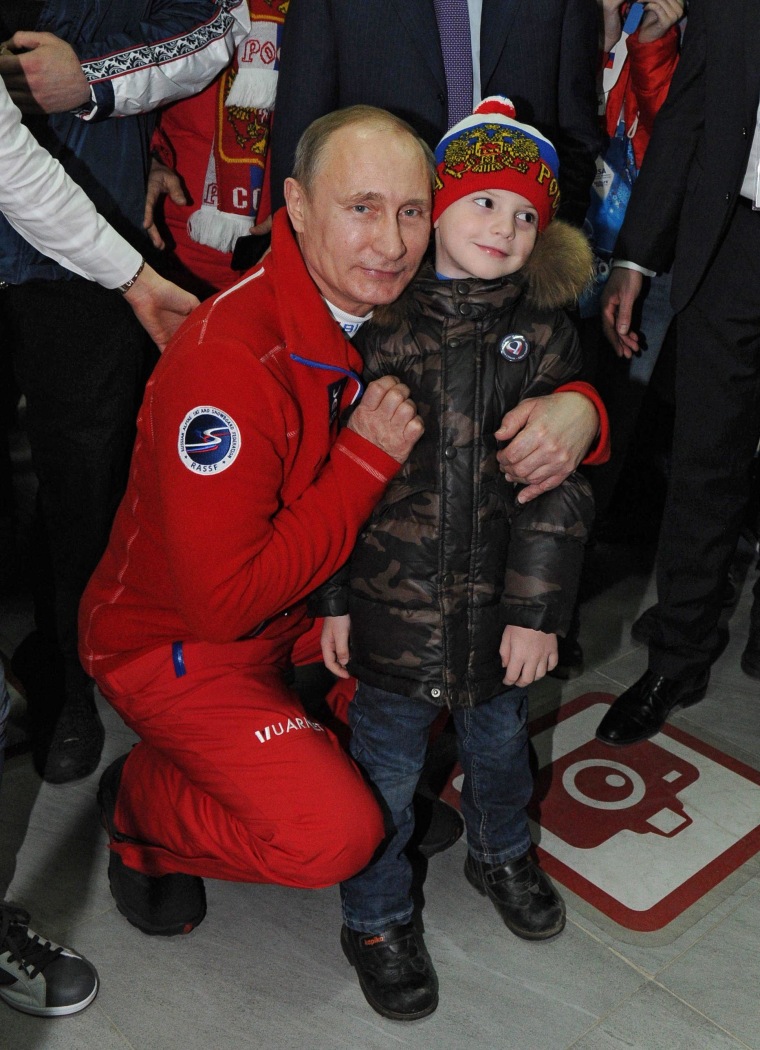 The Associated Press contributed to this report.