Crowds of tearful mourners flocked to Martin Place, a plaza in the heart of Sydney's financial and shopping district where the Lindt Chocolat Cafe is located and where 17 people were taken hostage Monday.
The mourners left mountains of flowers in honor of the two hostages who were killed: Katrina Dawson, a 38-year-old lawyer and mother of three, and Tori Johnson, the cafe's 34-year-old manager. Officials have yet to say whether the two died in crossfire as police stormed in or were shot by their captor.
Australian Muslim groups condemned the hostage-taking and said in a joint statement that the inscription of the Islamic flag held by the hostages was a "testimony of faith that has been misappropriated by misguided individuals."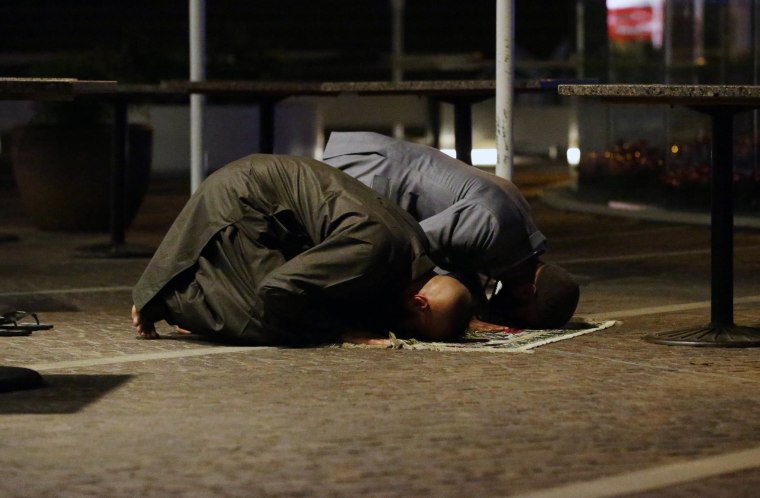 The siege heightened fears of a terror attack, but it also produced heart-rending displays of solidarity among Australians who reached out to their Muslim compatriots. Many offered on Twitter to accompany people dressed in Muslim clothes who were afraid of a backlash against the country's Muslim minority of 500,000 in a nation of 24 million. The hashtag #IllRideWithYou — or I'll Ride With You — was used more than 90,000 times by early Tuesday.
Prime Minister Tony Abbott sought to portray the gunman Man Haron Monis as a deluded and mentally troubled person rather than a religious fanatic.
He called the victims "decent, innocent people who got caught up in the sick fantasy of a deeply disturbed individual." He said the siege showed Australia is not immune to the violence that has hit other countries, but doubted that Monis' actions would inspire copycats.
— The Associated Press