CIBOLO, Texas — Two months after a 12-year-old Texas girl underwent rare obesity surgery to halt out-of-control weight gain and ravenous hunger that sent her climbing past 200 pounds, Alexis Shapiro is finding her way to a new normal.
The red-haired sixth-grader, whose story was first reported by NBC News, has lost 33 pounds since March 21. That's when doctors in Cincinnati took drastic steps to reverse the effects of a medical condition triggered by brain surgery that knocked Alexis' metabolism haywire and left her body with no way of regulating energy or appetite.
Her stretchy black pants are baggier now and the purple shirt decorated with a butterfly and turquoise bows is still a size 2X, but it skims over her belly as she sits cross-legged on the family room couch — for the first time in years, her mom says.
She still has a long way to go in the complicated fight against the condition called hypothalamic obesity, her doctor and parents cautioned in extended interviews. But there's no question that Alexis is getting better.
"I'm so happy with the progress she's made," said Jenny Shapiro, 35, Alexis' mother. "She's the giggling, happy little girl I remember."
Alexis herself doesn't say much about her struggles. Like any shy pre-teen, she doesn't like to talk to strangers, especially about something as personal as her weight. But at lunch last week, she asked her parents to borrow their cell phones and pulled up two photos — one of her just before the surgery, looking heavy and bloated, with cheeks so round it was hard to see past them.
And then she pulled up another photo, taken more recently, which undeniably showed a thinner, happier little girl.
"See?" Alexis said softly.
It's a dramatic difference in a short time, said Jenny Shapiro, who, with her husband, Ian Shapiro, 34, has spent the past three years fighting insurance rules and medical odds to get help for their daughter.
"I was in a desperate situation to save her life," Jenny Shapiro said.
By all accounts, they've succeeded. Alexis' diabetes has been reversed, her blood chemicals are near normal and her dangerously enlarged liver, which forced the medical team to change plans mid-surgery, was substantially smaller during a recent scan, said Dr. Thomas Inge, the pediatric obesity expert at Cincinnati Children's Hospital Medical Center who has led the girl's care.
"Every month that goes by that she's continuing to lose, I do a happy dance," said Inge, who had estimated that Alexis might shed 40 pounds in the first year after surgery.
"I would say that she's really right on track," he added.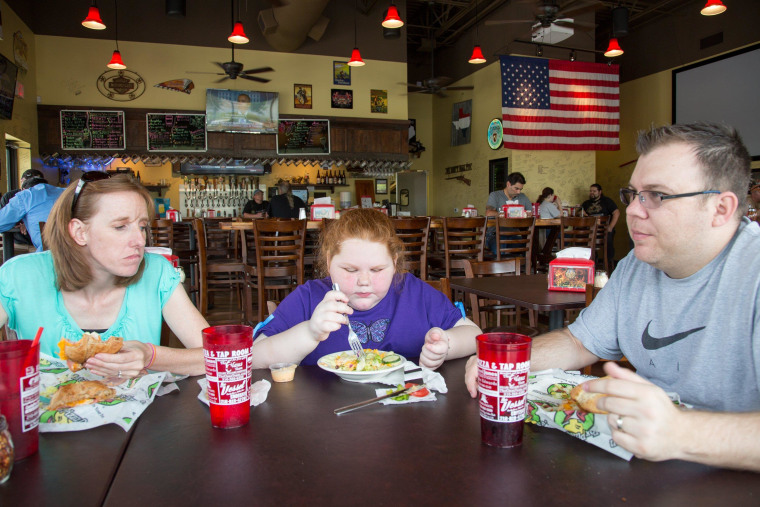 Despite the progress, neither Inge nor Alexis' parents think she's home free. Like half of the young patients who undergo surgery for the benign brain tumors called craniopharyngiomas, Alexis' pituitary gland and hypothalamus were permanently damaged, impairing her body's ability to regulate itself.
Even after the gastric sleeve weight-loss surgery that reduced the size of her stomach by 80 percent, Alexis could lose weight more slowly now — or even plateau, Inge said.
"Every month that goes by that she's continuing to lose, I do a happy dance."
"These kids don't have the same rapid weight loss that we see in kids who are not hypothalamic," Inge said.
This past week, in fact, the number on the scale stayed the same — 170 pounds — leaving Alexis "very disappointed," and her mother concerned, too.
"I knew when it started that this was going to be a journey," Jenny Shapiro said. "I got really excited thinking this might work."
Alexis has had to cope with a small leak, now nearly healed, that let some of the contents of her stomach spill into her abdominal cavity. That meant she had to stop eating solid foods and use a feeding tube for several weeks, Inge said.
Even more concerning, she's starting to feel constant, excessive hunger again, a condition known as hyperphagia. It was so intense after the brain surgery that Jenny Shapiro had to lock the kitchen cabinets to prevent Alexis from eating a whole jar of peanut butter at a sitting, for instance.
It's nowhere near that bad now, and one result of the surgery appears to be better regulation of the link between the gut and the brain centers that control feelings of appetite and satiety, Inge said.
But Jenny Shapiro said she's seeing old habits start to return.
"She'll start asking about dinner at breakfast," Jenny Shapiro said. "When she wasn't doing that, it was like freedom."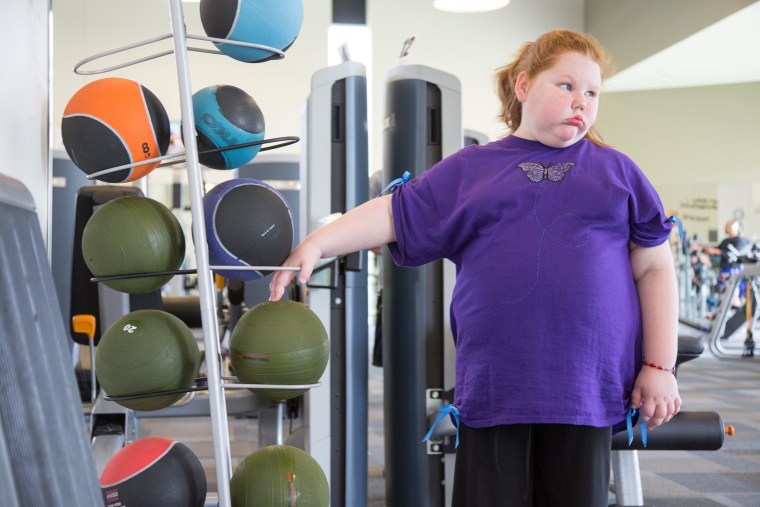 Alexis can eat about a ½ cup of food every three hours. On a recent Wednesday, her menu included part of a container of yogurt in the morning, part of a salad at lunch, a plate of fresh watermelon cubes in the afternoon and a small portion of taco salad bowls with the rest of the family for dinner.
Curbing the hunger and boosting weight loss will require a variety of tools, Inge said. Further surgery, such as the originally planned gastric bypass procedure, could be an option. So could medication such as the stimulant dextroamphetamine, which research shows has been successfully used to induce weight loss and boost energy in other kids with hypothalamic obesity.
For now, Inge is advising Jenny Shapiro to track Alexis' food intake carefully and to boost her meals with supplemental protein and fiber. She'll go back to Cincinnati in June to check her progress. None of this is an easy fix, he cautioned, and it's all far more complicated than weight loss alone.
"We sincerely want to work with her to use every trick in the book," Inge said. "I told her mom, 'Don't feel like we're out of angles here.'"
Alexis' plight has drawn local, national and international media attention. She received hundreds of cards, emails and letters from people who heard her story, including those who contributed more than $87,000 to a site to help pay for surgery when the family's health insurer rejected the request. The military insurance company, TRICARE, later reversed the decision and there have been no problems since, Jenny Shapiro said.
The family has used the donated money to help offset lost income — Jenny Shapiro had to quit her dog-grooming job — and to pay for medical travel and other expenses. They hope to start a foundation for other kids with hypothalamic obesity, she said.
"For Alexis, it's been nice for her to hear all these encouraging messages and to go through some life-changing things, but to know there are people who are on her side."
Out in public, there are fewer stares and whispers these days, partly because Alexis is smaller, and perhaps because more people may have heard about her struggles. When she's stopped in a grocery store or airport now, it's most often by someone who wants to offer a hug.
"For Alexis, it's been nice for her to hear all these encouraging messages and to go through some life-changing things, but to know there are people who are on her side," said Jenny Shapiro, who balances care of Alexis with her other children, Kayley, 10, and Ethan, 8.
Alexis is actively engaged in her own progress, her mom said. She goes to the nearby YMCA most days, where she walks on the treadmill and does other exercises. She's working toward finishing a 5-kilometer race sometime this summer — a goal that was Alexis' own idea, Jenny Shapiro said.
"She has been walking her little tail off," she said. "She just amazes me with her determination."