KHARKIV, Ukraine – With rallies and counter-rallies continuing across Ukraine, some of the biggest pro-Moscow protests have been in the Russian-speaking east, Ukraine's industrial heartland. The Ukrainian flag has been up and down like a yo-yo in the east as local government buildings have changed hands several times over in recent days.
The fear is that the east, Ukraine's industrial heartland, is Moscow's next target and that Russia's President Vladimir Putin is trying to create unrest to justify intervening here, too.
Kharkiv, Ukraine's second-largest city with approximately 1.4 million people is just 20 miles from the Russian border. With its heavily ethnic Russian population, it seems an ideal target for Putin.
But away from the noise of the city's Lenin's square, the story is more complicated – both for Putin and the new interim government in Kiev.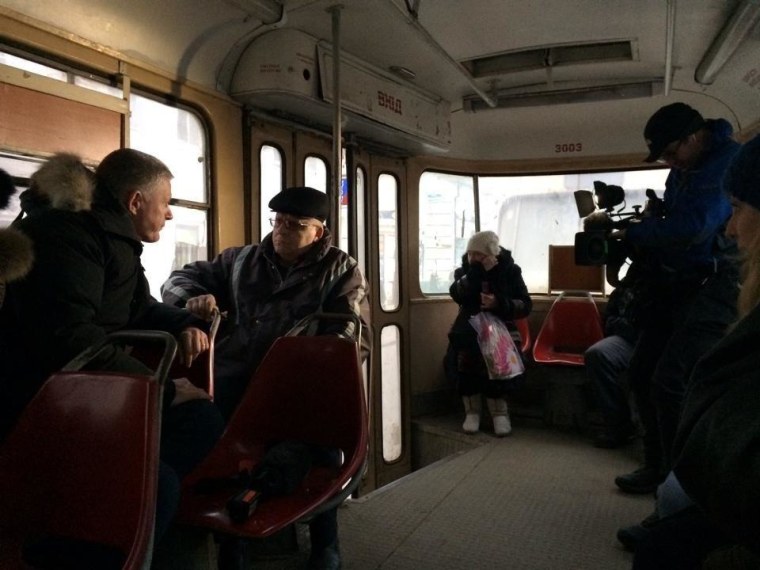 View from the tram
The clanking Soviet-era trams that still screech along the roads around Kharkiv's central station, provide their own insight into a city that is certainly fearful and anxious about events in Kiev, but not eager to rush into the arms of Russia.
In a seat near the rear doors, Alexander, a retired teacher who like many we spoke did not give his last name, was at first was not eager to talk.
Then his anger came pouring out, at what he called the "fascists" who have taken over in Kiev. "They will not be happy at any government," Alexander complained. "It will go on forever."
I asked him whether Russia should intervene. He looked out of the window and shook his head. "We are an independent country. And for now, Russia should stay away."
A few seats away, Olga sat with her newborn infant daughter.
"Sure I am worried, everybody's worried, because our citizens died and our country is split," Olga said. "I think we are one country and we should stay together."
Should Russia intervene?
"I'm from the Eastern part of Ukraine. I think Russia should help us," she said, adding, "but there should be no bloodshed."
Further down the tram, Marina and Sasha, both students, were standing, clinging to an overhead rail as the train carriage jumped and shook as it veered around a corner. Sasha seemed convinced that Crimea would go to Russia, but what about Kharkiv?
"It's a mess. I don't know what's going on," said Sasha.
Marina piped in. "Nothing good will happen here," she said. "I think Russia should respect the wishes of the Ukrainian people."
Fear of fascists
Many people in Kharkiv, like much of the east, watch Russian television, which has served up a relentless diet of virulent propaganda, describing the Ukrainian revolution as little more than an armed neo-Nazi coup.
In reality, Kiev's Maidan Square, or Independence Square, protests became a massive and broad-based movement against a corrupt and thuggish government. But it is true that far-right militants did play an outsize role at the barricades, and do now have several seats in the interim government – including key security roles.
During the last weekend, thousands – of all ages and all walks of life – came to Maidan Square to mark the 200th anniversary of the birth of Taras Schevchenko, a national hero and Ukraine's most famous poet. The Maidan has become a sea of flowers in memory of those who died.
But the menacing right-wing militias are still there, as are the barricades. One man from a particularly ugly group called the Right Sector was guarding a fresh stockpile of petrol bombs.
"It's not over yet," he said, before refusing to answer any more questions.
The doorway to the city hall, which had been used as a base by shaven-headed militants, is still daubed with Nazi-style symbols. The leader of the Right Sector plans to run for president.
You don't have to subscribe to Russia's propaganda to be worried by this. Ghosts of war-time Nazi collaboration by nationalist groups still stalk the Ukrainian landscape.
A place in the new Ukraine
The leaders of the interim government seem to realize this and that they need to be inclusive and reach out to the Russian speakers in the east – otherwise they will turn to the Kremlin.
"All of Ukraine's leaders need to be conscious of the need to speak to a national audience," Geoffrey Pyatt, the U.S. ambassador to Ukraine, told NBC News. "They need to stand together."
Back on the Kharkiv tram, Alexander, the retired teacher was still looking out of the window as he said, almost inaudibly, "People are tired of all this."
The biggest challenge facing the interim government is to convince people like Alexander that there is a place for them in the new Ukraine. The government needs to win over those travelers on the Kharkiv tram who, like millions of other Russian speakers, are rattled by events in Kiev.
They voted for independence in 1991 and, for all their disquiet, they are hardly enthusiastic about falling back into the embrace of the Kremlin.