DONETSK, Ukraine — Among shattered windows and the sounds of fighting, Alina wondered how her house was still standing. Her neighborhood in the eastern Ukrainian city of Donetsk had been shelled the night before.
"Without any warning," she recalled while standing amid broken glass. "It was a miracle that it didn't hit my house ... Everything is so unexpected."
The city has found itself at the heart of a months-long conflict between Ukraine government troops and pro-Russia rebels who want to declare their own state. According to the United Nations, the violence has killed more than 4,300 people and displaced one million others.
But all around Alina's house were signs of a new normal that has come over Donetsk: Workers were repairing a power line, locals were walking home from their jobs and people were taking their dogs out.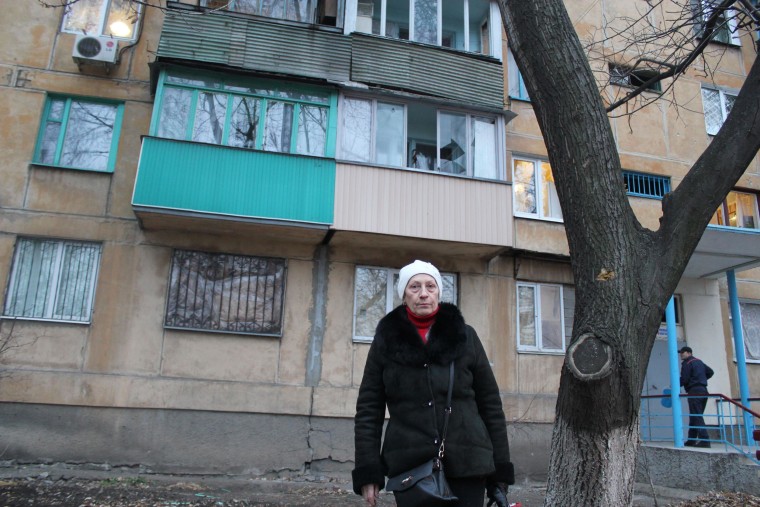 So why would anyone stay?
Alina, who did not want to give her last name, worked as a music teacher but has not been paid in months.
"I have no salary," Alina said, adding that she had access to the meager humanitarian aid on offer in Donetsk.
Some of this support comes in the form of food donations handed out at a former circus. On Monday it was visited by more than 1,000 people, many of whom were forced to line up outside in the cold before being let in. This number is expected to rise as the fighting continues after a seemingly-futile cease-fire was declared in September.
Steps away was Tamara, a former kindergarten teacher, who said she had no family except for a sister in a different town. Tamara's voice quivered when she described how her home was so close to the fighting that her bed would shake. But, at the age of 80 and suffering health issues, Tamara felt she had nowhere else to go.
"I'm not of that age… [to] go and find my new life, to rent a new apartment," she said. Tamara added she had the equivalent of $12 in savings and like other elderly residents here did not receive a pension.
"How can a person exist when she doesn't get [her] pension for five months?" she said.
Ukraine's Prime Minister Arseniy Yatsenyuk told NBC News that the government cannot physically provide the money. "[Pensions] cannot be given to people in Donetsk because there is no banking system, there is no way how to deliver cash," he said.
But pensions are not the only aspect of public funding to be cut off in Ukraine's violence-riven eastern rust belt: This month the government ordered state services to rebel-held areas to be stopped, meaning hospitals and schools will not get funding.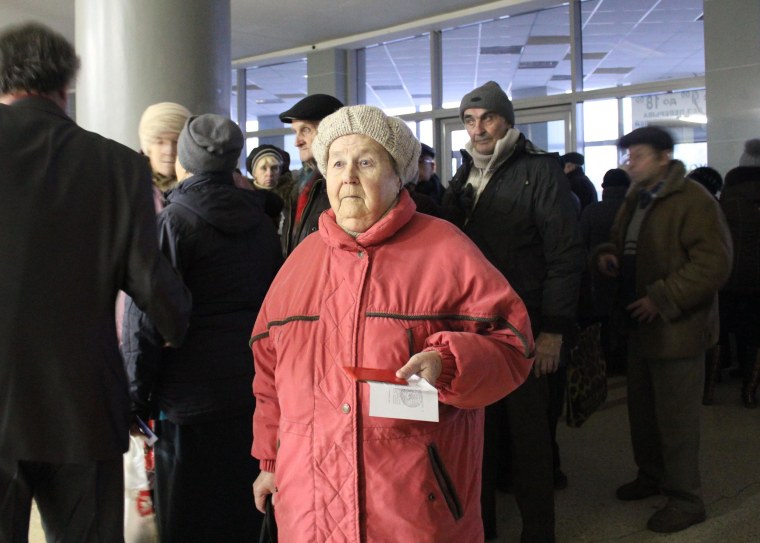 Dr. Anna Kovaleva, a physician at a local hospital, believes the law is intended to force people to leave Donetsk.
"They just want to make us abandon everything here," said Kovaleva. "So they're creating this environment where you can't live anymore."
She said the Ukrainian government stopped supporting the hospital in the summer. Food and medical supplies are low, and staff continue to work without being paid.
The rebel government — the Donetsk People's Republic — has not been much help, either. Since July they gave workers at the hospital a total of about $65 each.
Not everyone has stayed. Figures from the United Nations' Refugee Agency in October showed that 400,000 Ukrainian citizens had fled to neighboring Russia, claiming refugee status or temporary asylum. The figures said that more than 6,600 went to countries inside the European Union and 581 to Belarus.
But many, like Kovaleva, are determined to remain. She said she does not want to live in a refugee camp, nor does she want to leave those who need her. "We will lay here with our patients until the [end]."
During the height of the fighting, patients would go to the basement-turned-shelter and staff were forced to work without electricity.
One 35-year-old patient, who did not want his name published, said his home was destroyed by shelling in mid-September after the cease-fire deal. He now shares a room with three other men at the hospital after coming down with tuberculosis.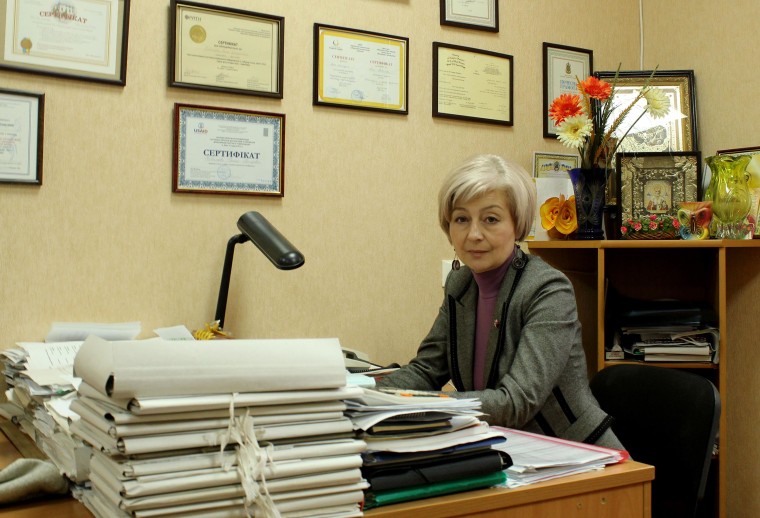 He will remain in Donetsk and seek work in construction when he gets better.
"To leave everything and go? Where to and… how?" he asked. "We can't go even to ATMs to take our money back, so what money are we talking about to leave this city?"
He was insulted even by the suggestion he might leave because, he said, it was painfully obvious he did not have the means to go elsewhere.
Beyond the financial strains and struggles to build a new life in a different city, many residents worry how they would cope living among Ukrainians who may see locals from the eastern Donbass region, comprising parts of Donetsk and Luhansk, as enemies.
Back in Alina's shelled neighborhood, she feared she would be considered an outcast if she left Donetsk. "They will look at me like 'Oh, you're from Donbass.' I'm not a leper."