HOUSTON — Thanks to its reliance on Russia, NASA is once again confronted with the nightmare of a diplomatic roadblock in a project originally made possible by diplomacy: the U.S.-Russian partnership in space exploration.
And if Russia's confrontation with Ukraine and the West turns into the worst diplomatic crisis of our generation, as feared, it could have equally profound and disturbing consequences for space exploration.
This month's comings and goings at the International Space Station highlight the interdependence of the U.S. and Russian space efforts: Next week, NASA astronaut Mike Hopkins is due to return from the space station aboard a Russian capsule, alongside two Russian cosmonauts. A couple of weeks after that, NASA's Steven Swanson is to ride another Russian Soyuz craft up to the station, again in the company of two Russians.
Under the current arrangement, NASA astronauts cannot get to and from the station without Russian help, due to the retirement of the space shuttle fleet. The ticket price for each astronaut is $70 million, payable to the Russians.
The United States and Russia are not just "joined at the hip" on the space station. Numerous other rocket projects rely on either Russian or Ukrainian space hardware and services. Even U.S. national security satellites are powered into orbit on an American rocket with a Russian-built rocket engine.
What if the Soyuz spacecraft suddenly became unavailable for use by American astronauts, contract or no contract? Would it be the end of U.S. human spaceflight? Would it kick off a new round of extortionary price-gouging, both fiscal and diplomatic?
Well, maybe not.
Moving away from co-dependence
It's cold comfort that the Russians rely on NASA almost as much as NASA relies on the Russians. If Russia monopolizes up-down transport, the United States essentially controls the only space destination: Russia's orbital hardware couldn't function without U.S. electrical power and communications services.
However reluctant the partners may be in such an awkward "space marriage," it has until now provided an astonishing degree of robustness and flexibility.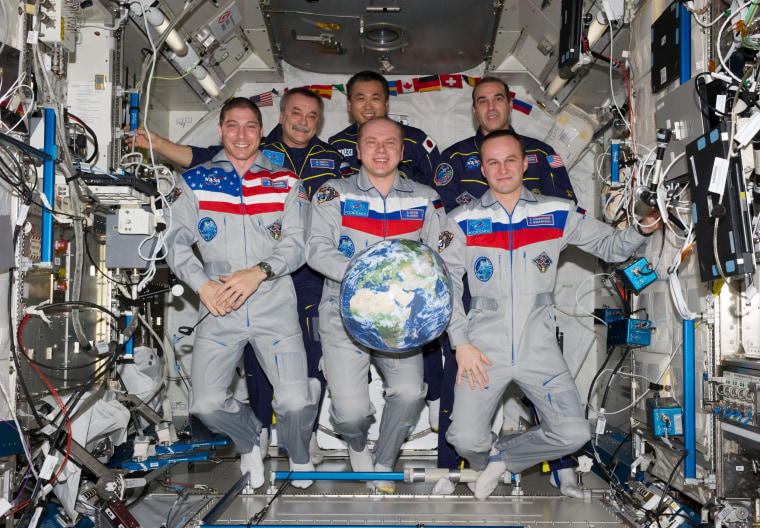 Recent developments have brought the space station closer to the point where it could be operated without Russian involvement if necessary. The current crisis provides good reasons to accelerate that shift and even to push for one crucial near-term capability: crew rescue.
Already, two U.S. commercial cargo delivery projects — SpaceX's Falcon rocket and Dragon capsule, as well as Orbital Sciences Corp.'s Antares rocket and Cygnus capsule — have replaced the justifiably retired space shuttle. European and Japanese robot freighters can also resupply the space station. Even though some parts of the Antares come from Ukraine and Russia, and even though the European cargo freighter must dock at the Russian end of the station, Russia's cargo monopoly has been broken.
What should be added next, and soon, is a U.S. capability to return astronauts from orbit — and SpaceX's Dragon capsule could be quickly modified to provide that capability. In the event of a political emergency, U.S. astronauts could extend their tours of duty from the current six months to the 12-month range already approved for next year, or even longer.
Playing the China card?
The "up-crew" capability is a trickier question. Commercial providers are still three to four years away from providing that function. But it's conceivable that the schedule could be accelerated. And there's already another non-Russian spacecraft that has demonstrated the ability to transport crew safely to and from a space station. This one happens to be made in China.
China could be invited to the space station under conditions that would maintain adequate security barriers. And asking the Chinese to demonstrate stand-by rescue capability would show them the kind of respect they desire — and deserve.
None of these backup procedures would be pretty, or anywhere near optimal, or risk-free. But they do provide alternatives to finding the U.S. space effort effectively held hostage.
A U.S.-Russian rift in orbit would raise problems large and small. For example, there's a little-noticed proviso in the space station agreement that allows the Russians to possess the only handguns in space. That's a problem with no technical solution. But other problems may have technical solutions, and that's what NASA does best.
Enter the Dragon
The amazing SpaceX Dragon cargo capsule is due for another launch this month. Even looking at it on the launch pad shows why it's not ready to carry astronauts. There is no visible "escape rocket" system to save them in the event of a booster failure.
That will still take several years to test, perfect and certify. But meanwhile, carrying crew down may be possible sooner. It could take just a few months to add accommodations and a life support system — for example, couches and portable breathing masks. Some sort of radio system, and possibly a minimal manual control capability over the return flight, would also be desirable.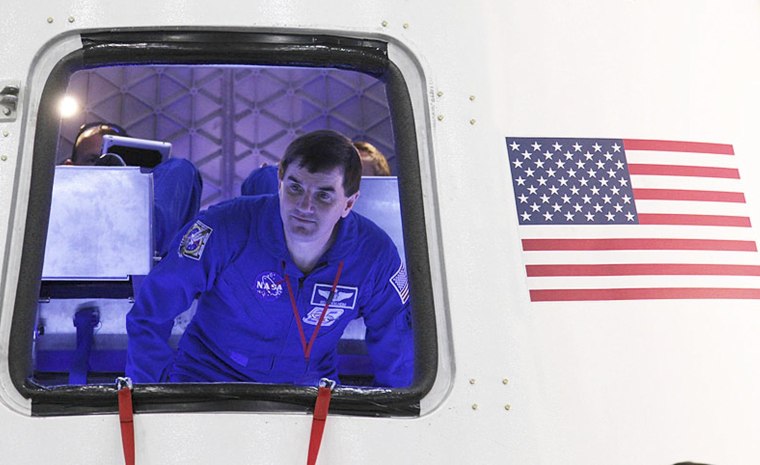 The Dragon's docking interface poses a tougher challenge. Like Japan's HTV freighter and Orbital's Cygnus, the Dragon uses the station's "big doors" rather than the usual docking tunnels. The automated robotic spacecraft is grappled by the station's robotic arm and hooked up to a wide-load "Common Berthing Mechanism." The 4-foot-wide hatch makes it possible to transfer refrigerator-sized science racks and other big cargo canisters.
This is a tremendous improvement over the much narrower tunnels installed on the mechanically robust docking ports where crewed space vehicles normally connect. But the docking and undocking is a laborious process that requires intensive crew support inside the station. Doing it for an evacuation, with current hardware and procedures, would be enormously difficult if not impossible. That's why the future Dragons built for crew transport will have a nose-mounted docking probe and narrow tunnel.
In space, as on Earth, the surest way to avoid blackmail is to have options. In light of the current crisis, and in anticipation of potential crises in years to come, NASA should kick off well-publicized efforts to develop such quick-fix options immediately.