Russia "wants to start World War III" and Moscow's veiled threats of military action could start an armed conflict in Europe, Ukraine's prime minister said Friday,
Arseniy Yatsenyuk made the comments a day after Russia said it had been "forced" to start fresh military drills just over the border because of increased activity by NATO and the Ukrainian military.
"Attempts at military conflict in Ukraine will lead to a military conflict in Europe,'' Yatsenyuk told a cabinet meeting broadcast live and translated by Reuters.
"The world has not yet forgotten World War II, but Russia already wants to start World War III."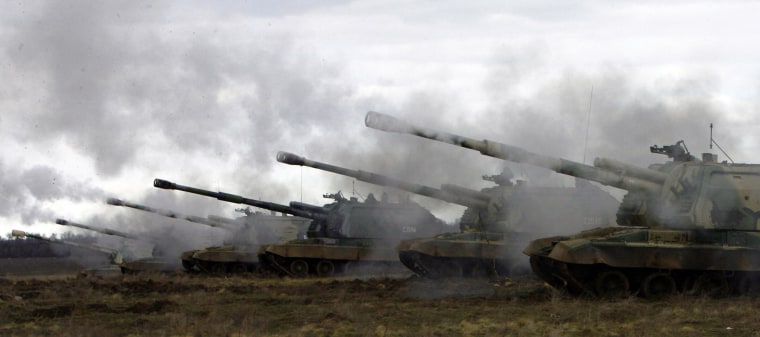 Russian President Vladimir Putin said on Thursday that Ukrainian attempts to drive armed pro-Moscow separatists out of occupied buildings across the east of the country would be met with "consequences."
A day earlier, Russia's Foreign Minister Sergey Lavrov compared the crisis to Russia's war with Georgia in 2008 and said Moscow may be forced to act in a similar way again.
Ukraine's operation against the separatists - whom the West says are backed by Russia - turned deadly Thursday amid reports that five pro-Russian militiamen had been killed in the city of Slaviansk.
Ukrainian officials denied reports Friday it had suspended its so-called anti-terror operation (ATO) in the face of the Russian drills.
"There has been no suspension of the ATO in connection to the threat of invasion by Russia's armed forces," Interior Minister Arsen Avakov wrote on his Facebook page, translated by Reuters. "The ATO goes on. The terrorists should be on their guard around the clock. Civilians have nothing to fear."
Reuters contributed to this report.
- Alexander Smith