DONETSK, Ukraine -- Ukraine ordered all troops still stationed on the annexed peninsula of Crimea to withdraw Monday, as Russia seized one of the region's last military bases not under its control.
The announcement by Acting President Oleksandr Turchnynov came just hours after Russian forces took over their third military position in 48 hours, seizing a naval base in the eastern port of Feodosia.
Soldiers fired shots and used stun grenades during the raid, a Ukrainian military official told Reuters.
Between 60 and 80 Ukrainian marines were arrested and taken by truck to a nearby port, Ukrainian military spokesman Vladislav Selezne said in a series of Facebook posts.
No serious injuries were reported.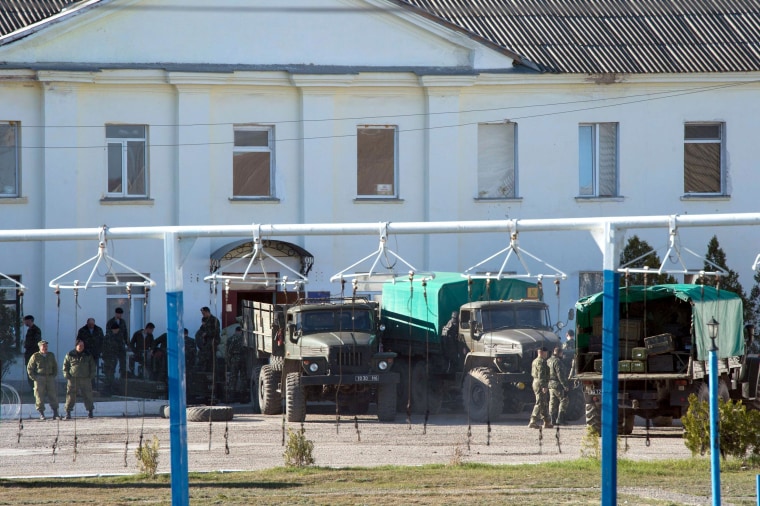 Turchnynov's office told the AP all servicemen would be evacuated from the peninsula with their families after what he described as aggression from Russian troops.
It was not clear how many troops were left in Crimea but most of its military bases were in the hands of Russian forces as of Monday.
Moscow last week completed its annexation of Crimea following a landslide referendum. This was rejected as an illegal land grab by Kiev and Western leaders who claimed the vote had been influenced by intimidation by pro-Moscow troops.
Washington and Europe traded individual sanctions with Moscow and voiced concern that Russian President Vladimir Putin may be poised to turn his attention to eastern Ukraine.
NATO's top military commander also warned on Sunday that Russia has amassed enough forces on Ukraine's border to reach Moldova's Trans-Dniester region.
Moscow has mobilized a "very, very sizeable and very, very ready" military contingent on Ukraine's eastern boundary, Supreme Allied Commander Europe General Philip Breedlove told a conference in Brussels.
President Barack Obama was set to discuss the crisis with European allies after arriving in the Netherlands on Monday.
Alexey Eremenko of NBC News, The Associated Press and Reuters contributed to this report. Alexander Smith reported from London.