A man described as a disgruntled former colleague gunned down a reporter and cameraman on live television Wednesday morning in Virginia, then posted video of the attack online before killing himself, authorities said.
The suspect, described by the station that fired him as "an unhappy man," turned the gun on himself hours later. He died at a hospital, the sheriff said.
The gruesome events began to unfold as WDBJ7 correspondent Alison Parker conducted an on-air interview at around 6:45 a.m. at a shopping center in Moneta, Virginia.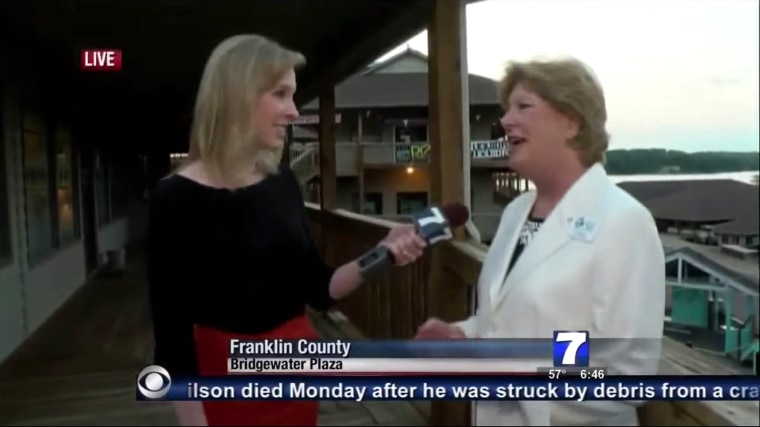 In chilling footage that has been posted online, several shots rang out and screams are heard. The camera drops to the floor and the screams continue — before the broadcast cuts away to a confused and concerned-looking anchor.
The station confirmed that Parker — who just turned 24 — and photographer Adam Ward, 27, were killed.
"I cannot tell you how much they were loved, Alison and Adam, by the WDBJ7 team," Jeff Marks, the general manager of station, said in an emotional statement on air. "Our hearts are broken."
A third victim in the shooting was Vicki Gardner, the head of the local chamber of commerce. She was transported to Carilion Roanoke Memorial Hospital and underwent emergency surgery. She is currently recovering and is in stable condition, the hospital said.
A screengrab from the initial broadcast appears to show a gunman in dark clothing pointing a weapon.
A sheriff's department spokesperson identified the suspect as Vester Lee Flanagan II, 41, also known as Bryce Williams.
Gov. Terry McAuliffe told radio station WTOP that the suspect was "distraught." Twitter and Facebook accounts believed to belong to the suspect, under the name Bryce Williams, posted video of the shootings hours later, during the manhunt. Those accounts were quickly taken down.
Shortly before 11:30 a.m., Virginia State Police spotted the suspect's car headed eastbound on Interstate 66. Minutes later, the suspect's car ran off the road and crashed. State troopers approached the vehicle and found the driver to be suffering from a gunshot wound. He was transported to a nearby hospital for treatment of life-threatening injuries.
"I'm not sure if I want him to live or die. If he dies, he took the coward's way out," and if he lives he'll go to trial, Marks said.
Marks said the suspect "was an unhappy man.... He had a reputation of being difficult to work with. Eventually, after many incidents of his anger coming forward, we dismissed him. ... Police escorted him from the building."
Anchors choked up on air as they spoke of a tragedy: Both Parker and Ward were dating other staff members of the Roanoke-based CBS affiliate. Ward was engaged to producer Melissa Ott, while Parker was dating the station's evening anchor, Chris Hurst.
"I am numb," Hurst wrote on Twitter, calling Parker the "most radiant woman" he had ever met. "We were together almost nine months. It was the best nine months of our lives."
Marks said Parker and Ward were "special people" who did "great work every day."
"How can this individual have robbed these families, the families of Allison and Adam, of their lives and their happiness and their love for whatever reason?" an emotional Marks asked.
Parker grew up in Martinsville, Virginia, and graduated from James Madison University's School of Media Arts and Design.
"She had a bright future," said Bill Wyatt, from the school's communications department. "She was passionate about journalism and she was a great person to work with."
Ward had been working for the station since July 2011 following his graduation from Virginia Polytechnic Institute and State University, according to his LinkedIn profile. He graduated with a degree in communications and media studies.