Blame California's historic drought, extreme heat and Santa Ana winds for spreading wildfires faster than ever — but the blazes don't begin by themselves.
It takes a spark to set them, and in California last year, more than 1,000 wildfires were started intentionally. Since 2007, one in every five state wildfires was deemed arson, according to the California Department of Forestry and Fire Protection.
But investigators like Jennifer Ricci are helping to hunt down the culprits.
"We investigate all fires, and arson is one potential cause of many," said Ricci, adding, "There has to be an ignition source. That's our job — to figure out that ignition source."
Ricci is a CalFire battalion chief in San Bernardino County, but she's also a full-blown law enforcement officer — one of hundreds trained at a state academy in how to gather evidence, analyze data and determine the cause of a blaze.
Something as small as a piece of charred rock can help her identify where and how a fire started.
"I think you learn early in your career to separate the emotion," she told NBC News. "You have a job to do, and you do the job, and if you start letting emotions interfere, it can affect your judgment."
Related: Drones Flying Over Huge California Fire Hindered Firefighters: Officials
Just this week, CalFire law enforcement officers arrested a suspect accused of starting 11 wildfires in San Diego County since 2012.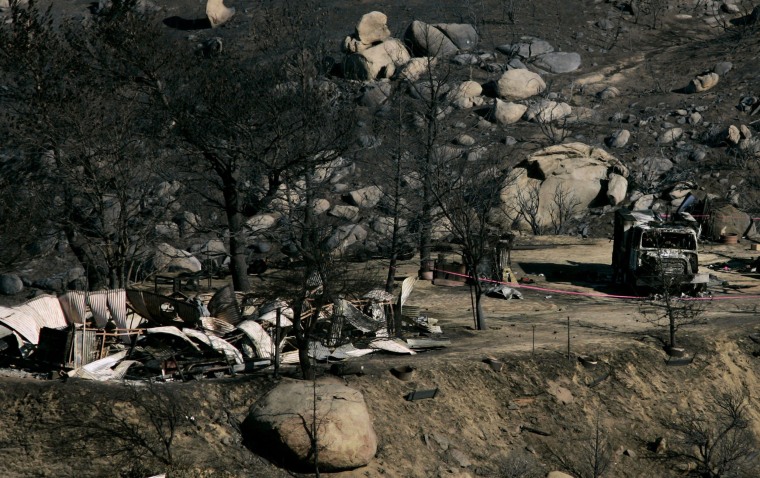 "To commit arson during these drought conditions is an exceptionally heinous act and we will seek prosecution to the fullest extent under the law," said Chief Ken Pimlott, director of CalFire.
But author John MacLean says there's a deeper question burning.
"Why do (arsonists) do it?" he asked, rhetorically. "They do it because it is a way of asserting themselves in a powerful manner when their lives are powerless."
Related: Nearly 2,000 Fighting Huge Wildfire in California
MacLean extensively researched the 2006 Esperanza Fire in Southern California — one of the state's worst arson wildfires. Five firefighters were killed, and the person who set the blaze was convicted of murder.
Arson's consequences can be deadly, and are almost always devastating. It's why investigators like Ricci say they will tenaciously investigate the cause of every single wildfire.
Once a blaze begins, there's no telling how far it can spread.
"All fires are destructive," said Ricci, adding, "Whatever causes that fire, the end result is the same. The fire doesn't know the difference."