Authorities in California have found possible human remains in a home that burned during a fast-moving wildfire that swept through parts of the Sierra Nevada Mountains Thursday and Friday, a fire that continued to grow but at a slower pace Saturday.
At least two people died in the so-called Erskine fire, which started Thursday in the Sierra Nevada Mountains and exploded from 5,000 acres to 30,000 acres by Friday night.
By Saturday the fire had grown to just over 35,700 acres, the Bureau of Land Management said.
The possible human remains were found by a fire department battalion chief who inspected a home Saturday that was destroyed Thursday, early in the fire, Kern County sheriff's spokesman Ray Pruitt said. The remains have not been confirmed to be human.
At least 150 homes have been destroyed in the fire, officials said.
"It's all gone. It really is," Russell Forrest said as he surveyed the wreckage of his home in South Lake. "I've been here twice trying to salvage anything, and I can't even tell where things used to be."
South Lake is a community mostly of retirees. Some who lost their homes have no fire insurance, resident Shelly Eskew told NBC News. Her home survived, but her parents' home next door was burned.
The fire, which prompted mandatory evacuation orders, had been called 5 percent contained Friday but fire officials revised that number to 0 percent Saturday morning because they want to ensure retardant lines hold. By Saturday night, the California Department of Forestry and Fire Protection said it was 10 percent contained.
"I thought this was my retirement fund," said Danny Walker, who lost his house, his garage, and two of his three dogs. "Everything's gone."
"I ain't got money to start over," he said. "I'll start somewhere."
California Gov. Jerry Brown declared a state of emergency. Three Kern County firefighters who suffered minor to moderate smoke inhalation were released from the hospital by Saturday, the fire department said.
"I've never been in a wildland fire where I've seen so many homes burn," Kern County fire Capt. Tyler Townsend told NBC Los Angeles Friday. "It's one of the most devastating I've ever seen."
Fire activity Saturday "was not as dramatic today" with a decrease in winds that fueled the blaze, a fire operations section chief told a community meeting Saturday night. Firefighting resources were being deployed to hang on to gains made throughout the day.
High temperatures have fueled recent wildfires in the West.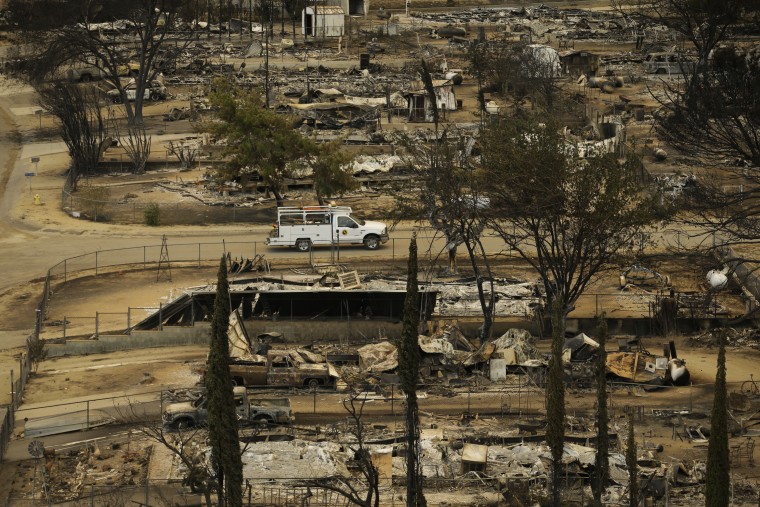 The so-called Dog Head Fire in New Mexico, which broke out June 14 and burned nearly 18,000 acres — damaging a dozen homes — was 90 percent contained by Saturday, the U.S. Forest Service said.
Another blaze in Southern California, the Sherpa Fire west of Santa Barbara, started June 15 and burned 7,400 acres but was 93 percent contained as of Saturday.
The Border Fire, also in Southern California but near the Mexico border, has burned just over 7,600 acres since it broke out near Potrero Sunday and was 75 percent contained by Saturday, the California Department of Forestry and Fire Protection said. Five homes were destroyed.