As crews struggle against wildfires raging across the West, a new company says it is working on something that might help — the biggest, fastest firefighting plane ever developed.
Last week, Global SuperTanker Services LLC announced plans to convert Boeing 747-400 aircraft into firefighting beasts capable of carrying almost 20,000 gallons of water and retardant — almost twice as much as the most powerful planes in use today.
The plane is expected to be approved by federal regulators in October and flying by the end of the year, the Colorado Springs Gazette reported.
Supertankers certainly look impressive. Even heroic. Picture a wide-body jet, the same size you might fly from New York to Los Angeles, soaring to the rescue and dropping enormous red-brown plumes on fires burning out of control.
But some experts caution that bigger is not necessarily better when it comes to fighting wildfires.
"I've always been very dubious of these large planes," said Bill Stewart, a specialist in the College of Natural Resources at the University of California, Berkeley, who also worked for California's firefighting agency for 10 years.
Bigger planes are not nimble, and drop their fire retardant in a straight line, he said. Wildfires have round perimeters, and their fronts are not always straight lines. They are, by nature, wild.
Large planes are also more challenging to refuel and reload, partly because they can't take off and land just anywhere. And they are poorly matched for the mountainous terrain where most fires burn, he said.
"This is the coolest, biggest toy out there," Stewart said. "But the most expensive tool is actually the least maneuverable."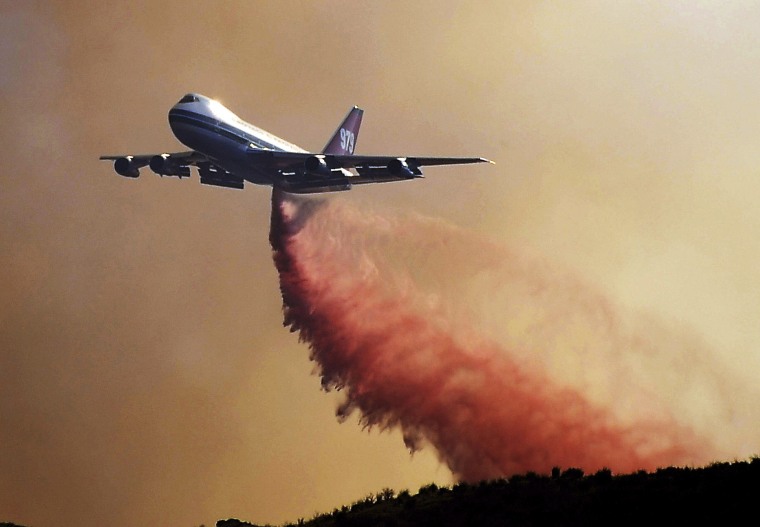 It's also expensive. A company called Evergreen International Aviation flew a smaller model of the 747 for several years and charged as much as $75,000 per day to keep the plane on standby, plus $12,000 per hour in the air, said Bill Gabbert, the managing editor of two wildfire websites, Wildfire Today and Fire Aviation.
That compares with about $51,000 per day and $7,600 per hour for the DC-10, the largest firefighting plane in use today, he said. Global SuperTanker Services did not say what it planned to charge to contract its 747 to fight fires.
Evergreen International sent its first 747 on a fire run in 2009 and had its last contracts with Cal Fire, the state firefighting agency, and the U.S. Forest Service in 2013, Gabbert said. Then the company declared bankruptcy.
Global SuperTanker Services said in its announcement last week that it had hired some staff from Evergreen, and planned to use the same tank system as the Evergreen models, only with a higher-performance plane.
The president and CEO of Global SuperTanker, Jim Wheeler, did not immediately return a call from NBC News.
In the announcement, he said that "current worsening trends" in wildfires demand better tools. He touted the 747's ability to stand by on the ground fully loaded and to fly more than 4,000 miles to a fire.
"We believe the Global SuperTanker will be a force multiplier for the men and women who are on the front line of controlling wildfires," he said.
The U.S. Forest Service and the Western states deploy hundreds of smaller aircraft, from small helicopters to retrofitted World War II-era planes, to fight all sorts of wildfires.
The smaller aircraft can bank more easily, drop retardant with pinpoint control and fly in more rugged terrain, and they can reload faster and in more places than a 747, Stewart said.
They are also much cheaper. "You and I could rent Rolls-Royces to get to work every day if we didn't have a budget, right?" he said.
NASA and the Forest Service studied the DC-10 and the 747 as firefighting tools in 2009, and concluded that they were useful as supplements to smaller aircraft, not replacements.
The study found that there were limits to the bigger planes' utility, including steep terrain, reduced visibility because of smoke and ash and irregularly shaped fire zones.
Gabbert said he could envision Global SuperTanker winning contracts to fly the 747 again. The DC-10 has been in use for several years and has proved much more maneuverable than expected, he said.
As for the 747, "If it's anything close to the DC-10, while carrying twice as much, it should be a very nice addition to the firefighters' toolkit," he said.
Jennifer Jones, a Forest Service spokeswoman, said she could not comment on whether the service might employ the 747 in the future. Air tankers first have to meet extensive requirements for performance, effectiveness and safety, she said.
Daniel Berlant, a spokesman for Cal Fire, said that in previous incarnations the 747 "never really was effective and efficient."
He pointed out that Cal Fire has two smaller air tankers of its own under contract, the DC-7 and the BAe-146.
"The bottom line about the 747 is that quantity is good, but it's quantity over quality," he said. "We're not in the market."