If you bought an Amazon Kindle e-book between April 2010 and May 2012, check your inbox — you may have money coming to you.
Early Tuesday, Amazon sent emails to customers who are eligible for a new e-book refund: "Good news! You are entitled to a credit of $[amount] for some of your past Kindle book purchases."
It's also good news for Amazon, as publishers were forced to issue the refunds as part of settlements in an e-book price-fixing case that allegedly targeted Amazon.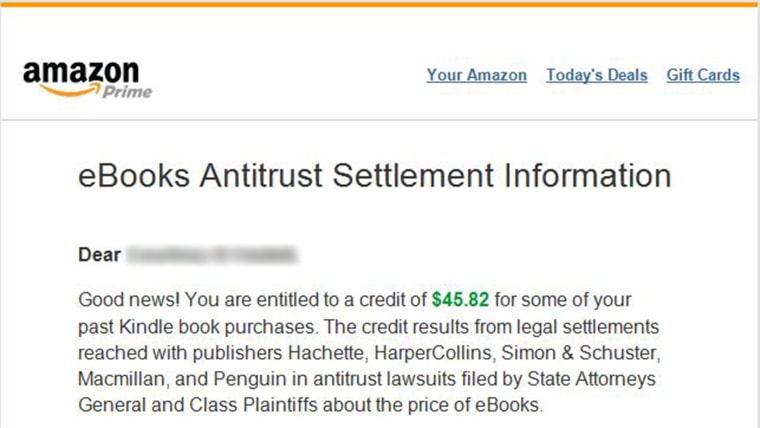 The drama began in April 2012, when the Department of Justice sued Apple and five major publishers, alleging they colluded to keep the price of e-books artificially high. State attorneys general and class plaintiffs also filed suit.
The lawsuits alleged a conspiracy: Booksellers didn't like the discounted e-book price structure Amazon launched in 2007, in which the company sold many titles for $9.99. So just before Apple introduced the iPad in January 2010, the suits alleged, the publishers went to Apple in an effort to force Amazon to hike e-book prices. Amazon did raise prices a few days after the iPad was unveiled.
The price-fixing case wore on over the next year-and-a-half. Eventually, in December 2013, a federal court approved settlements reached with publishers Hachette, HarperCollins, Simon & Schuster, Macmillan and Penguin.
The credits are a result of those settlements. Eligible customers don't need to do anything — Amazon has already applied the amount to their accounts. Available credit will automatically be applied to customers' next purchase of a Kindle e-book or a print book sold by Amazon.com.
Don't wait too long to use that refund, though. The credit expires after March 31, 2015.