Microsoft's Surface RT, the company's surprise entrance into the tablet world, will start at $499 when it ships on Oct. 26. Pre-ordering starts today at Surface.com. More importantly, I got a chance to play with some of them on Monday, and my impressions are below.
The base-price tablet has 32GB of internal storage (twice what the $499 iPad has, for those keeping track). For $599, you can buy that tablet with a Touch Cover keyboard add-on, and for $699, you get a 64GB version of the product with a Touch Cover. Microsoft isn't talking about its Surface Pro tablet yet — that is scheduled to arrive, as previously announced, three months after the initial Surface RT product launch.
On Monday, Microsoft's Windows president Steven Sinofsky and Surface team general manager Panos Panay walked reporters through an extensive demo of the product, along with a behind-the-scenes look at how the product was designed and manufactured.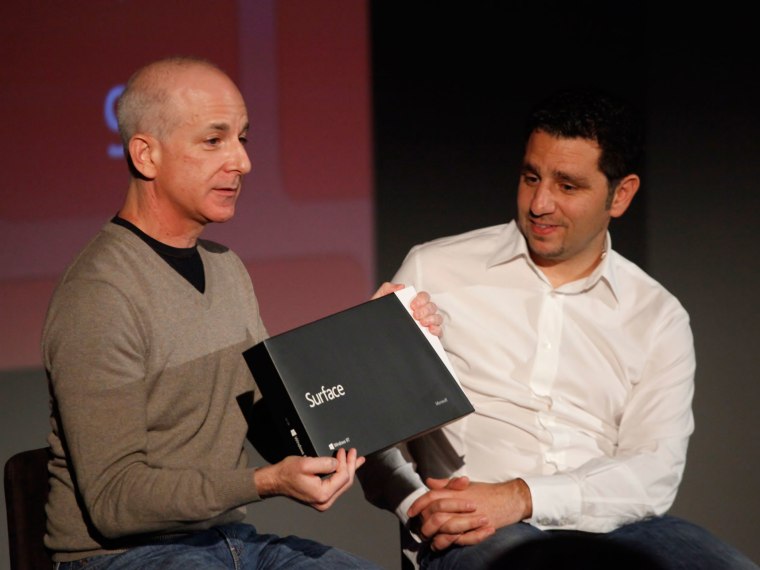 The latest specs
During the presentation, new specs and information came to light. The device will run the Nvidia Tegra 3 T30 processor with 2GB of RAM. Both the front and back cameras are 720p, meaning it will be good for video (and Skype video calling), but it won't be very useful for still images other than quickie snapshots (not that many people shoot pictures with tablets ... yet). It has two microphones and stereo speakers, and an HD video out port (adapter sold separately). 
Its "Cover port" is specifically used to dock the powered keyboard cover accessories, but Panay confirmed that in the future, this could be used as a means of connecting interactive accessories. (In case you're wondering about speaker docks and things like that, the best answer at this time is that, because the device has both Bluetooth and Wi-Fi, it supports many audio devices wirelessly, including those that use the DLNA protocol for wireless media streaming.)
Though Microsoft says Surface RT will have a 31.5 watt-hour battery, the company didn't name an exact number of hours it could get. Sinofsky did say it gets "all-day battery life," suggesting 8 or more hours of uptime, and he confirmed that it takes just 2 hours to charge up fully, using the included charger.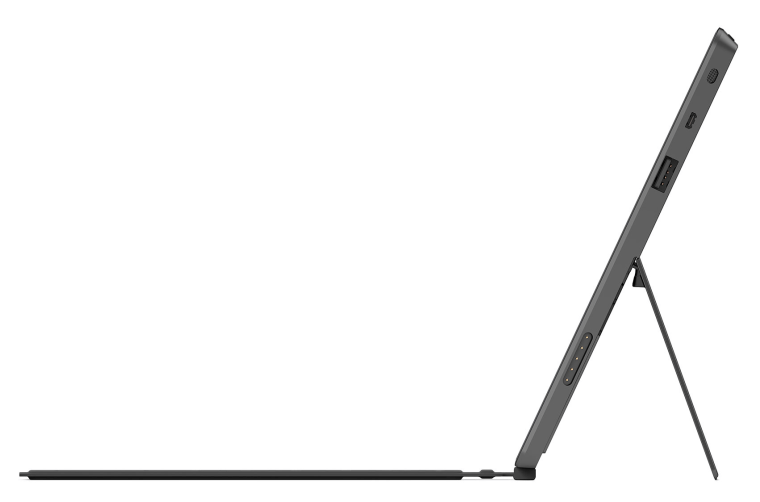 How about that touch keyboard?
Though we only had a brief time to actually use the Surface RT, my first impressions are positive. It's snappy, and the Windows 8 start screen springs to life when you touch it. Flying through a photo gallery is as good as you'd expect, and quite comparable to an iPad.

What I was really curious about was what it would be like to use the Touch Cover keyboard, and its ease of use came as a pleasant surprise. This isn't some dumb accessory: There's a lot of code written to ensure that the keyboard knows the difference between actual typing and you just setting your fingers down. For instance, if you gently place your finger down on the backspace key, nothing happens. But if you start to press down, it suddenly responds.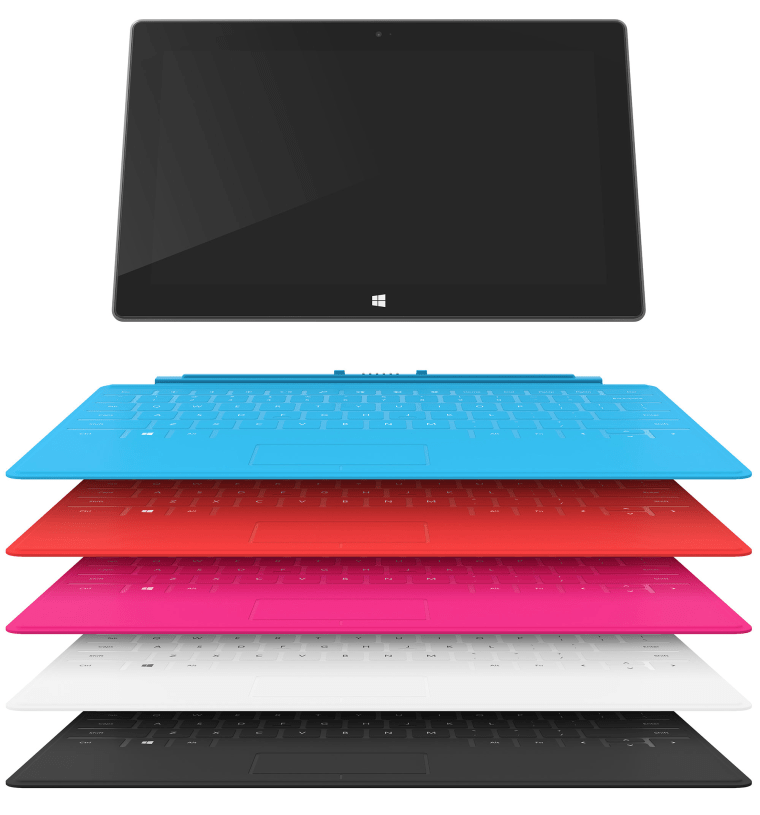 Typing fast will take some practice — even Panay says the learning curve is four to five days. When I tried to build up some speed, I did alright. The only real issue I had was with the space bar. Though the touchable area of the space bar is pretty large, I couldn't quite manage to hit it, but practice will no doubt improve my space-barring skills.
The other neat feature of the Touch Cover is the integrated track pad. It supports two-finger scrolling, and responds to swipes and taps with problem whatsoever. You quickly start to treat the Surface like a laptop, but given the fact that it comes with a free full Office 2013 suite — which is impressive in its own right but isn't particularly touch friendly — having the laptop-like mode is a good thing.
Accessories and availability 
If you buy the Surface then want to add accessories later, a Touch Cover by itself costs $119.99, while a Type Cover, the cover with a deeper, mechanical keyboard, costs $129.99. An HD digital AV adapter costs $39.99 and a VGA adapter costs $39.99. Though the product comes with a power supply, you can buy an additional one for $39.99.
Microsoft is adamant that the first wave of Surface tablets is sold through its direct retail channel. You will see it at Microsoft stores around the country — 27 brick and mortar stores to date in U.S., with four more opening in November, along with 34 more "holiday" kiosk stores popping up in malls all over. You will not see it at any Best Buy or Walmart stores. 
Online shoppers in the U.S. as well as the UK, Canada, Germany, France, Australia, China and Hong Kong will be able to go to Surface.com to buy it as well.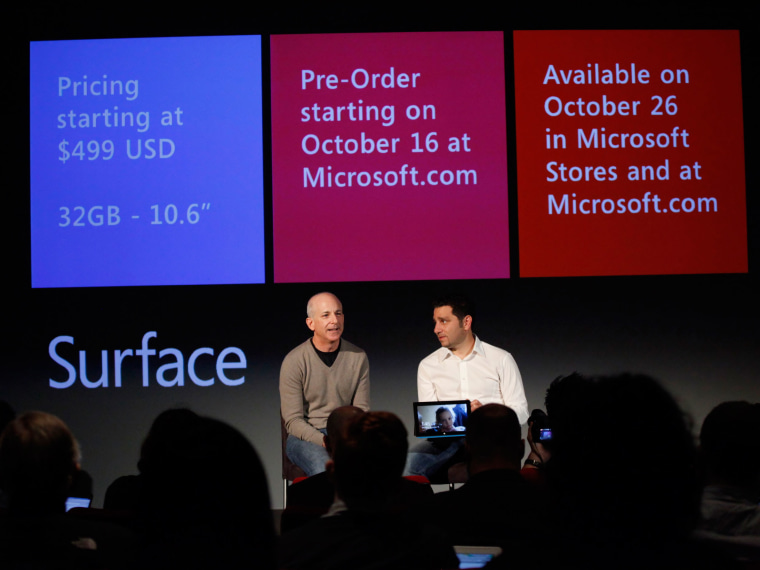 "Is it a tablet or is it a laptop?" Sinofsky asked reporters, rhetorically, in anticipation of the big question most people have. "I've been using this now for a long time, six months, and it's been really fascinating for me," he continued. "I've used a lot of tablets. This is not a tablet, but it is the best tablet I've ever used. And I've used a lot of laptops. This is not a laptop, but it's the very best laptop I've ever used."
We shall see, but from what we did get a chance to experience, this baby is well worth a look come Oct. 26 — assuming you live close enough to a Microsoft store to get a gander.
Wilson Rothman is the Technology & Science editor at NBC News Digital. Catch up with him on Twitter at @wjrothman, and join our conversation on Facebook.