Facebook took a leap into what has become a multibillion-dollar race to corner wide swathes of the globe where people do not have regular access to the Internet, placing a bet on drones this week as winged carriers of wireless.
Based on a flurry of reports, Facebook is staking out a drone-based infrastructure for providing data services to the estimated 4.5 billion people around the world who currently can't afford to go online. The company is said to be negotiating to buy Titan Aerospace for $60 million, apparently with the intention of using thousands of Titan's drones to deliver data in areas where ground-based and traditional wireless infrastructure is underdeveloped.
Other competitors in the data race include Google's Project Loon, which would rely on a fleet of broadcasting high-altitude balloons, and a wide spectrum of satellite ventures. Each of the strategies has pluses and minuses, and it may take months — or years — to identify the front-runner.
Titan's remote-controlled craft are not like the robo-planes that have caused such a stir in Afghanistan, Iraq and on the home front. Titan's solar-powered "atmospheric satellites" are designed to fly for as long as five years at a time, at an altitude of 65,000 feet. "At that altitude, it can do a multiplicity of missions ranging from communications, data, optical, weather sensing," aerospace veteran Vern Raburn, Titan's chief executive, told Reuters.
Drones vs. balloons?
That capability would make it a suitable platform for Internet.org, the Facebook-led campaign to widen global connectivity. It also appears to stoke potential competition with Project Loon, which is pursuing the same goal by developing a worldwide fleet of balloons flying as high as 90,000 feet.
Like Titan's drones, Google's balloon battalions are still in the early stage of development. Project Loon was unveiled just last year, and the system has undergone testing in New Zealand as well as several U.S. locales. High-altitude balloons make for relatively cheap data delivery platforms. However, they also drift with the wind, which would require coordinating the shifting locations of thousands of balloons around the world.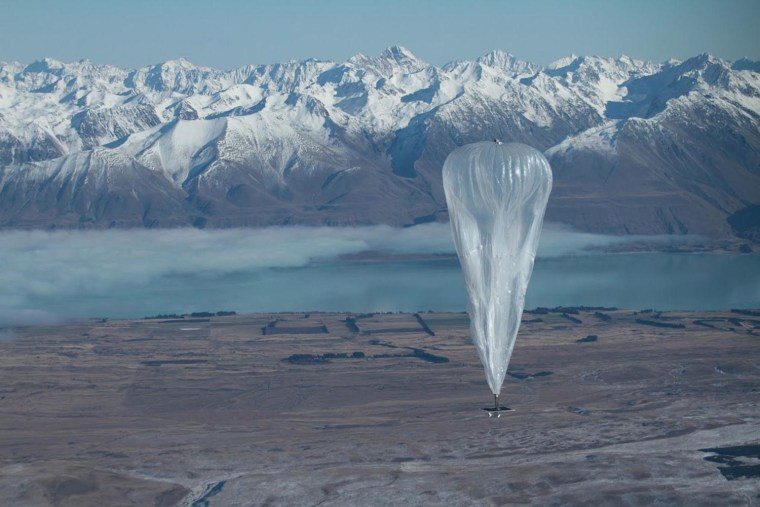 "I think Facebook's new approach makes perfect sense," Syed Karin, director of innovation for the Media Development Investment Fund, told NBC News in an email. "It's much more controllable than the balloons of Project Loon."
Both systems would be deployed well above the altitude where commercial airplanes fly, but both ventures would have to negotiate a worldwide tangle of aviation and telecommunication regulations. "With balloons or planes flying at 20 kilometers, country coordination for airspace usage will still be required," Karim said.
Beamed via satellite?
The project in which Karim is involved, known as Outernet, takes a different approach. Outernet's backers envision putting constellations of small satellites known as CubeSats into orbit, mostly to beam data down to the lesser-served regions of the world.
"Outernet is focusing on the problem of information access — offering a universally accessible information source, for free," Karim said. "What Outernet is providing is a broadcast data service. It's kind of like shortwave radio, with regards to the global pervasiveness of the signal. But the major difference is that instead of broadcasting exclusively audio or video, like current satellite broadcasters do, Outernet will broadcast content from the Web."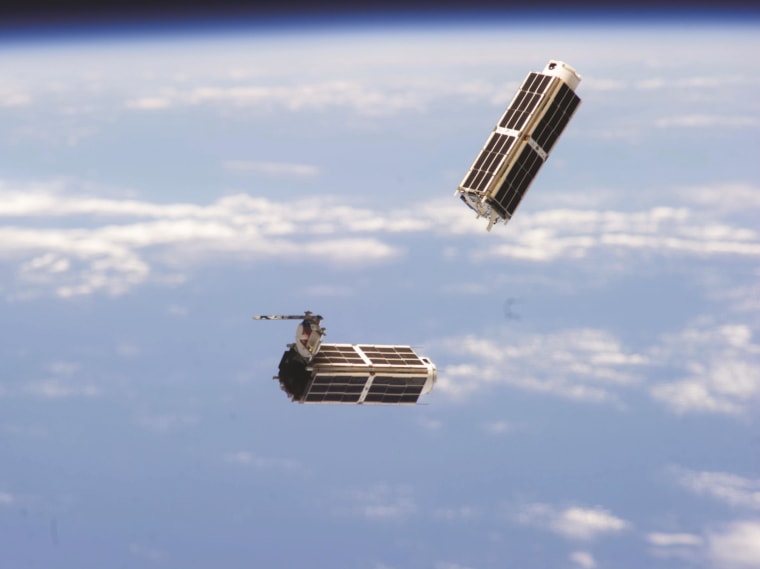 Satellite data providers such as ViaSat already provide two-way Internet service for some regions of the world, but at a cost of $50 a month or up. Outernet would focus on the regions that can't afford the cost — and could also sidestep many of the regulatory hurdles.
"The benefit of a broadcast system is that it guarantees privacy and can also bypass censorship," Karin said.
Follow the money
Karim said Outernet is aiming to put a 24-satellite constellation into orbit by 2016 for a demonstration of the system, with a target cost of $100,000 per satellite. The current generation of CubeSats can stay in orbit for only a few months, but Outernet hopes that further innovations could stretch each satellite's service life to a year.
The bigger questions have to do with how much of a market there'll be for aerial data services in out-of-the-way regions. On one hand, Outernet, Internet.org and Project Loon have been presented as humanitarian projects rather than money-makers. On the other hand, anytime Facebook and Google get involved in a technology, it's a good bet that money will somehow eventually be made.
"What's in it for these guys?" asked telecom investment expert Victor Schnee, president of Mobile Cloud Era. "That's an interesting question, but these companies have been such ground-breakers that you've got to follow them and figure out what they're doing."
Schnee believes the mobile cloud — a network infrastructure that makes information accessible and storable from any device, anywhere — is the next big thing in technology. Beaming information down from above might make that "next big thing" a reality around the globe.
Does that sound like bit-based pie in the sky? Some of the veterans who remember the rise and fall of satellite telecom ventures like Teledesic might think so. But not Schnee.
"I've been in this industry for decades," Schnee said, "and I don't regard anything as 'pie in the sky' anymore."