AUSTIN, Texas — Amazon unveiled its highly anticipated delivery drones at this year's SXSW conference in Austin, Texas — but they're not yet dropping merchandise or breakfast burritos to the thousands of attendees at the tech, music and film festival.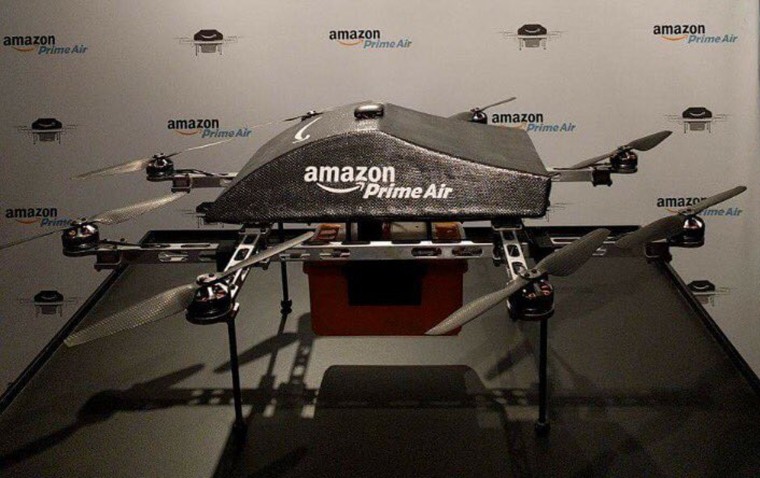 For the first time ever, according to Amazon representatives, two of the company's Prime Air delivery drones are on display, allowing the public to get their first in-person look at what Amazon hopes is the delivery system of the future.
It was strictly see-not-fly display, however.
For now, Amazon's drones aren't making deliveries in the United States since regulations require a drone to remain within the pilot's line of sight.
At Amazon's Resistance Radio immersive experience in Austin, an older model of a Prime Air drone was tucked away behind a secret bookcase entrance. There, the curious crowds got their first in-person look at the devices — all under the watchful eye of a security guard.
Amazon Prime Air's hybrid drone, which was introduced in a November 2015 video by Jeremy Clarkson, was on display a few blocks away at the San Jac Saloon.
Related: Amazon's 'Prime Air' Cargo Plane is Ready to Deliver Your Packages
A bit larger than its predecessor, the streamlined drone has sense and avoid technology, ensuring it doesn't have any run-ins in the sky. That also helps it make accurate drop-offs in its delivery zones before returning to Amazon's fulfillment center.
The hybrid is similar to the drone that was used by Amazon last December when the company made its first-ever delivery to a man in Cambridge, England.
While the devices are not yet cleared for delivery purposes in the United States, Amazon has an agreement in the United Kingdom, where the company has been testing its drones.