A new report from the American Civil Liberties Union is spotlighting the way cops keep tabs on protesters and civil unrest via social media — but it's a way that Twitter, Instagram and Facebook don't like.
Twitter announced Tuesday it was "immediately suspending" access to Geofeedia, a company that gives clients real-time information about social media users that can be exploited for marketing purposes.
Geofeedia also counts about 500 police departments and law enforcement agencies as customers, and has provided data during major protests, such as in Ferguson, Missouri, and Baltimore.
Twitter's crackdown follows the decision last month by Facebook and Instagram to terminate Geofeedia's access. Facebook stressed that the company "only had access to data that people chose to make public."
Meanwhile, Twitter's policy prohibits partner developers from using data to "investigate, track or surveil" its users.
Police departments scanning people on social media has alarmed civil liberties groups, which say doing so could stifle freedom of expression and be used as an arrest tool.
In addition, minority communities are most at risk of being targeted during protests highlighting racial injustice, according to Matt Cagle, the ACLU of Northern California's technology and civil liberties policy attorney.
"Social media monitoring is spreading fast and is a powerful example of surveillance technology that can disproportionately impact communities of color," Cagle wrote.
Geofeedia has labeled activist groups and unions as "overt threats," according to company materials obtained by the ACLU.
"We know for a fact that in Oakland and Baltimore, law enforcement has used Geofeedia to monitor protests," Cagle wrote.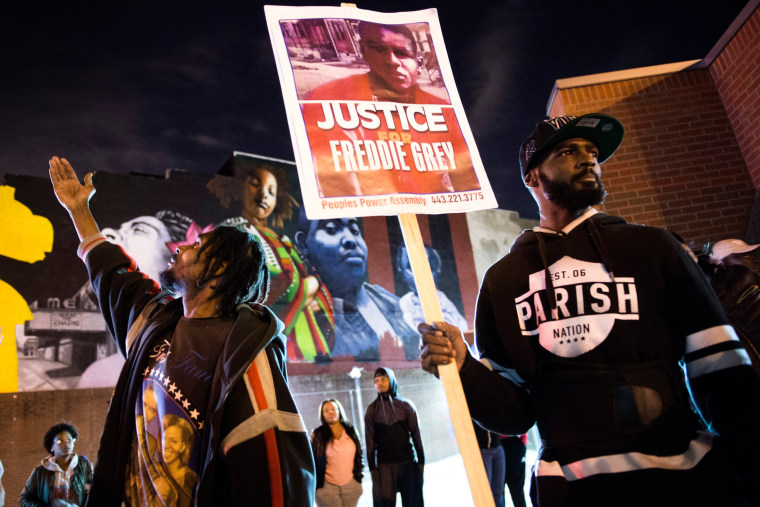 Geofeedia did not respond to a request from NBC News for comment about its relationship with law enforcement or the social media platforms cutting ties.
In a statement provided to VICE's Motherboard, Geofeedia defended its product, saying it has "in place clear policies and guidelines to prevent the inappropriate use of our software" — ultimately allowing police to do their jobs while protecting civil liberties.
"Geofeedia will continue to engage with key civil liberty stakeholders, including the ACLU, and the law enforcement community to make sure that we do everything in our power to support the security of the American people and the protection of personal freedoms," the company said.
Some police departments have shelled out tens of thousands of dollars in contracts with Geofeedia, which is also used by journalists and retailers.
The Baltimore County Police Department touted its use of the software in a "case study" obtained by the ACLU. Police relied on the service when riots broke out in Baltimore in April 2015 following the death of black man Freddie Gray while in police custody.
"In some cases, police officers were even able to run social media photos through facial recognition technology to discover rioters with outstanding warrants and arrest them directly from the crowd," the Geofeedia case study said.
Related: New Baltimore Aerial Surveillance Program Raises Trust Issues
Baltimore County police spokeswoman Elise Armacost praised Geofeedia as a "valuable law enforcement tool," and said in an email to NBC News that it can be used during cases of school threats and criminal investigations.
"There is no difference between a detective who reads someone's open source tweets and a detective who hears someone say something on an incident scene," Armacost said. "Law enforcement has an obligation to use available tools to gather information critical to public safety."
She added that the Baltimore County Police Department is assessing whether to continue its contract with Geofeedia given the clamp down by social media platforms.
T.J. Smith, a spokesman for the Baltimore city police, said his department will also review its contract with Geofeedia and evaluate whether it remains effective. The city has an $18,000 a year contract, The Baltimore Sun reported.
While Geofeedia may now be cut off from some of the popular social media networks, activists are worried that there aren't enough safeguards from barring them in the future.
The web-focused racial justice group Color Of Change called on Twitter and Facebook to do more.
"Facebook and especially Twitter have built their brands on the backs of Black users," campaign director Brandi Collins said in a statement, adding, "Both companies need to immediately develop publicly accessible policies that prevent these types of harmful deals from happening again in the future."