Kim Kardashian has made millions endorsing perfume, butt-toning sneakers and even a debit card. Now she stands to make millions with her new app "Kim Kardashian: Hollywood," raising the possibility that other celebrities might follow in her footsteps.
The game was the second most-downloaded free app in the iTunes store this week. One analyst put her potential cut of the profits at $85 million — not bad for what is essentially an interactive ad for her brand.
"I'm surprised more celebrities aren't doing this," Ira Kalb, a marketing professor at the University of Southern California, told NBC News.
If you are a TV star like Kardashian, it's pretty much the perfect way to promote yourself. Unlike a commercial, people don't skip over apps or tune them out; they actively download them and carry them wherever they go.
The apps can also be cost-efficient. Glu Mobile did not have to make a game from scratch; instead, it sprinkled an existing game called "Stardom: Hollywood" with some of Kardashian's celebrity appeal.
"Once you invest in an app, the cost is sunk. You can produce one for less than it takes to make a commercial."
"Mrs. Kardashian West was involved in the development process from start to finish," Niccolo De Masi, CEO of Glu Mobile, told NBC News in an email. "In addition to her in-game audio commentary, she provided a significant amount of creative feedback."
That includes the majority of the outfits, accessories and hairstyles — all of which can be purchased with "K stars." Those can be earned or bought with real money. With a click, gamers can spend as much as $100 for $175,000 in virtual cash, providing a nice revenue stream for the Kardashian clan.
"Once you invest in an app, the cost is sunk," Kalb said. "You can produce one for less than it takes to make a commercial."
Creating an app seems like a no-brainer for other celebrities with tween audiences, like Taylor Swift, who already has a popular iOS and Android app that lets fans watch music videos, listen to songs and read interviews with the singer.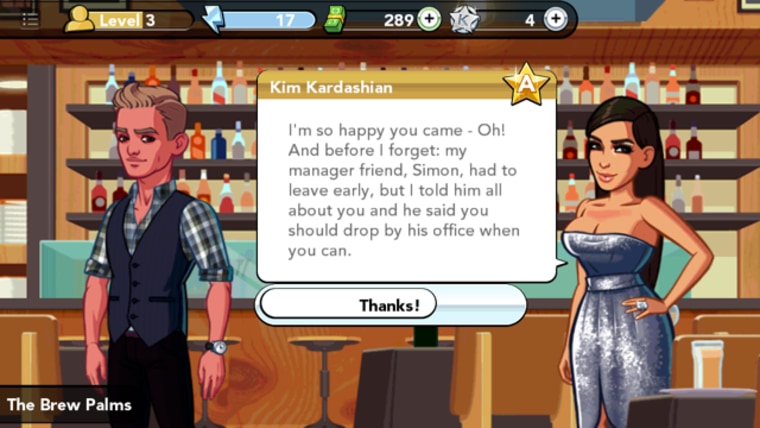 But what about stars with an older, more discerning following? Will we be seeing a Meryl Streep or Brad Pitt app anytime soon?
If done right, there is no reason that an A-lister with an Oscar can't release an app, Kalb said, although "a celebrity with a high-end image needs to stick with high-end products."
So, no, Meryl Streep is probably not releasing a game where you get points by posing for a headshot.
Still, few high-end celebrities would argue with having a direct pipeline to their fans, a place where they could share upcoming projects and appearances.
They could go the "Goop" route like Gwyneth Paltrow, using a lifestyle website and app to connect with consumers without explicitly promoting themselves.
Or, if they are known as an expert in a certain topic — think Jay Leno with cars — they could team up with a corporate sponsor for an app that their fans might actually find useful. While it might seem crass to release an app with your face on it, note that celebrities worried about the stigma of doing TV commercials for years, until the Internet unearthed the ads they were doing under the radar in Japan.
After that, "they figured, 'Well, the cat is out of the bag, so I might as well do it,"' Kalb said, which is why the critically acclaimed Gary Oldman is currently hawking the HTC One on television.
It might take some time for more celebs to catch on. But the stars really are just like us — in that they're interested in making a lot of money, one of the few areas where Kim Kardashian can be considered a role model.