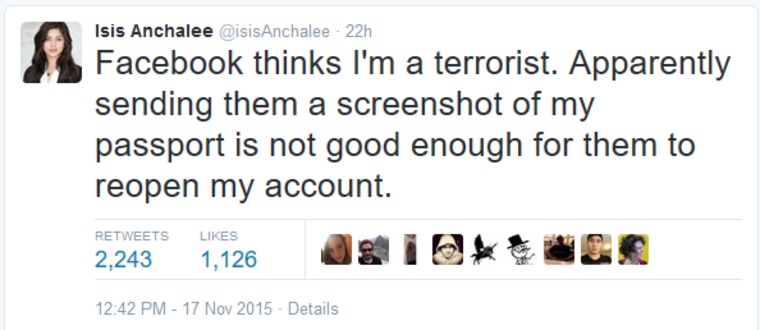 A woman named Isis had her account temporarily suspended by Facebook, but the social network says it was just an error in the process by which fake and offensive accounts are reported.
"Why would you disable my personal account? MY REAL NAME IS ISIS ANCHALEE," she complained Tuesday in a tweet directed at Facebook. Over the next day, she expressed further frustration over the process of getting the account reinstated — though eventually things returned to normal, after she sent over a scan of her passport to prove her identity.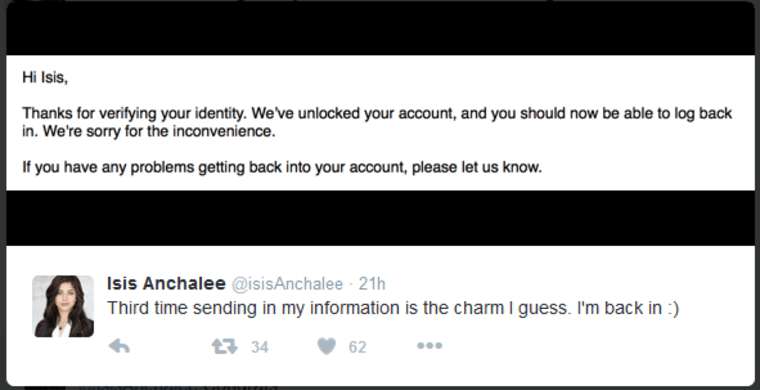 It's not like Isis Anchalee was an unknown on social media. She is the female engineer who started the #ILookLikeAnEngineer viral hashtag campaign earlier this year to challenge bias and sexism in the tech field.
In a statement sent Wednesday to NBC News, Facebook offered an explanation for the account suspension: "This was an error made as part of a fake account reporting process and we're sorry for the trouble it caused."
Related: Facebook Apologizes to Drag Queens Over 'Real Name' Issue
When asked for more information, Facebook confirmed that the account in question had been flagged by one or more users as fake or offensive — the only way to initiate a suspension. Facebook's error was in not identifying this particular report as a false positive, resulting in Anchalee's account being suspended.
Facebook declined to comment on who might have flagged Isis Anchalee's account, how many people flagged it, or whether it might have been part of an organized effort to take down accounts linked to ISIS, the Islamist militant group blamed for last week's deadly Paris attacks. The hacking collective Anonymous is organizing against ISIS, and claimed it has shut down thousands of ISIS-linked Twitter accounts.