While Uber has been in damage control mode following sexual harassment allegations and a video showing CEO Travis Kalanick yelling at a driver, competitor Lyft has been quietly reaping the benefits.
The San Francisco-based ride hailing company is reportedly looking to raise $500 million to help fuel its expansion, according to the Wall Street Journal. The possible cash infusion comes as Lyft expanded into 54 new cities last month.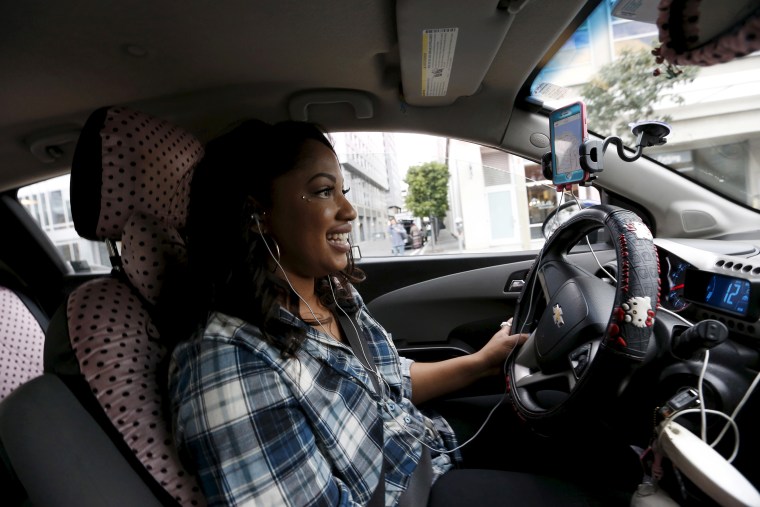 A new investment round would put the ride-hailing app, which has long been second fiddle to Uber, at a valuation of $6 to $7 billion, about one-tenth of Uber's estimated worth.
Related: Uber Driver Fawzi Kamel Explains Why He Argued With CEO Travis Kalanick
But Lyft appeared to be cashing in on Uber's freefall, accounting for 20.8 percent of total U.S. spending on ride-hailing apps on February 13, according to the WSJ.
Two weeks prior, Lyft had a 16.5 percent share of receipts. The company had been averaging around 15 percent for the past year. The data comes from Second Measure, a company that aggregates credit card receipts.
Lyft declined to share numbers. However, spokeswoman Alexandra LaManna told NBC News the company is excited about its trajectory.
"We came off a tremendous 2016 excited about the year ahead. Since January, we have launched nearly 100 cities and our growth has accelerated in every market across the country," LaManna said.
Uber has been in damage control for weeks: On Wednesday, Kalanick issued an apology to the driver community and employees Tuesday night.
"To say that I am ashamed is an extreme understatement," Kalanick said.
"It's clear this video is a reflection of me — and the criticism we've received is a stark reminder that I must fundamentally change as a leader and grow up. This is the first time I've been willing to admit that I need leadership help, and I intend to get it," he added.
While Uber's woes appear to be helping with some of Lyft's growth, the company was already heading in that direction.
In 2016, Lyft's business tripled, with 162.5 million rides being completed, compared to 53.3 million the previous year, according to data from the company.
Not bad, considering Lyft logged 100,000 rides its first year in 2012, launching a little more than two years after Uber created a new market for ride-hailing apps.