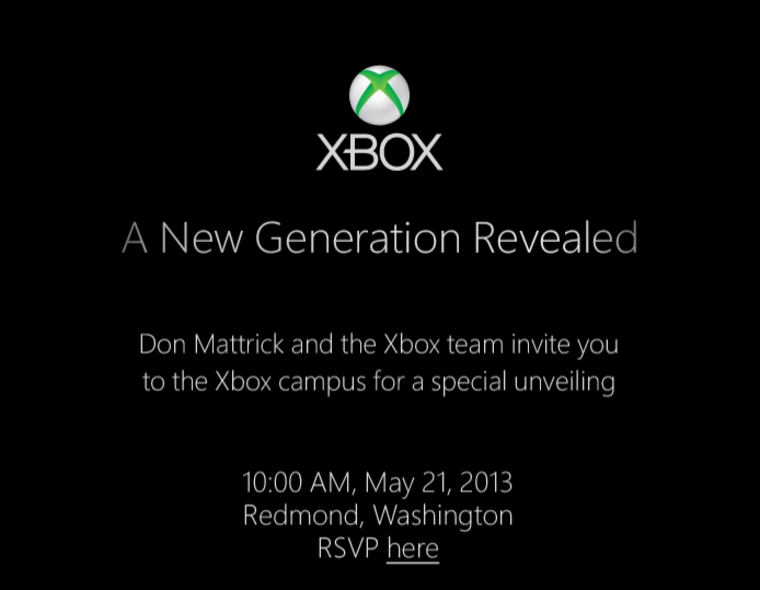 Turns out, that "special event" that Microsoft has been rumored to have in store next month is real. The Redmond, Wash.-based tech giant sent out invitations this morning asking reporters to "join us as we reveal a new generation of Xbox."
There you have it. Just a month before E3 and almost exactly three months after Sony unveiled the PlayStation 4, Microsoft is planning to unveil its contender for the next-generation of the video game console wars.
The unveiling sounds like it won't have quite the same pomp and circumstance as Sony's dramatic unveiling of the PS4 at New York City's Hammerstein ballroom, however. The event is scheduled for 10 a.m. PT on May 21, and will take place at Microsoft's Xbox Campus in Redmond.
Details are predictably scarce — all the invitation says below the iconic Xbox logo and the tagline "a new generation revealed" is, "Don Mattrick [President of Microsoft's Interactive Entertainment Business] and the Xbox team invite you to the Xbox campus for a special unveiling." If dropping the "Xbox" name four times in a single e-card isn't enough of a hint, you can't get much more unambiguous than the #XboxReveal hashtag placed at the bottom of the invitation.
Microsoft is (also predictably) trying not to divulge any unnecessary information about the new console, but all these hints suggest that preliminary reports were correct in predicting the next-generation device will simply be called "Xbox," like its first-generation counterpart that was originally released in 2001.