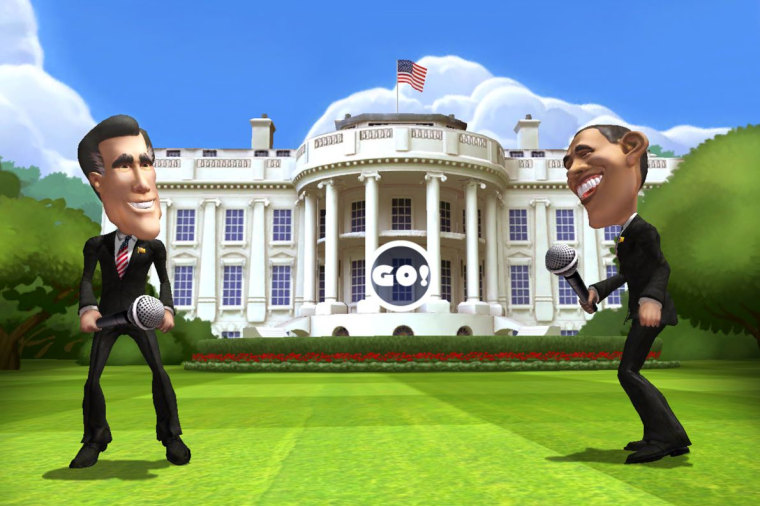 Tired of watching President Barack Obama and Republican presidential nominee Mitt Romney go at each other with nothing but words? Well here's your chance to see these men (or at least cartoon versions of them) duke it out with microphones, light sabers, balloon swords and other oddball weaponry.

Epic Games/Chair Entertainment — the company that brought us the excellent Infinity Blade games — has just taken the wraps off its latest project: a free mobile app called "Vote!! The Game."
Chair calls the iOS app a "cartoon-style, political slugfest" that "invites players to assume the role of either President Obama or Mitt Romney in a slapstick battle for the White House."
The game, which has just launched in Apple's App Store, was created as part of a partnership with Rock the Vote — a program aimed at getting young people to register to vote. With that in mind, "Vote!!" includes in-game voter registration as well.
From the trailer below, it looks like Chair has taken the screen-swiping, sword-swinging action of "Infinity Blade" and given it a presidential makeover. That is, players get to dress their candidate of choice in goofy outfits, arm them with goofy weaponry and then go to town in a literal battle for votes. 
According to Chair, as you earn votes for your candidate, you'll be able to watch worldwide results, tallying scores from other players in real-time.
"VOTE!!! is everything a great game should be — challenging, rewarding, super fun — and players will find themselves laughing the entire time," Donald Mustard, Creative Director at Chair, said in the announcement. 
But here, check out the trailer: 
Of course, the folks at Chair aren't the only ones getting some gaming mileage out of this political season. Comedy Central has released "Indecision Game," an iOS app that sets out to determine who's smarter: Democrats, Republicans or Independents. Billed as a political battle of wits, players try to correctly answer political questions to earn voters and thus an Election Day victory.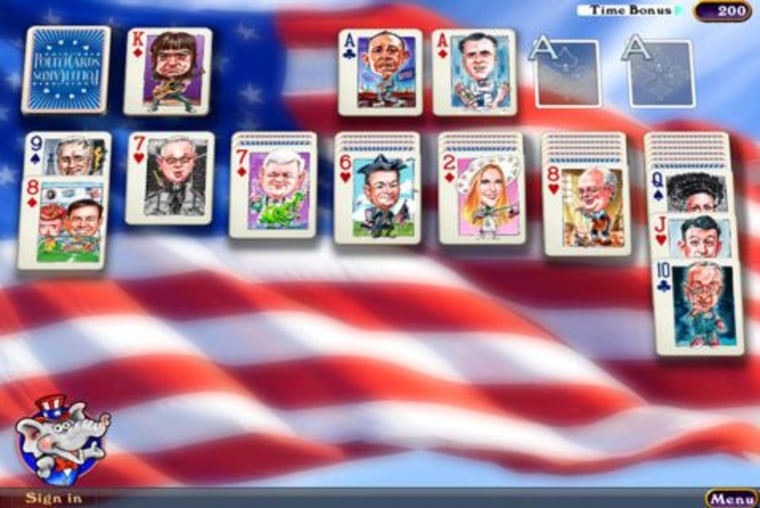 There's also the politically-themed "PolitiCards Solitaire," an Android, iOS and PC game that lets players try their hand at more than 100 variants of the famed card game using cards that feature animations of all the major political players and insiders. You'll find the deck stacked with the likes of Obama, Romney, Hillary Clinton and Donald Trump.
Now, if only real-world political battles were as amusing ... and harmless ... as they are in these games.
Winda Benedetti writes about video games for NBC News. You can follow her tweets about games and other things on Twitter here @WindaBenedetti and you can follow her on Google+. Meanwhile, be sure to check out the IN-GAME FACEBOOK PAGE to discuss the day's gaming news and reviews.